Two St. Louis Jewish brothers open Terror Tacos, a new vegan Mexican eatery
CHERYL BAEHR, Special to the Jewish Light
Published April 21, 2021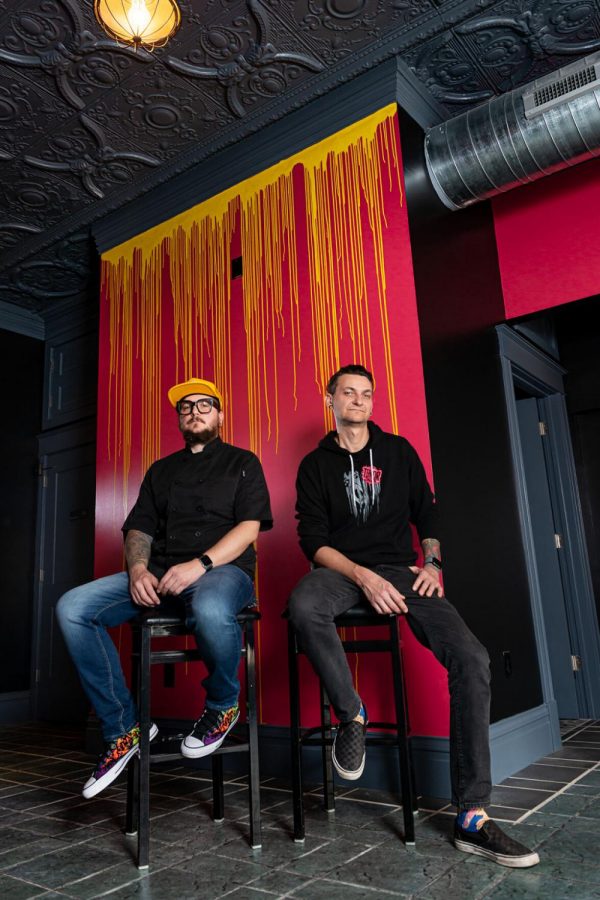 St. Louis vegetarians and vegans – along with anyone who loves bold, flavorful food – have a new destination for Mexican-inspired fare. Terror Tacos, a restaurant from brothers Bradley Roach and Brian Roash, opened late last month on South Grand, promising an exciting culinary experience that pushes the idea of what plant-based eating can be.
For Roach and Roash, both members of Congregation B'nai Amoona, Terror Tacos is the realization of a longtime dream. The brothers, who spell their last name differently, have spent time in and out of the restaurant business – Roach as a cook and Roash in the front of the house – and have talked for as long as they can remember of what it would look like to open a restaurant together. However, instead of pursing the idea, they pushed it aside in favor of jobs outside the hospitality industry.
That changed when Roach, 41, moved to St. Louis a little over five years ago. Dissatisfied with his job as a corporate call center manager, Roach decided to get back into the professional kitchen and relocated from Indianapolis to St. Louis to take a job as the chef and general manager of Seedz Café in Clayton. A longtime vegetarian, the gig allowed him to hone his plant-based cooking skills while also putting him in the same city as his brother, who is vegan. It was only natural that this situation would restart their conversations about opening a plant-based restaurant together.
Both Roach and Roash admit that those talks might not have gone anywhere were it not for a friend who gave them the push the needed to make their restaurant dreams happen. That friend, a local restaurateur who prefers to remain anonymous, was impressed by their cooking and encouraged the brothers to start searching in earnest for a location. His enthusiasm prompted Roach and Roash to start visiting available properties, and once they found the former Baida storefront on South Grand, they immediately knew it was the right fit.
"We looked at a couple of places, casually dreaming, but the moment we walked into this space, it became a whole lot less casual," says Roash. "We knew it was time to get very serious about it."
Roash, 45, says that he and his brother were adamant that Terror Tacos be a different sort of vegan restaurant. Both he and his brother got into plant-based eating in the mid-1990s hardcore music scene, and have always associated that more loud, in-your-face style with veganism. However, they've found over their many years of not eating meat that most vegan restaurants tend to follow a stereotypical format that does not necessarily suit them.
"When we became vegan, it was very much underground," Roash says. "We got into it going to hardcore shows and straight-edge veganism and were very into the political movement of it rather than the health and diet factors. When we go to vegan restaurants, it's very 'hippie peace love' which is awesome – I'm married to a hippie – but we aren't hippies."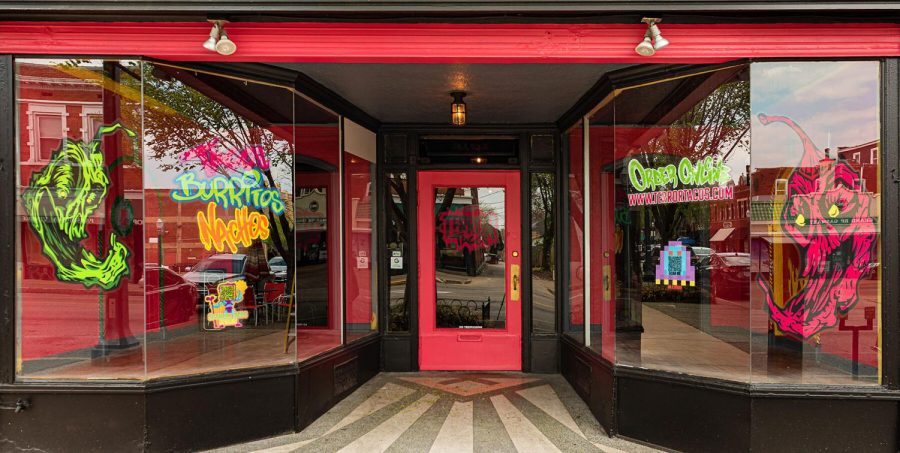 To that end, Terror Tacos has a dark, gritty vibe with loud music, a scene the brothers describe as akin to walking into a club in 1997. The setting complements the food's unapologetically bold flavor profile; having grown up in the Southwest, Roach and Roash love spice and are not afraid to showcase that preference in many of the restaurant's dishes. These include items like the "Double Diablo Taco," a flour tortilla filled with green chili, black beans and cheese, then wrapped in a hard shell with seasoned veggie grounds chipotle cheese, shredded lettuce and sour cream. The "Holy Terror Tamales" are another specialty, made from chili-infused masa and filled with seitan, peppers and chipotle cheese. The restaurant's signature dish, the "Birria Tacos," features two seitan-filled tortillas, garnished with red cabbage, onion and cilantro and served with a side of consommé for dipping. Still, they urge even those who are not fans of spice to give them a try.
"We're really discovering that our menu has to have a lot of variety because a good amount of people do not have an appreciation for spicy food like we do," says Roach. "We want to push that, but we are also trying to find a balance of items everyone can appreciate. We have spicy items, but we also have other things on the menu that are still exciting, though not necessarily spicy."
Terror Tacos is currently open for takeout and delivery Wednesdays through Sundays from 3-8 p.m. For more information, including the complete menu, visit terrortacos.com.
Terror Tacos, 3191 South Grand Boulevard, 314-260-9996, www.terrortacos.com.