Tony's pastry chef offers new recipe idea on classic rugelach
Jordan Palmer, Chief Digital Content Officer
Published February 28, 2022
Many of you may have memories of home-baked rugelach, that cookie with cream-cheese dough spiraled around an oh-so-sweet center filling of fruit jams, poppy seed paste, or nuts. The origins of the pastry can be traced back generations, mostly to European cousins such as Hungarian kifle, Austrian kipfel, and Polish rogal.
But, tucked away inside a locally written cookbook, we have discovered a new take on rugelach, this from the head pastry chef at the legendary Tony's restaurant in St. Louis.
Click here for a printable version of this recipe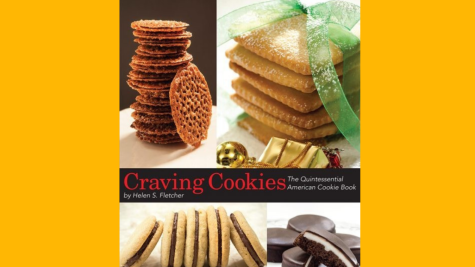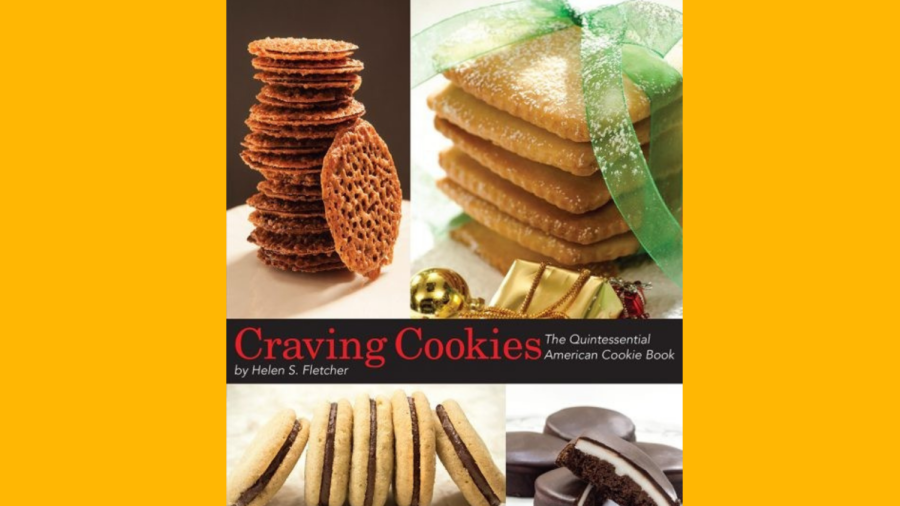 For more than 30 years, Helen Fletcher has been a professional baker and pastry chef. Her new book, Craving Cookies: The Quintessential American Cookie Book may not be where you think you would fine a recipe for the renowned Jewish dessert.
"Originally the book included European cookies as well as American.  However, because of its size, this book contains only American cookies," said Fletcher. "But, because of my love of Rugelach, I decided to turn it into a bar for "Craving Cookies" while keeping the original version for the European cookie book.
A Rugelach bar, instead of a cookie? According to Fletcher it's not big of a leap and maybe even easier for many to make, because since it is a bar, there is no rolling as there is in the original version.
"I turned it into a bar which is very modern and much easier and faster to make," said Fletcher.
The origins of this rugelach recipe
Fletcher's parents were from the former Yugoslavia and her mother made kifle, which is a close cousin to rugelach.  The pastry for both originally was a yeast dough, but at some point, cream cheese or sour cream replaced the yeasted version making rugelach easier and faster. Both are outstanding pastries, according to Fletcher.
"As Jewish people emigrated to different lands, they took their cooking and baking with them which is why you can find this pastry in all parts of the world, including America," said Fletcher. "Heavy in nuts and jam, but not particularly sugar, this pastry can be eaten during all parts of the day as well as being a part of celebrations.  I think if there is one pastry that is known as being Jewish to pastry lovers everywhere it is rugelach, whether the people eating it know it is a quintessential Jewish pastry or not."
The rugelach pastry
The pastry used for Rugelach Bars is easy to make and just as easy to roll out with no need to chill the dough first if made in the food processor.  Two pieces of pastry sandwich a filling of jam, walnuts, cinnamon, and sugar.  Any jam or any nut can be used.  If the jam or preserves have pieces of fruit, they should be processed or blended to make it smooth.
"Always on the lookout for a new flavor, I found this Red Plum jam recently.  It worked well with the walnuts.  However, as I said before, any flavor jam and any nut can be used for the filling," said Fletcher.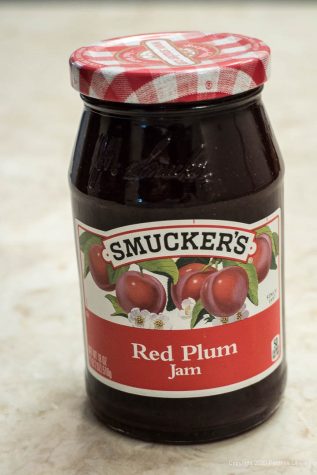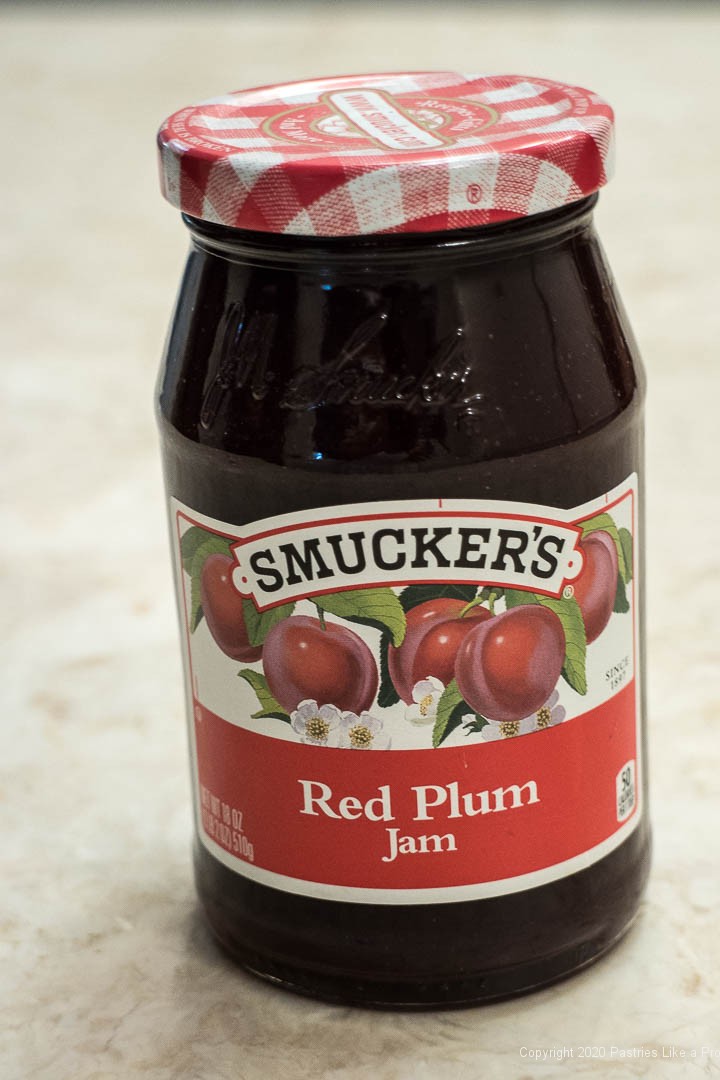 "I hand chopped my walnuts into medium pieces.  They shouldn't be too fine," said Fletcher.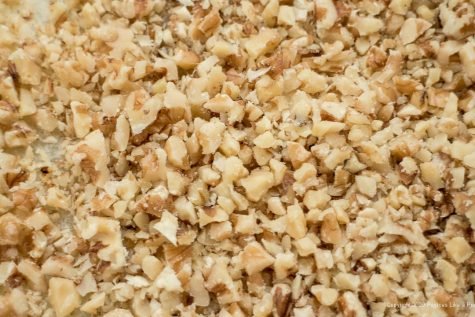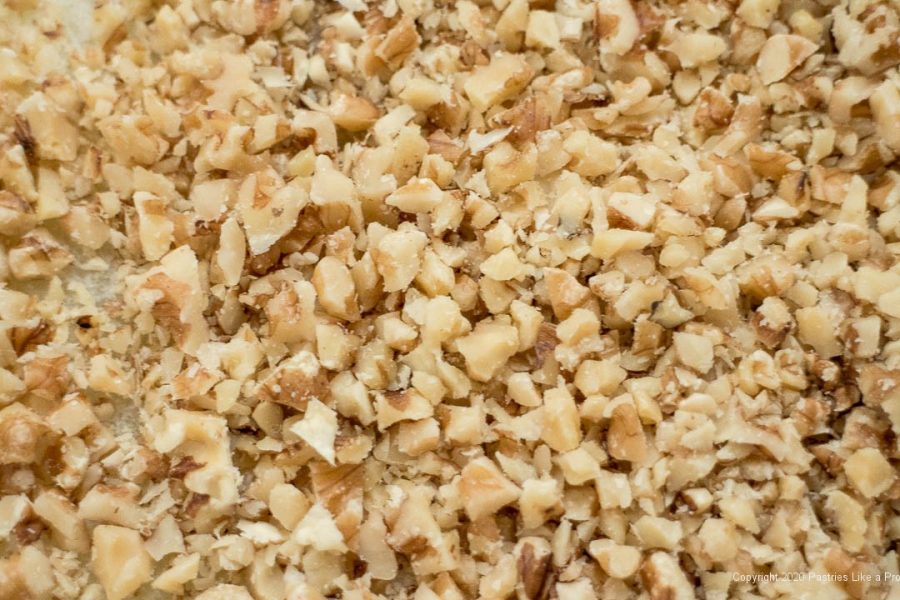 Cutting through the top pastry before baking makes it easier to cut after baking.
Rugelach bar pastry 
2 ¼ cups all-purpose flour (315 grams or about 11 ounces)
½ teaspoon salt
1 cup unsalted butter, cold (225 grams, 8 ounces or 2 sticks)
8 ounces cream cheese, cold (225 grams or 1 package)
¼ cup sour cream (56 grams, about 2 ounces)
PROCESSOR METHOD
Place the flour and salt in the bowl of a processor. Pulse several times to mix.
Cut the butter and cream cheese into small pieces and place over the flour. 
Dollop the sour cream over.
Pulse until the pastry looks crumbly but sticks together when pressed.  It should not form a ball.

Click here for a printable version of this recipe
MIXER METHOD
For this method, have the butter and cream cheese is barely softened.  Place them, along with the sour cream, in the bowl of a mixer and beat until completely combined.  Whisk together the flour and salt.  Add to the creamed mixture and beat on low until crumbly.
Yield:  About 820 grams
ASSEMBLY OF RUGELACH BARS
Preheat the oven to 375°F.  Spray a 9×13 inch pan or a quarter sheet pan with a non-stick spray and set aside.
1 ¼ cups walnuts (140 grams or 5 ounces)
Pastry from above
1 cup red plum jam or any flavor jam*
1 ½ tablespoons granulated sugar
1 ½ teaspoons cinnamon
1 egg white, beaten
Sanding sugar as needed
*Whatever you like can be used.  If using preserves, puree them in a processor or blender first.
Toast the walnuts (or whatever nut is used) for 7 to 10 minutes depending upon the size of the nuts.  Cool completely.  Chop them coarsely.
Pour the dough onto the work surface. 
Push it together and knead it several times to bring it together.

If it is too soft to roll easily, refrigerate it to firm it up. Divide the dough in half about 410 grams or 14 ⅓ ounces.  Roll one piece into a 9 ½ x 13 inch rectangle. Roll the second piece into a 9 x12 ½ inch piece.  Refrigerate this piece.
Place the larger piece of dough into the bottom of the sprayed pan.  Press the edges about ¼" up the sides of the pan.
Bake for 25 minutes until lightly browned and baked through.  It may appear cracked but that is fine.  Cool the crust.
I did not press my dough up the sides of the pan.  It shrank slightly.  Pressing it slightly up the sides of the pan should take care of the shrinkage.
Spread the jam over the crust.
Top with the toasted walnuts.
Combine the granulated sugar and cinnamon together and sprinkle over the nuts
Place the refrigerated piece of dough over the top.  Let it warm up slightly.  Press it gently over the nuts and make sure it adheres to the sides of the pan.
Whisk the egg white and brush the pastry lightly with the egg white.  Sprinkle well with sanding sugar.
Cut through the top piece of dough only into 6 or 7 across and 4 down or whatever size you wish.
Bake for 35 to 40 minutes until golden brown. Cool about 10 minutes then go around the edges with a metal spatula to release them. Cut the bars following the marks on top. Clean the knife between cuts. Cool completely.
Yield:  24 to 28 bars.
Storage:  Store at room temperature for up to a week in a covered tin.
You can also find more on Helen's blog, Pastries Like a Pro.
Click here for a printable version of this recipe