Three generations of Israeli family make a matzah brei you will not want to miss
Watch three generations of one family, Rosie, Orna and Tamar, prepare this ultimate Passover indulgence, and then make it for your own family this holiday season.
Haim Silberstein, Israel21c.org
Published April 7, 2022
For Passover, ISRAEL21c producer Haim Silberstein begged his mother, Rosie, to share her special family matzah brei recipe with our readers.
Haim's sister, Orna Silberstein, and daughter, Tamar, also joined in the fun.
This is nothing like the matzah brei you might be used to – these are cheesy fried rollups made according to a recipe that Rosie has been making for decades.
Find out how to make it yourself, with or without Grandma. Click on the video above to see what to do, and you'll find the recipe below.
---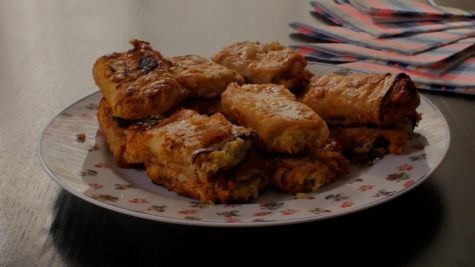 Cheesy Matzah Brie
Ingredients
1 large potato
5 oz five mixed cheeses (including kashkaval and ricotta)
4 eggs
10 large matzot
Vegetable oil
Instructions:
1. Peel a large potato and cook for 20 minutes.
2. Mash the potato in a large bowl.
3. Grate the cheeses and add them to the potato
4. Add three eggs to the potato and cheese mix, and season with salt and pepper.
5. Wet the matzot with water, cover with plastic wrap and towels and let them sit for one hour until they are soft.
6. Cut each matzah bread into three strips.
7. Fill each strip with the cheese mixture and roll.
8. Take the remaining egg and beat it. Then dip in the rolls.
9. Fry both sides of the rolls until the filling has melted.
Executive Producer – Jonathan Baruch
Producer / Director – Haim Silberstein
Chefs – Tamar Silberstein, Orna Silberstein and Rosie Silberstein
Camera – Ari Amit
Editing – Shahar Beeri, Yarden Levi
---
This article was originally published by Israel21c.org and is reprinted with permission.