This week's Sunday Brunch pick: Rooster Downtown
Jordan Palmer, Chief Digital Content Officer
Published January 6, 2022
Here's the formula for a perfect Sunday morning: sleep past 7, take care of the dogs, make coffee and fill up two mugs. Bring the coffee and the dogs back upstairs to a lovely wife who is just waking up, sip coffee, relax and then discuss where we're having brunch.
Sunday Brunch
There is just something about Sunday brunch. First, the day just has that feel. Second, there is no portmanteau more perfect than "brunch," and of course, it offers all the best menu options for both breakfast and lunch, and it's totally acceptable to have your own "happy hour" between 10:30 and 2 p.m.
For many families I've talked to, Sunday brunch really has become a tradition. A chance for families to come together, slow down, eat and kibbitz. One writer, Helen, from Family Friends Food. wrote "Although Shabbat is the 'day of rest, it can still be hard work – cooking, preparing, serving, clearing up. Sunday brunch meanwhile is an opportunity for a laid-back, relaxing meal that combines breakfast and lunch into a gentle late-Sunday-morning activity."
Our Brunch Journey
Since the world re-opened, my wife Leigh and I have been on a mission to try a different brunch spot every Sunday, without repeating if possible. The journeys have been a lot of fun, and have made for some great eating, drinking, and conversation. So, why not share with you all?
Sunday Brunch Pick Of The Week
I admit, our first Sunday Brunch Pick of the Week comes with some bias. As residents of South City, the Rooster on South Grand has been a go-to spot for years, and owner Dave Bailey is a full-on mensch in his support of the neighborhood. He even hired our 17-year-old to bus tables. So, this past Sunday when we were a bit time challenged, we decided to go with what we know, but then realized: Rooster just opened a new downtown location.
New Rooster Downtown Location!
Originally located on Locust, Bailey recently moved the downtown location just one block over to 1025 Washington Ave, in the old Dubliner location.  The new location is gloriously wide open, with plenty of tables and counter space to make you feel cozy but spaced properly.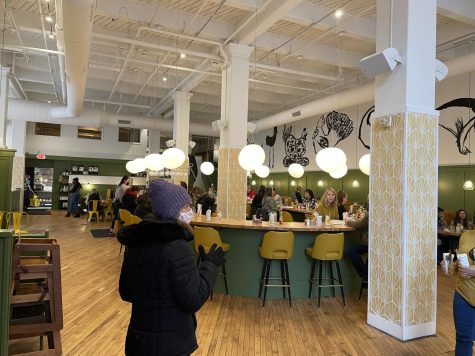 Rooster is pretty much Brunch all the time, so the menu is perfect for whatever mood you're in. The menu is broken down into four areas, breakfast, sandwiches, scrambles, and crepes. Over the year's we've struggled to break out of ordering the same things over and over.
On The Menu
Traditionally, I would go with a brunch burger or a scramble. The burger features two biscuits, eggs, Emmentaler cheese, breakfast veggie sausage, rooster mayo, breakfast potatoes. I would substitute wheat bread for the biscuits. Another favorite is a seasoned black bean, corn, peppers, cheddar, onion, salsa, scramble with veggie sausage. (They do have real meat as well.)
Leigh is partial to scramble as well. She usually selects zucchini, roasted tomato, red onion, arugula, mushrooms. Another favorite is seasoned black bean, corn, peppers, cheddar, onion, salsa.
But on this particular Sunday, we both broke out of our comfort zones.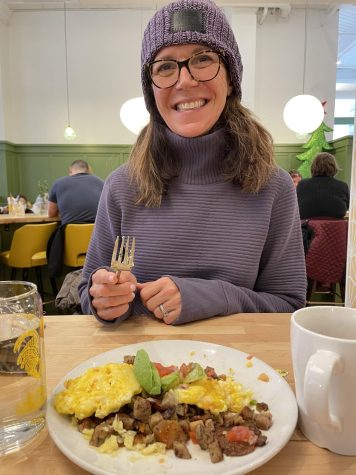 Leigh kept within the scramble family choosing the avocado, chicken sausage, pico de gallo, white cheddar. One thing Bailey does well is mix and match just the right ingredients into these scrambles. This one, according to Leigh, was "harmonious."
I decided to go for a crepe. I love bleu cheese and rolled the dice with the "bacon and blue cheese crepe," but substituted bacon for a vegetarian sausage along with mushrooms, arugula, and caramelized onion. My issue with any crepe or breakfast sandwich is that it must hold together. This one got a A+ and held up well even after cutting through several times.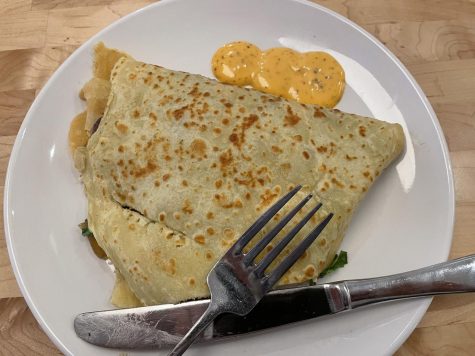 Keeping Kosher
If you keep kosher, the following menu items are ones to consider.
Vegan Slinger: vegan sausage, vegan eggs, breakfast potatoes, vegan gravy, house-made focaccia
French toast or pancakes:  Nutella, chocolate chip, berries & creme fraiche, banana nut, apple pie
Fried Egg Sandwich: fried egg, tomato, romaine, rooster mayo, breakfast potatoes
Scrambles: zucchini, roasted tomato, red onion, arugula, mushrooms and the seasoned black bean, corn, peppers, cheddar, onion, salsa
Crepes:


The breakfast burrito crepe with white cheddar, potatoes, scrambled eggs, salsa
The spiced black bean with, egg, white cheddar, salsa
The Zucchini with fresh tomato, arugula, mushroom
The roasted apple with cinnamon, sugar, caramel sauce
Downtown Rooster is located at 1025 Washington Ave, and open daily from 8am – 2 pm.