The definitive true history of Pumpernickles Deli
Harley Hammerman, Special To The Jewish Light
Published February 16, 2023
There is an amazing website called Lost Tables, dedicated to celebrating the restaurants of our past. We are partnering with the site's creator Harley Hammerman and celebrating these wonderful stories. Hammerman and his wife Marlene are members of Shaare Emeth.
David and Regina Katz were Holocaust survivors. They settled in St. Louis in 1949, where David took up work as a furrier.
In 1960, the couple opened Mayfair Market at 3908 North 25th Street. The North St. Louis grocery store was Regina Katz's domain. She served customers there until August of 1970, when she and her husband closed the market, as their clientele migrated westward.
David and Regina Katz also moved westward. By May of 1970, they were living at 185 North New Ballas in Creve Coeur. In May of 1971, they opened Tel Aviv Delicatessen and Bakery at 11036 Olive Street Road, in a space preciously occupied by Pertrofsky's Bakery.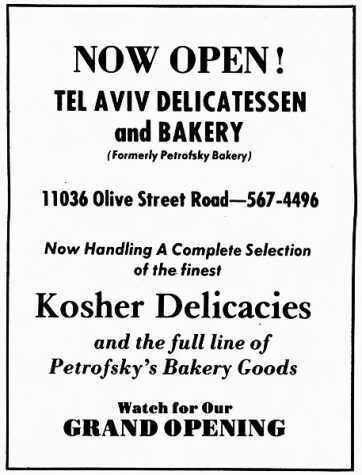 While Tel Aviv was jointly owned by the Katzes, the kosher deli was managed by Regina Katz. Initially, she sourced a lot of what she sold from elsewhere, much as she had at her grocery store. Simon Kohn's deli provided knishes and kosher beef patties. Baked goods were obtained from Petrofsky's. Lake Forest cakes could be found in the frozen food department.
But chopped liver was made fresh daily, as was homemade potato salad and slaw. Homemade potato latkes were prepared for Chanukah. Eventually, baked goods were made onsite.
Customers could sip free coffee as they waited for their orders. A to-go sandwich menu was added, with corned beef and pastrami sandwiches going for $1.15.
In 1979, David and Regina Katz were divorced. Regina continued to own and operate Tel Aviv Deli until she sold it to Sig and Carol Adler in the spring of 1985.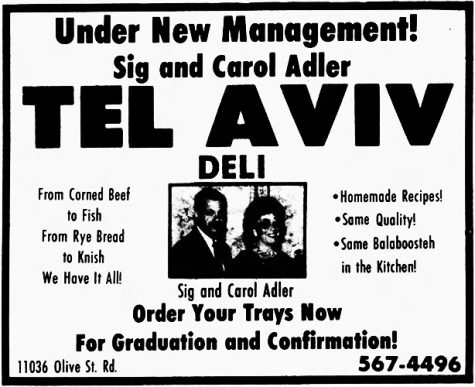 Like the Katzes, Siegfried and Carol Adler had owned a grocery store before going into the deli business. In 1967, they operated Adler's Tomboy Market at Gravois and Loughborough. They also owned sandwich shops in downtown office buildings until Sig Adler was shot during a holdup on his 47th birthday in 1982.
Sig Adler described Tel Aviv as one of the few "authentic" delis left in the area.
"We have the largest variety of smoked meat in town, and we try to give our customers good basic service," said Adler.
Homemade items included such familiar Jewish delicacies as chopped liver, kasha & shells, kishka, matzo ball soup, gefilte fish, potato pancakes, kreplach, sweet kugel, brisket, blintzes, komish bread, bobka, honey cake and challah. Deli platters and shiva trays were also a big part of Tel Aviv's business.
In the summer of 1992, the Adler's expanded their deli, doubling its size. Tel Aviv Deli became Tel Aviv Deli & Restaurant. Breakfast with 2 eggs and a bagel could be had for $1.49. A one-third pound corned beef sandwich at lunch, with soup or house salad, and a beverage could be had for $5.95.
Tel Aviv advertised "the largest and finest fish selection in St. Louis," including salmon, sable, white fish, buffalo, lox, lox spread, gefilte fish, salmon salad and herring.
At the start of 1993, the Adlers began offering dinner service. Their son Sheldon had joined the business as chef.
"The response has been tremendous to our Thursday and Friday dinners. We offer specials each night, cafeteria style. Jerry Berger loves our teriyaki chicken," said Sheldon Adler.
Brad Hartman grew up in New Jersey. After graduating from the The Culinary Institute of American in New York, and a stint in Scottsdale, Arizona, he moved to St. Louis in 1990 and married Margie Guller in 1993.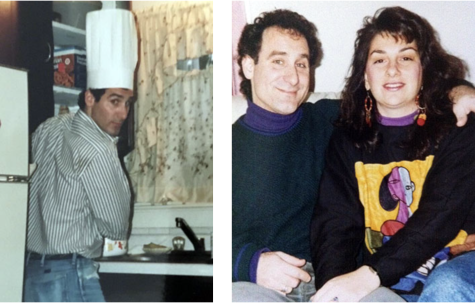 Rob Hodes grew up in New York. After graduating from the The Culinary Institute of American, he also relocated to St. Louis, where he had married Elizabeth Koritz in 1990.
While working as executive chef for Brandt's in the University City Loop, Hartman met Hodes, who was the executive chef at the Seven Gables Inn in Clayton. They partnered and decided to open a restaurant.
"We designed a mid-level restaurant and went looking for space. That's when we found Tel Aviv. It's exactly where we wanted to be, so we thought we'd buy it, gut it and put in a restaurant," said Hodes.
Sig and Carol Adler had decided to sell Tel Aviv. Hartman explained that after he and Hodes bought the deli in December of 1994, their initial plans took a detour and they elected to keep the deli format.
"We thought we could create a great deli with basic, honest food, and a deli is forever," said Hartman.
By February of 1995, Brad and Margie Hartman and Rob and Beth Hodes had taken the reigns at Tel Aviv. Beth Hodes was the deli's business manager and Margie Hartman, a lawyer, was its legal counsel. Their goal was to continue to serve their customers the classic Jewish deli items they had come to expect, while bringing in true New York deli products of the highest caliber, including Hebrew National meats and New York smoked fish.
In September of 1995, Hartman and Hodes changed their deli's name to Pumpernickles of Tel Aviv, although the deli would come to be known as simply Pumpernickles. They redecorated and expanded the menu.
Pumpernickles entry room was dominated by glass cases filled with meats, salads and fish. Bins of assorted breads and prepared foods lined one wall of the dining room, and nearby were coffeepots so that customers could refill their cups. Fans whirled overhead, and conversations hummed at the tables below.
Matzo and eggs served with lox, pastrami, onions or salami was the most popular breakfast dish. The lunch favorite was Beth's Smoker, a sandwich of smoked turkey, smoked Gouda, lettuce, tomato and roasted red-pepper mayonnaise on a honey-wheat roll.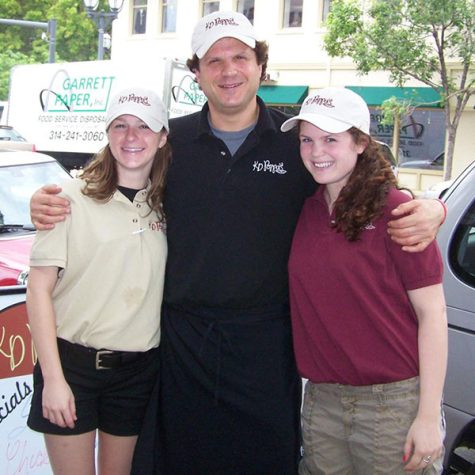 In May of 2002, Brad and Margie Hartman, who had become the sole owners of Pumpernickles, expanded their deli into the adjacent space vacated by the Roasting House. There was increased seating capacity, two dining areas, an expanded cafeteria lunch line and a new interior decor. The new deli had a display bakery where Hartman could be viewed creating his specialty homemade pastries.
"We have seven kinds of rugelach and everything from a simple peasant dessert to really gourmet," said Hartman. "I try to use modern interpretations of traditional foods. My matzo balls won't kill anyone ― they're not hard as a brick. They're also not zero substance. They're just right!"
Pumpernickles was a Jewish-style deli; it was not a kosher deli. You could get a sandwich of kosher corned beef, a scoop of chopped liver or chicken soup with matzo balls ― or you could get ham and cheese on rye. Pumpernickles was routinely voted best delicatessen in The Riverfront Times readership poll.
In January of 2008, Jay and Bonnie Silverman purchased Pumpernickles from Brad and Margie Hartman, changing the name to Sam and Jake's Pumpernickel Deli, after their two sons.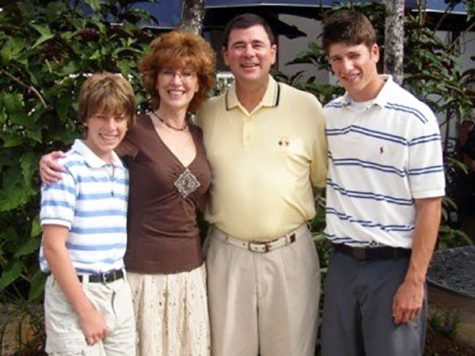 Silverman, who had worked as a wholesale auto dealer, found the food service business to be hard, grinding work.
"I had never been in that business before. It's very difficult. It's seven days a week, with no vacation," said Silverman.
Silverman believed many Jewish customers gravitated toward mainline supermarkets for their deli food, which contributed to the decline in traditional delis in St. Louis, as well as in other cities.
"They sell kosher-style corned beef, but it's a packaged product that's not that good. I bought my corned beef from Sy Ginsberg," said Silverman.
Jay Silverman sold Pumpernickles in 2012.
As a teenager, Harlan Levin learned to cut corned beef at Shanker's Deli on Ballas and Louie's Deli at the corner of Fee Fee and Olive. He moved on to work at Brown Shoe Company for 20 years, handling the Wal-Mart account for children's shoes.
In April of 2012, at age 56, Harlan Levin bought Sam and Jake's Pumpernickles Deli from Jay Silverman. He promptly changed the name to simply Pumpernickles.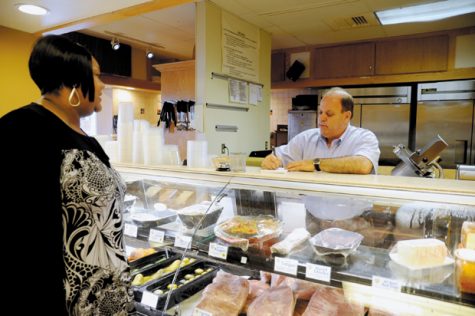 Levin completely remodeled the interior, from booths and tables, to paint, to shades and blinds, to the art on the walls.
"I looked at it and thought: This place is missing warmth. I don't like old. I like new," said Levin.
Levin also made changes to the menu. The portions of meat on the sandwiches were one-third larger and the bread was sliced doubly-thick. The bagel supplier was changed to the nearby Bagel Factory and Hank's cheesecakes were added to the dessert menu. The tuna salad was changed to Levin's wife's recipe and the chopped liver recipe was tweaked.
Levin's menu featured the Sloppy Louie, a sandwich with corned beef, pastrami, roasted turkey breast and roasted rare roast beef, topped with creamy slaw and 1000 Island dressing, on rye; the Smokey Louie, a sandwich with smoked salmon, nova lox and whitefish salad, topped with homemade chive cream cheese, on rye; and Mish Mosh soup, classic matzo ball soup with kasha and shells, and egg noodles.
"Matzo ball soup! No one makes matzo ball soup like ours. We inherited the original recipe but made tweaks to make it our own. It's so popular that we need to make 50 gallons of soup a week," said Levin.
Levin's wife passed away one year after he took over Pumpernickles. His two sons, Bryan and Richard, helped him keep the deli going 7 days a week.
The deli helped fill the void in my life. It also helped keep my boys in town after they graduated from college, truly making it a family business.
Pumpernickles closed its doors on July 4, 2022. Economic conditions brought on by COVID became too much for Levin to bear.
Before the pandemic, workers from nearby offices accounted for 80 to 85 percent of the deli's lunch business.
The office buildings are empty. They're still not coming. They're trickling back to work. You come in here during the week now, it's all retired people.
According to Levin, Pumpernickles was not losing money. He and his son, Bryan, stopped taking a salary at the beginning of the pandemic, which allowed the restaurant to keep its employees.
"But at the end of the day, it just got to be a grind after two years of not making a paycheck. I'm 67. Financially, I don't need it. I'm ready to retire. And that's what it came down to," said Levin.