Pepper sauce is a hot commodity. That is, it's very popular. The Huy Fong brand of hot, red Sriracha chili sauce, with its distinctive rooster logo, is hard to find these days because of a weather-related shortage of chili peppers in Thailand.
That's good news for other brands of Sriracha sauce, which takes its name from the Thai town of its origin. In St. Louis, the Sriracha Granada brand of mild green pepper sauce is owned by Jewish St. Louisan Nathan Litz and his wife, Caitlin Stayduhar. The couple had sold it in 2019 but recently reacquired it.
"The people to whom I sold it had a lot of industry connections," said Litz, 35. "They had a big vision for the brand, and it was very exciting. It was really time for us to let go, let the brand continue with new leadership and management and people that had more resources. Over time, it came to light that they may have underestimated the amount of work that it really takes to build a pioneering brand."
Litz and Stayduhar's journey from cooking pepper sauce at home to building a popular restaurant and store brand was described in a 2017 Jewish Light profile. For Litz, Sriracha Granada started as a hobby. He is a network architect at World Wide Technology; Stayduhar is a lawyer and equestrian rider. The couple also have a family to care for: a clowder of cats.
Why jump back into the pepper sauce pot?
"Over time, the market share fell, and brand awareness fell," Litz said. "Sales obviously followed suit and fell as well. We had the opportunity to buy the brand back, so we bought it back at a discount."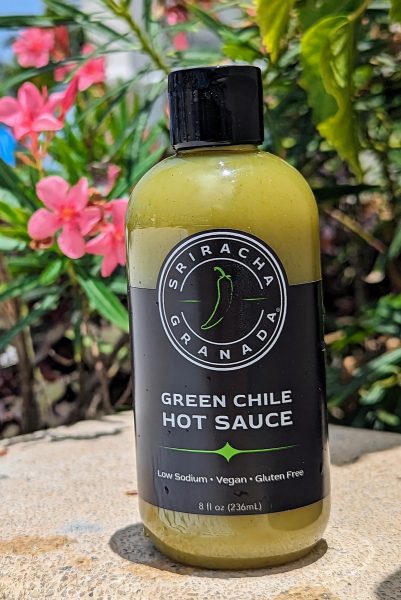 To reinvigorate Sriracha Granada, Litz is back on the promo trail. It's time consuming, but he and Satyduhar are committed to getting it back to the level they achieved originally, with about 350 retail locations and a solid number of local restaurants. Product space in grocery and specialty stores is always at a premium, so one change Litz made was modifying the size of the bottle. That also makes it easier to fit on a refrigerator shelf. He also updated the label design.
"If you just ask people, 'Hey, what kind of hot sauce do you like?' they immediately say something like Tabasco or Sriracha," Litz said. "Sriracha is a ubiquitous type of hot sauce, and that's a flavor profile I personally really enjoy. But a lot of commercial sauces use chemical preservatives and artificial colors. None of them are low sodium, low sugar, vegan and green. We use no artificial colors, no chemical preservatives."
The recipe for Sriracha Granada has also been updated, and it's being produced by a local commercial food company. Litz and Stayduhar are partnering with the distributor Two Men and a Garden. Litz said he's eager to introduce new fans of pepper sauce aficionados to both the classic green pepper sauce and companion spice blend.
"When I initially made Sriracha Granada years ago, there were not any publicly available green Srirachas," he said. "It was truly unique at the time. And it's something that I'm very proud of, of being able to have built one of the first green Sriracha sauces."
Sriracha Granada is available at Straub's, Fields Foods, and Wine and Cheese Place locations.