Recipe | Mamo's apple strudel and chocolate babka recipes
Shared by Duff Goldman
Published April 19, 2021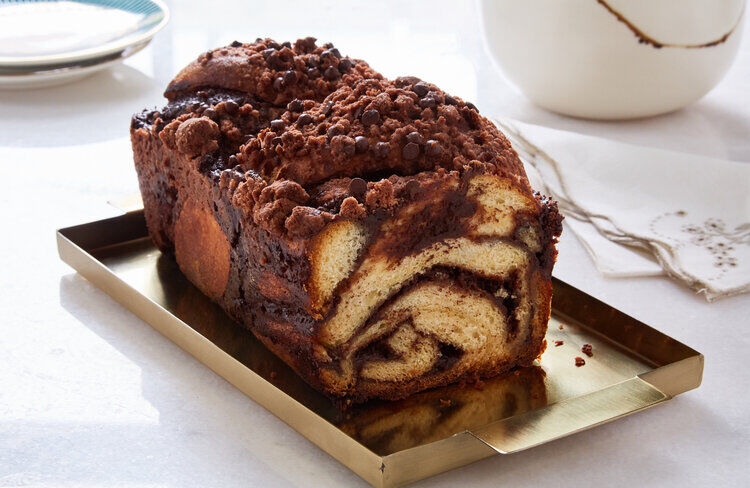 This story originally appeared on Jewish Food Society.
Recipe Roots: Halych, Ukraine > Wichita, Kansas > Southern California
Tucked into Esther Steinberg safety deposit box in Wichita, Kansas was her prized recipe for strudel. She kept it a secret, sharing it with only a few people like her granddaughter Jacqueline Winch. Learning to make the strudel, "was like a right of passage…. Really, it was like a bat mitzvah of cooking," Jacqueline, who is the mother of famed baker Duff Goldman, explains.
"It was a two day ordeal, I had to spend the night and the apartment was as big as a normal person's living room and the kitchen was as big as a closet," Jacqueline recalls. Mamo, as Esther was known in the family, showed Jacqueline how to stretch the dough across her dining room table, how to bend her wrist just so to prevent the dough from tearing. The result was a translucent dough that was stuffed with an apple marmalade. The secret ingredient? Canned pineapple, mixed into the apple filling. Jacqueline says she was sworn to secrecy.
It's one of many recipes Esther left behind in her unique style of writing. "She wrote English phonetically," Duff explains. "She spelled everything with a Russian accent, which is really funny. So, everything is misspelled, but when you read it, it sounds like you have a Russian accent." Many of the recipes, which now live in Duff's Southern California home, are written on stationary from the Hollywood Hat Shop, the store Esther owned in Wichita.
And, "most of her recipes were from the old country," Jacqueline adds. Esther lived in Halych, a town in western Ukraine until she was a teen, when she immigrated to the United States, settling in Wichita. Inspired by her new home, some of her recipes took on American twists. As for the strudel, no one is quite certain about the recipe's origin.
Esther was a gifted baker. "She could make any kind of dough. She never took out a book, she just knew what to put in: how many eggs for this kind of dough and how much oil for that kind of dough," Jacqueline adds.
Among her baking recipes is one for babka, that was forgotten and later revived when Duff was asked to contribute a babka recipe to the Food Network Magazine. He called his mother Jacqueline who shared it with him. It's not a recipe she makes, but it's one she loves. A couple of years ago, Duff invited Jacqueline for Seder to meet his then girlfriend Johnna. Knowing his mom's love of babka, and not living in a traditionally observant home, he baked her a loaf. "Even though it's very not kosher for Passover," he acknowledges.
It was shared between Johnna and Jacqueline. "My mom and her were eating it after the Seder and they kind of bonded and it was nice to watch them eat babka and drink coffee," Duff recalls. After cleaning up, Jacqueline pulled Duff to the side and said quietly: "'I like her.' And that was when I really knew, ok, I can marry this girl."
Today, both recipes are treasured, but neither lives under lock and key. Duff and Jacqueline have decided to share their family recipes — thankfully, with us.
---
Duff's Chocolate Babka
Makes: Two 9-inch by 5-inch loaves
Total Time: 2 hours, plus 3 hours rising time, plus overnight
Ingredients
For the dough:
One ¼-ounce packet active dry yeast
½ cup whole milk, at room temperature
4½ cups all-purpose flour, plus more for dusting
⅓ cup sugar, plus a pinch
5 large eggs
1 teaspoon pure vanilla extract
1½ teaspoons kosher salt
¼ teaspoon ground nutmeg
1 teaspoon freshly grated lemon zest
10 tablespoons unsalted butter, cut into small cubes, at room temperature
For the filling:
1 cup bittersweet chocolate chips
8 tablespoons unsalted butter, cut into pieces, at room temperature
2 teaspoons pure vanilla extract
¾ cup heavy cream
½ cup sugar
Pinch of kosher salt
For the topping:
½ cup all-purpose flour
3 tablespoons sugar
1 tablespoon unsweetened cocoa powder
Pinch of kosher salt
4 tablespoons unsalted butter, cut into small cubes, at room temperature
⅓ cup mini semi-sweet or dark chocolate chips
For the loaves:
Non-stick cooking spray
4 tablespoons unsalted butter, melted
¾ cup sugar
¾ cup water
Preparation 
1. Make the dough: Sprinkle the yeast over the milk in a liquid measuring cup. Add a pinch of sugar, stir and set aside until bubbly, about 7 minutes.
2. Add the flour, the remaining ⅓ cup of sugar, eggs, vanilla extract, salt, nutmeg, lemon zest, and the milk and yeast mixture into a large bowl or into the bowl of a stand mixer fitted with the dough hook attachment. Knead the mixture until a dough comes together, about 5 minutes. If using a stand mixer, mix the dough on medium speed until the dough comes together, about 3 to 5 minutes.
3. Knead the butter, by hand or with the stand mixer on medium speed, into the dough in three additions, mixing each addition completely before adding more butter. (The dough will initially start to tear and lose elasticity when the butter is added; dust the dough with a bit of flour if it's too sticky.)
4. Transfer the dough to a large bowl; cover with plastic wrap and let rise at room temperature until doubled in size, about 1½ hours. Punch down the dough, re-cover with plastic wrap, and let it rise in the fridge overnight.
5. Make the filling: Place the bittersweet chocolate chips, butter, and vanilla in a medium heat-proof bowl. Heat the heavy cream, sugar, and salt in a small nonstick saucepan over high heat, mixing often, until it just starts to boil, about 5 minutes. Pour the cream mixture over the chocolate chips and butter and whisk until the chocolate mixture is smooth and shiny. Let cool to room temperature.
6. Make the topping: Whisk the flour, sugar, cocoa powder, and salt in a small bowl. Smash and work the butter in with your fingers until the mixture is sandy and chunky. Mix in the mini chocolate chips and set aside in a cool place.
7. Form the loaves: Coat two 9-inch by 5-inch loaf pans with cooking spray and line with parchment paper, then spray the parchment with cooking spray. Set aside.
8.  Turn out the risen dough onto a lightly floured surface. Cut the dough in half with a bench scraper or chef's knife. Using a rolling pin, roll each half into a 12-inch by 16-inch rectangle on a lightly floured surface. Using an offset spatula, spread half of the chocolate filling over each dough rectangle, all the way to the edges.
9. Starting from a long side of the dough, tightly roll each rectangle into a log. Wrap each log in plastic wrap and refrigerate for 15 minutes.
10. Unwrap the logs and gently cut each in half lengthwise with a bench scraper or chef's knife. Twist the halves together a few times, starting from the middle. Place each dough twist snugly into each prepared pan, tucking the ends under as needed. Cover with plastic wrap and let rise 1½ hours at room temperature.
11. Finish and bake the babka: Preheat the oven to 350°F. Brush each loaf with melted butter and sprinkle with the streusel topping. Bake until puffed and browned, about 45 minutes.
12. Meanwhile, make the simple syrup: Combine the sugar and water in a small saucepan. Bring to a boil over high heat, stirring until the sugar dissolves, about 5 minutes. Let cool completely.
13. Remove the loaves from the oven and immediately pour ½ cup of simple syrup evenly over each loaf.
14. Let the loaves sit for 10 minutes, then remove the babka from the pans, remove the parchment, and let the loaves cool completely on a wire rack.
15. Serve the babka at room temperature.
---
Mamo's Apple Strudel
Make ahead: The filling can be made in advance and stored in a resealable airtight container in the refrigerator for 1 to 2 days. Remove from the refrigerator and let come to room temperature before using. The topping can be made in advance and stored in a resealable airtight container in the refrigerator for 1 to 2 days before using.
Total Time: 1 hour and 30 minutes active + 8 hours inactive
Makes: 3 to 4 logs
Ingredients
10 to 12 Granny Smith apples, peeled, cored and cut into thin strips
Juice of 1 lemon
1 large can pineapple, drained and diced
¾ cup sugar
⅛ teaspoon salt
½ cup finely chopped nuts
2 sticks unsalted butter
¼ cup vegetable oil
1 pound package phyllo dough
Mixture of 1 large freshly ground cinnamon stick, ⅓ cup sugar and 1 cup plain breadcrumbs
Preparation
1. As you peel and dice the apples, sprinkle with lemon juice and mix frequently to prevent browning, or toss in iced water with some lemon juice.
2. Place the apples into a large pot on the stove over medium-high heat. Add the pineapple, sugar, 1 cup water and salt. Cook until the moisture evaporates and consistency of the remaining fruit is thicker than preserves, 30 to 35 minutes. Stir often to prevent burning on the bottom. Cool, then stir in nuts.
3. Refrigerate the apple filling at least overnight.
4. Preheat the oven to 350 degrees F.
5. In a pot, melt the butter over very low heat. A white foam will form as the top layer. Skim off the foam with a spoon. Once the foam is removed, add the oil. Stir and remove from the heat.
6. On a sheet of waxed paper, lay out the first layer of phyllo dough. (Dough dries out quickly, so keep other layers not in use covered with a damp cloth over a sheet of waxed paper.) Using a pastry brush, gently brush the butter/oil mixture onto the entire sheet of dough. Sprinkle with the breadcrumb mixture over the entire surface. Repeat for an additional 4 layers so each roll has a total of 5 layers of phyllo dough.
7. Using a spoon, add a row of the apple filling an inch or two from the bottom of the dough. Do not overstuff or the strudel will burst when baking. Lift the bottom edge of the waxed paper with both hands, each about a third of the way in from the outer edges to support the phyllo as you roll up the dough, jelly roll style. As you roll, fold the sides inwards to form sealed edges as you continue to the end. End with the seam-side down.
8. Coat a baking pan with the butter/oil mixture and place the first rolled dough onto the pan with the seam facing down. Then brush the roll all over with the butter/oil mixture.
9. Repeat the steps above until you have filled the cookie pan with the rolls but keep at least a roll's width between each. Keep at least 2 to 3 inches between the rolls on the baking sheet to ensure even browning.
10. Bake until golden brown, 40 to 45 minutes, depending on your oven. During baking, brush the strudel 4 to 5 times with the butter/oil mixture, transferring the baking sheet out of the oven to brush the strudel and returning the strudel into the oven after brushing each time.
11. Cut into pieces while still hot so the crust won't break.
Cook's Note: Unbaked rolls can be frozen. Just thaw and bake when ready. Baked strudel rolls can also be frozen but need some time in the oven to heat and to crisp them up. Again, cut while hot.