Pistachios can add pizazz to Passover 
Passover is the perfect time to showcase pistachios, a luscious uniquely green, earthy-tasting nut, and one of only two nuts mentioned in the Torah (the other being almonds). In Genesis 43:11, Jacob tells his sons to take some of the "choice fruits" to Egypt in exchange for grain. The "choice fruits" Jacob referred to were pistachios (called botnim in the Torah). According to Harold McGee in his book "On Food And Cooking," pistachio trees can be traced back to Middle Eastern settlements dating to 7000 BCE.  
Our Persian ancestors used these delicious nuts for sweet oil and as a key ingredient in many stews and sweets. So why shouldn't we? Chabad says that all nuts, except for peanuts (which are not nuts, but legumes) are kosher for Passover if they are raw and have not been blanched or further processed. However, if you keep kosher and prefer to have your pistachios roasted and/or salted, you can order an assortment of kosher for Passover nuts from Oh! Nuts.
Second only to Iran in pistachio production, California grows 98% of our nation's pistachios. Its arid temperatures and cool winters provide this drought-resistant and sustainable tree with a perfect growing climate. Unlike other nuts, pistachios grow in clumps and, like olive trees, are "alternate bearing," meaning they are most productive every other year.
Pistachios contain all nine essential amino acids that make up a protein, like quinoa, soy, buckwheat and chickpeas. Accordingly, vegans and vegetarians can get their daily protein requirements from a healthy handful of pistachios or from various foods prepared with pistachios, without having to consume meat or dairy. Pistachios also beat out blueberries, pomegranates and red wine with their higher levels of antioxidants, which are beneficial to brain function, to reducing inflammation and to healthy aging.
According to The Jewish Journal, Israel is the largest per capita consumer of pistachios in the world. In addition to out-of-hand consumption, pistachios show up in so much of Israeli cuisine, from salads and stews and grain dishes to desserts such as ma'amoul, basbousa, Moroccan nut-and-date slices and, of course, baklava.  
Incorporating pistachios into your seder meal is easy, and you will be delighted by how many of your traditional dishes can be enhanced by the wonderful flavor of pistachios, including roasted chicken, fish, tzimmes, roasted vegetables, and even cakes and cookies. Try combining equal amounts of chopped basil or mint and chopped cilantro or parsley with a few tablespoons of finely chopped raw pistachios. Mix with two teaspoons of fresh lemon juice and a few tablespoons of olive oil and spoon this mixture over oven-roasted fish or chicken before serving. You could also add some finely grated Parmesan cheese to this mix and use it as a topping for oven roasted vegetables, such as broccoli, cauliflower, or carrots. 
Basil pesto has become a favorite with pasta. However, substituting pistachios for pine nuts in your pesto changes the flavor, and would be delicious served alongside roasted chicken. You could even switch out the basil for arugula and toss this pesto into your baked matzah farfel or even into a bowl of steamed quinoa.  
As for sweets, finely chopped pistachios atop your cookies and cakes add beautiful color and flavor. You can easily swap out other nuts in your cookies and use pistachios. They pair particularly well with cardamom, cinnamon, orange zest, orange flower water or rose water; fresh pears, and dried fruits such as figs, apricots, prunes and dates. Think tzimmes, for example. 
Baum + Whiteman, International Food + Restaurant Consultants who, each year, make predictions regarding food trends have named pistachios the nut of the year, explaining: "We're seeing more and more pistachio nuts on menus. Pistachio replacing pine nuts in pesto; as an ingredient in inventive Mexican moles; with cheese as a filling for tortellini. Combined with cardamom, adding color to Danish pastry, and on pizzas." 
We can now add to that list "Passover seders."
I have enjoyed exploring exciting ways to incorporate pistachios into my cooking and baking. One of my favorite ways is to roast four to five whole beets, peel them and puree them in a food processor with a garlic clove, 2 tablespoons of date molasses or maple syrup, a tablespoon or two of olive oil and a pinch of salt. Then spread the smooth beet puree onto a dish, swirl in some labneh or Greek yogurt, and garnish with a sprinkle of za'atar and chopped pistachios. Delish! 
Here are a few recipes to try for the upcoming Passover holiday. 
Margi Lenga Kahn is the mother of five and grandmother of nine. While teaching virtual cooking classes and preparing meals for the local "Meals On Wheels" program, she continues to work on a project to preserve the stories and recipes of heritage cooks. She welcomes your comments and suggestions at [email protected].
---
Labne Matzah Shmear with Pistachio-Dill Topping
Click here for printable version of this recipe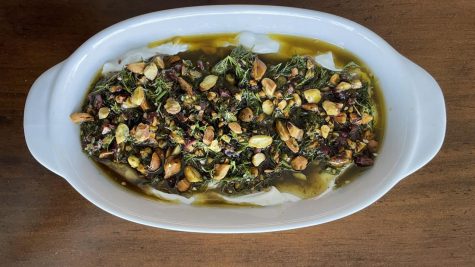 Ingredients 
1 c. labneh or Greek yogurt,    or more as desired 
1/3 c. chopped fresh dill or mint leaves, plus extra for garnishing 
2 tbsp. unsalted raw pistachios, chopped, plus more for garnishing 
4-5 Kalamata pitted olives, finely chopped 
1 tbsp. za'atar 
Pinch of salt, or to taste 
½ c. extra virgin olive oil

Directions 
Spread labneh or yogurt on a small serving plate; set aside. 
In a medium bowl, combine remaining ingredients until evenly mixed. Spoon this mixture primarily down the center of the labneh, letting the green oil bleed into the edges. Garnish with more dill or mint, and some chopped pistachios.  Serve alongside matzah.
---
Pistachio Macaron Cake
Click here for printable version of this recipe
(Recipe slightly adapted from Ottolenghi Test Kitchen: Extra Good Things, by Yotam Ottolenghi) 
Ingredients
1 tbsp. unsalted butter, for greasing 
1¼ c. (170 g.) unsalted raw pistachios 
2/3 cup (80g.) almond meal 
¼ teaspoon salt 
3 large eggs, plus 1 large egg yolk 
1 cup (200g.) granulated sugar 
1 tbsp. vanilla extract or vanilla bean paste 
1 tsp. finely grated lemon zest 
1/3 cup (40g.) sliced almonds 
3/4 cup + 2 tbsp. (200 ml) cold heavy cream 
3 tbsp. confectioners' sugar, plus 2 tsp. extra for dusting

For serving: 
1¼ c. (296 ml) cold whipping cream 
1 tbsp. mascarpone cream 
1 tbsp. confectioners' sugar 
1 tsp. vanilla extract or vanilla bean paste 
½ pint fresh strawberries or raspberries, rinsed and patted dry

Directions 
Preheat the oven to 375°F. Grease a 10-inch round tart pan and line with a piece of parchment paper large enough to cover the bottom and sides with a little bit of overhang (don't worry if it's not perfect). Use any extra butter to grease the top of the parchment paper as well. 
Put the pistachios into a food processor and blitz until you have fine crumbs, roughly the size of couscous or bulgur wheat. It won't be as smooth as the almond meal. Put this, the almond meal, and salt into a large bowl and mix well to combine. 
Put the eggs, yolk, granulated sugar and 2 tsp. of the vanilla into the bowl of a stand mixer fitted with the whisk attachment. Beat on medium-high speed for 2-3 ½ minutes, until well aerated and light in color. This will help develop the crackly crust you want. Using a rubber spatula, gently fold in the lemon zest and pistachio mixture until just incorporated — don't overmix it. Pour it into the prepared tart pan and sprinkle evenly with the sliced almonds. Place on a flat baking sheet and bake for 35 minutes, or until a skewer inserted through the center comes out clean. Remove from the oven and let the cake cool completely in the pan. 
When ready to serve, put the cream into a bowl and whip it with an electric beater or in a stand mixer fitted with whisk, until just starting to thicken. Add mascarpone cream, confectioners' sugar and vanilla. Continue beating until it thicken more, but hasn't reached the peak phase (like a thick sauce).  
Use the lining paper to lift the cake from its pan and place on a wooden board, with the paper attached. Pull away at the paper to expose the sides. (Note from Jenny: You can also remove the paper and transfer it to a platter, as long as you do it carefully.) Don't worry if the cake cracks a little; this just adds to its charm. Dust the surface with the extra confectioners' sugar. Slice, and accompany each slice with a tbsp. or two of whipped cream, and garnish with berries.  
Makes 8 servings.
---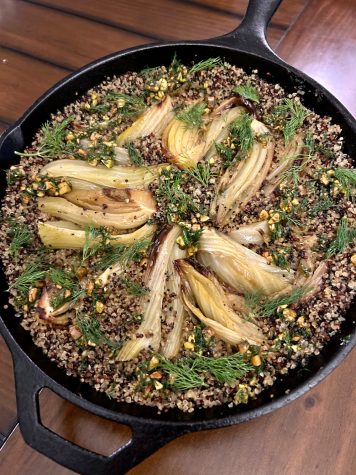 Caramelized Fennel with Quinoa
(Recipe adapted from Ottolenghi Test Kitchen: Extra Good Things, by Noor Murad and Yotam Ottolenghi) 
Ingredients 
Optional Saffron Water: 
¼ tsp. saffron threads, crushed
2 ½ tbsp. hot water
Roasted Fennel and Quinoa:
2 large fennel bulbs (1 lb. 9 oz.) stalks removed and bulbs cut in half and then into 8 wedges each, core intact
½ c. extra virgin olive oil, divided
½ tsp. salt, plus more to taste
1/8 tsp. freshly ground black pepper, plus more to taste
3/4 c. + 2 tbsp. water, divided
2 tsp. light brown sugar
1 c. quinoa, white or multi-colored, rinsed well in a sieve
4 garlic cloves, peeled and chopped
2 tsp. coriander seeds, crushed in a bag with a meat tenderizer or in a mortar with pestle.
2c. vegetable stock or broth
Pistachio-Dill Topping: 
1/3 c. fresh dill, large stems discarded and dill coarsely chopped, plus additional for garnishing
3 tbsp. shelled raw pistachios, coarsely chopped, plus more for garnishing
2 large lemons, divided
Directions
Preheat oven to 500 degrees. Arrange an oven rack in the center position. If using the saffron water, dissolve saffron in the hot water in a small bowl; set aside.
Place the fennel wedges in a 10 to 12-inch lidded sauté pan that is oven safe (I used my 10-inch cast iron skillet and it was perfect). 
Drizzle 3 tbsp. of olive oil evenly over fennel, and top with ½ tsp. salt and 1/8 tsp. freshly ground black pepper. 
Use your hands to mix everything together and then spread out the fennel so that it is in a single layer. Add half of the saffron water (if using), or 1 tbsp. tap water to the pan and roast, uncovered, for 15 minutes.
Evenly sprinkle the sugar over the fennel and turn the wedges over. 
Continue to roast fennel another 12-15 minutes, or until beginning to char or caramelize. 
Transfer pan to your stovetop (it will be very hot!) and carefully transfer the fennel wedges to a plate; reserve. Reduce oven temperature to 425 degrees.
Place a tbsp. of oil into the hot pan and add crushed coriander seeds and chopped garlic. Stir for 30 seconds. 
Add rinsed and drained quinoa to pan and stir to evenly incorporate the aromatics. 
Add the vegetable stock, stir, and bring mixture to a boil. Arrange the reserved fennel wedges evenly in the pan with the quinoa. 
Place the lid on top and place back in the oven for about 20 minutes. Carefully lift the lid to check that all the broth has been absorbed. If it hasn't, return pan to the oven for another couple of minutes. Transfer pan to a cooling rack and let sit with lid on.
To make the pistachio dill topping, combine zest of half of a lemon, 2 ½ tbsp. fresh lemon juice, dill, chopped pistachios, 1/4 c. olive oil, and a pinch of salt and black pepper; set aside.
Just before serving, remove lid from the pan, drizzle with remaining saffron water, if using, and dollop pistachio topping evenly over everything. 
Taste, and add salt and freshly ground black pepper, as desired. 
Cut remaining lemon into wedges and garnish, along with additional dill and pistachios.
Makes 6 generous side servings.