Nike's new Montreal bagel-themed shoes drop today
Jordan Palmer, Chief Digital Content Officer
Published January 16, 2023
Sadly, we have not found anywhere in St. Louis where you can sink your teeth into a Montreal-style bagel, which is typically thinner, sweeter and denser than a New York-style bagel.
That said, you can still take a bite of the newest, bagel-forward trend on the market: sesame seed bagel-inspired Nike Dunks.
"We are bringing fresh-baked style to the streets, this delicacy of a design rings you in with carb-lover colors, plus a pinch of Montreal blue for an extra shout-out to the city from la belle province," writes Nike on its website.  "Garnished with sesame seed graphics and finished with a gum-colored sole, it's satisfyingly easy to style—'cause everything goes better on top of a bagel."
The shoe is scheduled to hit stores Tuesday, January 17th and online at 9 a.m. and will cost $120. These wild sneakers are a fun ode to one of the most beloved Jewish foods and a great addition to your outfit for any upcoming Jewish holiday or Sunday brunch spree. The shoes are light brown with speckles of sesame seeds, lending a subtle but delicious bagel vibe to any fit.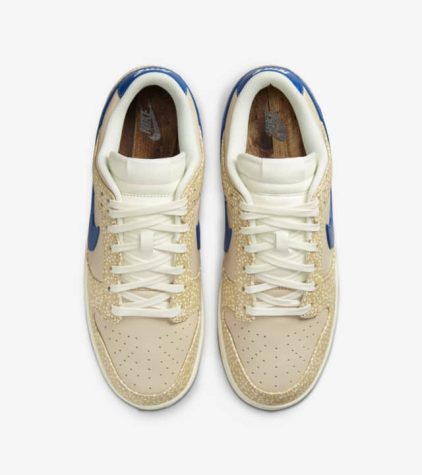 Montrealers line up in snowstorm for bagel shoes
The headline from CTV.com over the weekend read "Fans brave snowstorm to get early access to Nike shoe inspired by Montreal bagel."
Apparently, Montrealers really like their bagels — and shoes — apparently.
The website reports that scores of sneaker fans camped out on the snow-filled sidewalks, some with umbrellas and folding chairs, along Sainte-Catherine Street in downtown Montreal to get early access to the low-top shoe featuring sesame seed graphics and a dash of blue on the signature Nike check.
More Bagel Week Content