Lag b'Omer can be as fun and yummy as a hole in the ground
BILL MOTCHAN, Special to the Jewish Light
Published May 18, 2022
Lag b'Omer begins tonight (May 18) at sunset. It's a bit of a weird holiday because it commemorates a number: the 33rd day of the Omer, the 49-day period between Passover and Shavuot.
Lag b'Omer is also an oddity because there's no real consensus about why we celebrate it. Also, while Omer is considered a time of self-mourning, Lag b'Omer is an upbeat respite, briefly interrupting the sadness of the Omer.
Most people associate Lag b'Omer with lighting bonfires (as well as weddings and haircuts), according to MyJewishLearning.
Celebrating Lag b'Omer in St. Louis is easy because it occurs in the spring, and that's when we have picnics and fire up the grill. Here's another slightly more complicated option that involves fire, food and the outdoors: bean-hole beans.
I first became aware of this culinary curiosity from my dad back in the early 1960s. I was a Boy Scout of middling talent, having secured a whopping one merit badge — for photography. Meanwhile, my father, Carl, was a scoutmaster with 40 or 50 merit badges. He had also earned Eagle Scout status and the coveted Order of the Arrow.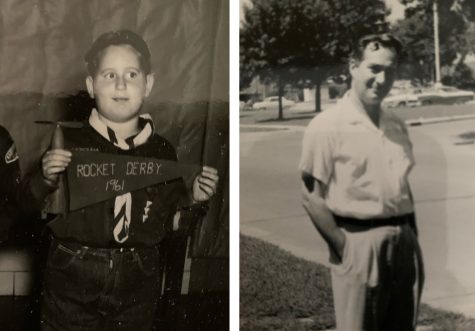 He was athletic and picked up new skills easily and quickly. Clearly, the apple fell nowhere near the tree. One skill he did not possess was cooking. My mom didn't either, which posed problems at dinnertime.
However, my dad learned to cook one dish through his scouting and camping experience. It involved cooking beans outdoors overnight in a hole in the ground. Basically, it goes like this:
Ingredients
2 lb. dried beans
3 sliced onions
¾ cup molasses
½ cup maple syrup
2 tbs dry mustard
2 tbs kosher salt
1 tbs black pepper
Directions
Soak beans overnight in water (or quick-soak by simmering them for two minutes, then allow to stand for one hour). Drain and rinse.
Put the beans in a 6-quart Dutch oven or large pot with all other ingredients. Stir and add water to cover by one inch. Bring to a simmer.
Dig a hole large enough to hold a pot with six inches clearance above the lid.
Build a fire in the hole using cord wood. Add rocks and let the wood reduce to embers.
Remove the hot rocks from the bean hole. Put in the pot and cover with three layers of heavy duty aluminum foil. Put the hot rocks on top of the pot.
Fill the hole with dirt, covering the pot.
After eight hours, remove the pot from the hole and serve.
Semi-cheating method (that's not as much fun): Instead of the hole, use a 350-degree oven for three hours.