"It's in the sizzle" | The burger that's been a "smash" in St. Louis since 1934
Bill Motchan, Special For The Jewish Light
Published June 15, 2022
Like toasted ravioli and provel cheese, St. Louis is inextricably linked to the hamburger. The 1904 Louisiana Purchase Exposition in Forest Park was a coming- out party for the hamburger. Three decades after that grand world's fair, another burger took center stage in the Midwest: the smashburger, which made its debut in February 1934 at the venerable chain Steak 'n Shake.
We used to simply call the restaurant "Steak" when I went to University City High School. It was a favorite for many Jewish St. Louisans who came of age in the 1960s, when carhops brought shakes and burgers out to our cars, "American Graffiti"-style. Going inside was also a treat because we could watch up close as the burgers were cooked to order.
Memories of burgers past
The memories of what we as kids thought of as fine dining are still vivid for Steve Friedman, author and former editor of St. Louis Magazine.
"My memory is that my dad would take my brother Don and me out to dinner at Steak 'n Shake on Sunday night to give my mom a break from cooking," said Friedman, who graduated from Ladue Horton Watkins High School in 1973. "He'd say, 'Whatever you boys want for dinner, you can have,' and we thought, 'He must be the richest man in the world — we can have double burgers and milk shakes.' It was a huge deal. Those were big times."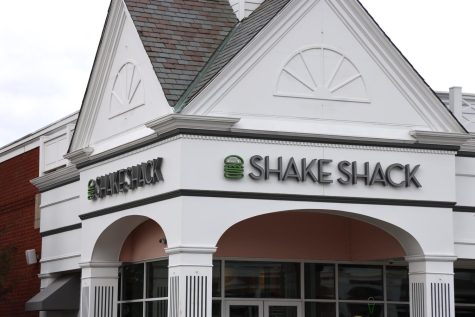 The Steak 'n Shake experience was also notable for a young Danny Meyer, the Jewish founder of the massive international, publicly traded Shake Shack. Meyer has mentioned Steak 'n Shake in past interviews about the inspiration behind the burgers and shakes at Shake Shack.
I wondered whether Meyer had the same magic experience of watching the burgers grilled at Steak 'n Shake that Friedman and I had. And if the Shake Shack burger is truly an homage to Steak. Harley Hammerman, host of the Lost Tables website, corresponds with Meyer, so I asked him if there was a simple answer.
Calling Meyer "a true diplomat," Hammerman passed on Meyer's reply:
"Fond memories of so many St. Louis burgers I grew up with: Carl's, Fitz's, Steak 'n Shake, Straub's, Crown Candy Kitchen, Schneithorst's, Parkmoor …"
So perhaps the Shake Shack burger is an amalgamation of all the burgers Meyer remembers growing up in St. Louis. As his list indicates, there's no shortage of great burgers here. The smashburger, though, is special.
A French lesson
The smashburger is flat. Very flat. The cook must exert great pressure on the burger patty with a spatula. That enhances contact of the meat with the heat source. The burger's juices are locked in and don't drip out. The result is also a distinctive browned, charred appearance and intense flavor.
To fully understand the science behind the smashburger, you need to learn the French word maillard (pronounced my-yard). My high school French is un petit, so I consulted Frederick J. Tiess, a master instructor in the College of Food Innovation & Technology at Johnson & Wales University in Providence, R.I.
"The maillard reaction is the development of flavor and aroma in food that results in a change in color from its natural state to amber to a mahogany color on the surface," said Tiess, a certified master chef. "The application of heat directly to the hamburger from a hot pan or griddle rearranges the amino acids.
"The greater the surface area of the food, the greater the proportion of maillard reaction and flavor development. This process changes how light reflects, thus a brown color develops on the surface, which changes the texture.
"My grandfather had a bar next to his brother-in-law's butcher shop in New York, and he used to make burgers using a press in a cast iron pan with julienne onions. There is something about that crisp texture on the surface of the burger that is so special."
The first smashburger
Food history gets a little fuzzy when establishing credit for the first smashburger. It's often credited to Bill Culvertson, the creator of Dairy Cheer in Pikesville, Tenn. But Culvertson smashed his first burger about 60 years ago, more than 25 years after Steak 'n Shake began.
In St. Louis, another tiny diner, Carl's Drive-In on Manchester Road in Brentwood, started smashing burgers around the same time as Dairy Cheer. Carl's seats just 16 people at two counters and does a brisk business.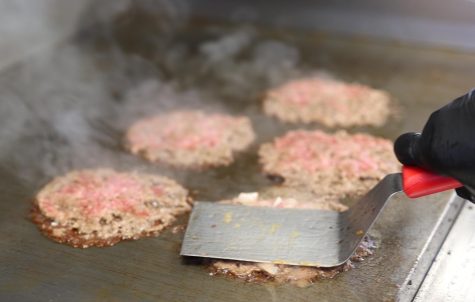 The building was originally a Lubrite Service Station when it opened in 1918. In 1959, 25-year-old Carl Meyer (no relation to Danny Meyer), whose family delivered meat to the restaurant, bought it and renamed it Carl's Drive-In. In 2021, it was purchased by longtime customer David Kraemer.
"I was sitting here one day at lunch and I said I wished that I had bought the place when it was sold a couple of years before," Kraemer said. "I found out the owner had just walked out the door, so I caught up with him in the parking lot and the next day we shook hands on a deal. It was the right place at the right time.
"I was a big fan of Carl's, and I used to come every week. That was a big plus, and the fact that it's an iconic institution. It's been featured on national TV. We get professional athletes here, we get executives. We get Cardinals and Blues players. That included longtime Cardinals announcer Jack Buck."
The gourmet smashburger
Ground chuck is generally the go-to smashburger cut of beef. Some St. Louis burger joints take the extra step of a specialty grind, like Jack Nolen's in Soulard. It looks like a dive bar, but Nolen's offers a gourmet version using a combination of brisket, short ribs and chuck.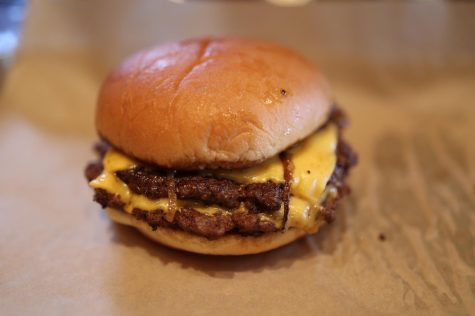 The ultimate local smashburger may be the dry-aged version at Mac's Local Eats on Oakland Avenue. On Sundays at Mac's, you can forgo a standard bun and choose a Pharaoh's glazed donut, proof that not all pharaohs are bad.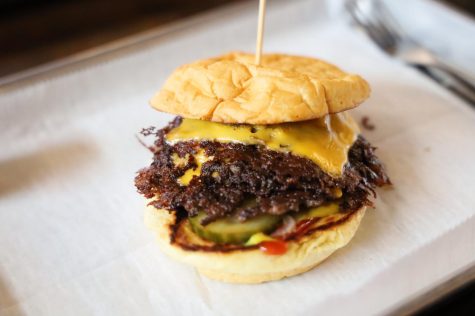 "The flavor of the meat, that's where we differ from everyplace else in the country," said Chris "Mac" McKenzie, owner of Mac's. "Dry-aged beef is just much more flavorful than regular beef. We use a 2-ounce patty in a puck form, and we portion everything by hand. We try to handle it as little as possible. Around the circumference of the patty, we call it the meat skirt, and it is thinned out so it gets crispy on the flat top. It cooks all the way through and we use a different instrument to scrape it because we want all of those little brown bits to stay on the burger."
Sauced up
Native St. Louisans may remember Medart's, which started in the sprawling Tudor building on Clayton Road near Highway 40 (I-64) that now houses Cheshire Inn.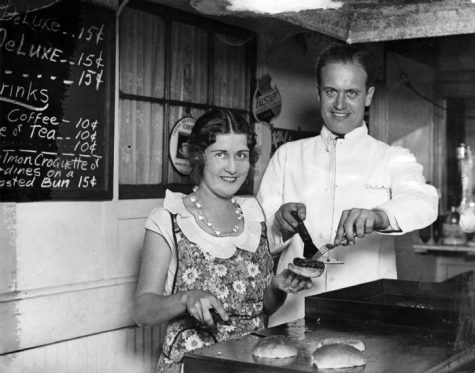 Medart's sauce is available on the smashburger served at the Drawing Board on Chippewa Street in south St. Louis. The original Medart's burger was not a smashburger, but it was popular. The sauce was concocted from a mayonnaise base and green relish, said the Lost Tables' Hammerman, who recalled another famous sauce on a legendary University City burger at Hamburger Heaven on Olive Boulevard. "
Hamburger Heaven's burgers were not smashed on the griddle, so technically they were not smashburgers," Hammerman said. "I confirmed this with Dr. Alan Londe, who started making burgers at Hamburger Heaven when he was 15 years old. But the patties were indeed relatively thin and came off the griddle with a charred crust. You couldn't order them medium-rare.
"The sauce is what made Hamburger Heaven's burgers and fries special. As a kid, I would order both the burgers and the fries with double sauce, and I was indeed in heaven. The secret sauce was simply Brooks' barbecue sauce mixed with simple syrup, but that recipe wasn't divulged until long after Aaron 'Ernie' Shriber had closed his restaurants and passed on."
Smash it yourself
If you try to make a smashburger at home, a grate on a barbecue grill won't cut the mustard. Most of the burger will fall in the fire. A very hot cast iron skillet will do nicely, though. That's what Steve Friedman uses now, along with his other secret to successful burgers.
"I can now make the perfect smashburger," Friedman said. "The key I discovered by happy accident is to use two spatulas [to press down the burgers on the grill], and it was like muscle memory from watching the cooks at Steak 'n Shake."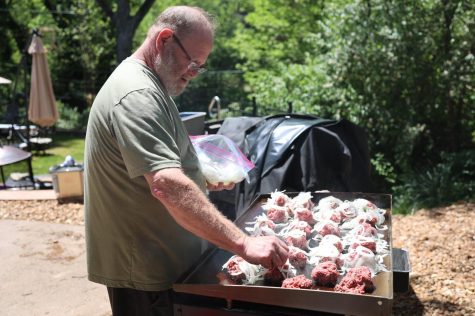 The specialness of the smashburger may be due to how unfussy it is, according to Peter Barg, founder of the St. Louis Burger Club and a member of Congregation B'nai Amoona, who has a commercial grade flattop grill in his backyard.
"There's a beauty in the simplicity in making a smashburger," Barg said. "It's the meat, the salt, the pepper. It's kind of like the everyman burger that you know exactly what you're going to get."