Homesick Israeli shows us how to make a vegan shawarma, anywhere in the world
Every time I go back to Israel I am excited to capture all the sounds, smells and flavors of the Middle East in a pita.
To be honest, nothing beats the nostalgic shawarma in a pita when it comes to Middle Eastern street food.
This dish is made from meat cuts that are stacked with spices on a spit and roasted slowly as they turn. Shawarma is believed to have originated in Ottoman Turkey or elsewhere in the Levant, the historical geographical term referring to the Eastern Mediterranean region of Western Asia.
What if I tell you that you can relive the experience (to some extent) even if you are vegan now?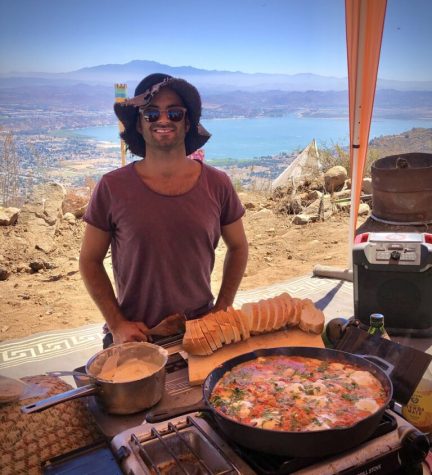 Before I tell you how to make it, I want to share how I got to reimagine shawarma in this way.
I moved to California four years ago, after three years in the IDF, with two suitcases and one dream: to pursue a career in psychology. I discovered that good Middle Eastern food here is as scarce as water in the desert.
In the last four years, I have been a broke student, forcing me to cook for myself. Thankfully, I explored my parents' kitchen growing up, looking over my mama's shoulder and trying new things myself. This skill I learned in my early years got halted during military service and travels, but it kicked right back in.
I knew I had to reconnect to my Mediterranean roots and bring in fresh, organic and delicious food to my community, to give a hint of what Israeli cuisine is like. As an old Israeli saying goes: "If you don't do it with love, don't do it at all."
It became a way for me to treat my friends and gather a community together. In my second year of college, I started an Israeli student club and cooked for larger groups. My cooking skills kept on developing and for the last year, I have been hosting a biweekly Friday dinner for young adults in San Diego.
Some friends who never had Shabbat dinners before were mind-blown by how this manifestation of human connection and celebration of the culture changed their life.
One thing I noticed about Southern California is that so many people are vegan, or becoming vegan, and I found myself drastically reducing meat in my diet as well.
In an attempt to be as inclusive as I can to my dietary-restricted friends, I wanted to give them the experience of beloved authentic food in a vegan twist. I tried various spices, cooking times, and methods and came up with this recipe.
My vegan shawarma is easy, super affordable, nutritious and delicious. It is based on young jackfruit. This bombastic fruit is grown in tropical areas but can be purchased fresh in stores and canned at Trader Joe's.
It tastes similar to chicken shawarma and using my spice blend it will almost feel like the real deal. I recommend eating it with pita bread, hummus, and any side salad you favor.
I'd love for you to go to my Instagram and let me know what you think of this recipe. You can get inspired with other healthy Mediterranean recipes I post there frequently. You will also find my Middle Eastern music playlist on my Instagram bio, so you can cook to authentic sounds.
Vegan shawarma
4 servings
Ingredients
2 cans of young jackfruit
1 can of garbanzo beans (chickpeas)
1 yellow onion, sliced to half-moons
2 cloves of garlic
Bunch of parsley
6 tbsp of extra virgin olive oil
3 tbsp of paprika
2 tbsp of cumin
1 tbsp turmeric
1 tbsp of cayenne or smoked paprika
1 tbsp of coriander seeds, crushed
1 tbsp of white pepper
1 tbsp of salt
Process:
Cut jackfruit into smaller slices (a bit chunkier than pulled meat)
Cut onions to half-moon slices and garlic to thin slices
In a bag, mix the jackfruit, garbanzo, onion, garlic, and all the spices. Let marinate for at least 30 minutes.
Heat oven to 400F.
Spread the marinated jackfruit on parchment paper on an oven tray and bake 30-40minutes, depending on how you like it.
Add some chopped parsley on top. Take a pita and spread it with some tahini and your favorite shawarma add-ons and put jackfruit shawarma on top.
Bete'avon (hearty appetite)!
Niv Levi was born and raised in Tel Aviv. After his service in Sayeret 7 of the IDF, he went traveling across America. Intrigued by the complexities of the mind, Niv decided to pursue a career in psychology. Niv is now a senior at San Diego State University and is involved in cognitive science research. His cultural background, motivation for community building, and love for culinary experimentation led him to gather his community for Shabbat dinners.