Ellen Bennett's Apricot Chicken recipe
Shared by Ellen Bennett , Recipe Roots: Los Angeles
Published May 5, 2022
This story originally appeared on Jewish Food Society
"He's the man you're going to marry, you just need to know this," a friend once told Ellen Bennett, the force behind hit apron company Hedley & Bennett and the author of "Dream First, Details Later." The friend was speaking about Casey Caplowe and added: "I also just need to say that his parents are unbelievable…so, just be ready." Both statements were true. Ellen married Casey and says: "I've had this incredible relationship with [his mother] Cathy ever since I met her." The two women, who live across the country from one, cook whenever they are together — often preserving lemons, celebrating the California abundance near Ellen's home, and making their signature chicken.
Raised by a single mother, Ellen grew up in a religious Catholic family. But, she adds, "I always wanted to be Jewish… don't ask how or where it came from." When Ellen shared with her now-in-laws her plans to convert, they told her she didn't need to for them. She pursued Judaism instead for personal reasons. "I love the culture side of it and the beliefs and the tribal aspect of it," Ellen explains.
She also has a passion for Jewish food. And, her experience working as a professional chef lets her see it through a different lens. "That's been something fun that I get to bring to the family because they have these long standing traditions, but they don't come from a professional cooking background… so I get to bring my own flare while still learning from them."
It's something she's shared with Cathy many times. "When we come together and cook, it's never only her; it's both of us merging ideas and experiences and making it into something totally new," says Ellen.
A few years ago, they started to collaborate on an apricot chicken recipe that's a hybrid of their styles and backgrounds. Cathy brought a love of pairing sweet fruit flavors with protein like brisket that she not only grew up with but adopted from her own mother-in-law. Ellen suggested they air dry the chicken and roast it in a hot oven to create a crisp skin. The result is a recipe that's become a new family staple, sometimes served for shabbat in Cathy's home — and in Ellen's for family dinners when the two are lucky enough to be in the same kitchen.
Roasted Chicken with Apricots
Printable Recipe: Click here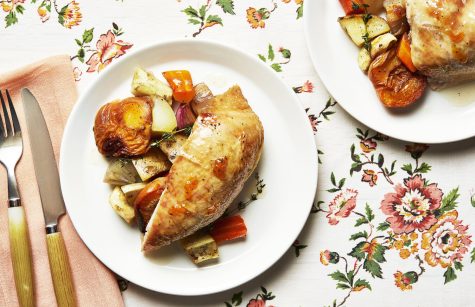 Makes: 4 to 6 servings
Total Time: 1 hour and 30 minutes
Ingredients
4-pound chicken, at room temperature
1 ½ teaspoon kosher salt plus more for seasoning the chicken, divided
½ teaspoon black pepper plus more for seasoning the chicken, divided
4 small shallots, 2 chopped into 1 inch pieces, and 2 quartered, divided
2 Yukon gold potatoes, chopped into 1 inch cubes
2 carrots, peeled and chopped into 1 inch pieces
1 parsnip, peeled and chopped into 1 inch pieces
1 can of apricot halves, drained or 5-6 fresh apricots, pitted and halved
2 tablespoons olive oil
4 tablespoons apricot preserves or jam, divided
8 sprigs fresh thyme, divided
1 lemon, quartered
1 stick of non-diary butter, cut into small pieces, at room temperature
¼ cup chicken broth
3 tablespoons apple cider vinegar
Preparation
1. Heat the oven to 425 degrees. Rinse and pat the chicken dry, then liberally season the skin and inside the cavity with salt and pepper. Set aside.
2. In a large bowl, toss the potatoes, 2 chopped shallots, carrots, parsnip, and apricots with olive oil, 2 tablespoons of apricot jam, and 4 sprigs of thyme. Season with salt and pepper. Arrange in a 9-by-13-inch glass baking dish, and roast for 10 minutes. Remove from the oven.
3. Stuff the chicken with the lemon, shallot quarters, and remaining thyme. Nestle the chicken breast-side up in the center of the baking dish. Roast for 15 minutes, then remove the baking pan from the oven once more. Brush the chicken all over with the non-dairy butter and remaining jam. Pour the chicken stock and apple cider vinegar evenly over the vegetables. Roast for another 45-55 minutes until vegetables are tender, the chicken is browned and has an internal temperature of 165 degrees. If the chicken skin is getting too dark, loosely cover it with aluminum foil in the oven.
4. Remove the baking dish from the oven and let the chicken rest, undisturbed for 10 minutes. Transfer to a cutting board and carve when cool enough to handle. Serve warm with the roasted vegetables.