The story behind these sweet seder treats
Jordan Palmer, Chief Digital Content Officer
Published March 28, 2023
Search the Jewish Light website for Passover desserts and you'll find a plethora of easy recipe ideas to make for seder. Search the same words on Google and find hundreds more. But today we have a new and unique idea you might not find through a search – yet: the Marzipop.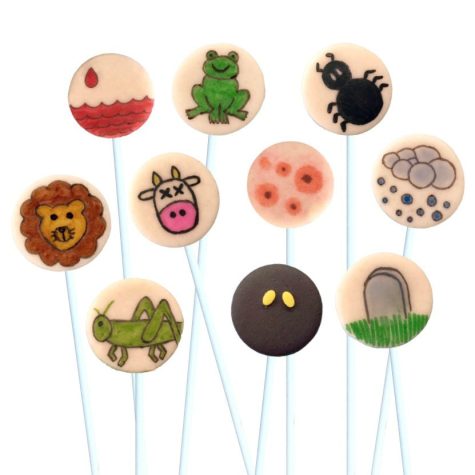 The Marzipop is what you get when you combine a yeshiva education, an MBA from Harvard, 10 years as a cake designer and a love for marzipan.
"Originally we made custom cakes but found those difficult to scale," said award-winning cake designer Dahlia Weinman, the founder of Marzipops, which is based in Ann Arbor, Mich.
"Customers occasionally asked for custom toppers, and we always made those from marzipan as it is so delicious, so I decided to pivot the business from cakes to candy. And it took off," she added.
Marzipan is a candy-like mixture made by mixing finely-ground almonds with sugar, corn syrup and egg whites. Some say it originated in Persia, but others claim it came from Germany, Spain, Italy or France. In fact, the ingredient was so popular in Spain that settlers brought it over to the Americas, where it is made with peanuts instead of almonds. The modern version of marzipan is a luscious combination of ground premium California almonds, cane sugar and water.
"Our first commercial product was our marzipan Matzah Lollipops, hence the name," said Dahlia. "We've since evolved beyond lollipops to other formats and have created over 200 designs for many holidays and for every day, as well as custom and corporate products."
The days before Passover are Weinman's busy time. She and her team of confectioners and artists make Marzipops and their other baked treats, all of which are vegan and certified kosher parve.
"Our goal for Passover is to create playful and unique-to-the-market treats that customers love bringing as gifts and are happy to serve at the Seder table," said Weinman.
Along with Marzipops, you can also try "Ten Plagues Pops," "Ten Plagues Tiles," a "Rainbow Sprinkle Matzah," plus much more.
You will also find Marzipops designed for Purim, Rosh Hashanah, Hanukkah and Purim.
You can order Marzipops right now on their website.
| RELATED: Jewish shoppers struggle with highest prices in recent memory for Passover food