Local families give Hanukkah their own spin
Bill Motchan, Special To The Jewish Light
Published December 6, 2022
A thorough Google search of the phrase "Hanukkah traditions" results in a laundry list of familiar activities, but you won't find the Dreidel Magic game or a reference to the Hanukkah Fairy. These offbeat traditions are annual favorites among two St. Louis Jewish families.
Dreidel Magic was concocted years ago by Jewish Light food columnist Margi Lenga Kahn. Her husband, Michael, provided the game's history.
"We played it first with our five kids and now with grandkids as well," Kahn said. "During the weeks leading up to Hanukkah, Margi keeps her eyes open for potential fun gift items under $3 in the clearance section — scented candles, candy packages, kitchenware, tattoo stickers, etc. 
"The goal is to have enough so that each player will eventually win three prizes. Then we gather around the table. Margi doles out poker chips in an equal amount for each participant for the mandatory ante. When the pot is empty, we take turns spinning the dreidel and either claiming our portion of the pot or having to contribute to the pot."
Dreidel Magic has specific rules. When the timer goes off, usually after about an hour of spirited dreidel spinning, each player totals their chips. Each player selects their gifts in order from the biggest winner to the smallest.
Fay Merritte explained her family's tradition of gifts delivered to her son Shay and daughter Kayci by the Hanukkah Fairy.
"With each day of Hanukkah, they got an incremental amount of money with the gift starting at $1 for Day 1 and increasing each day by an additional $1," she said.  "We still do the eight days of gifts with the kids, even though they are in their 30s now."
The Merrittes also have an annual display of blue lights outside their Creve Coeur home that runs along the driveway and looks like a river. 
Another Hanukkah lawn display in St. Louis County is hard to miss in front of the home of Rabbi Jeffrey Abraham of Congregation B'nai Amoona. It features giant inflatable animals playing dreidel and lighting the menorah. The Abraham lawn display has grown, Lauren Abraham said.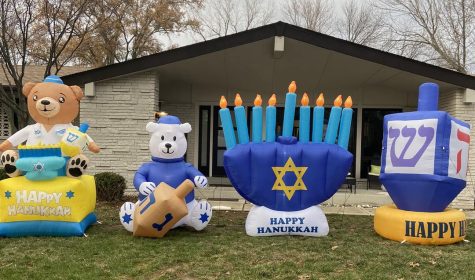 "It started with one blow-up menorah when we lived in San Antonio," she said. "We had a small front yard, but everyone loved it."
Not surprisingly, a number of families celebrate Hanukkah with food. The Pollak family combines it with a white elephant gift game.
"We host an annual Hanukkah party for our friends, both Jewish and non-Jewish," said Jonathan Pollak, a photographer. "We always make sufganiyot and have a version of a gift snatching game."
The doughnut making responsibility generally falls to his wife, Stephani Pollak, which makes sense because she's a chef and food preparation social media influencer with 1 million Instagram followers.
Some Israeli-American families deviate from jelly doughnut-style sufganiyot and fry up a version that looks a bit like a sugar-glazed bagel.
"People who came to Israel from Morocco bake this kind of sufganiyot," Orna Bitton Dar said. "It's called a sfinj. It has a hole in the middle and a different taste."
Dar said it's common for Israeli families in the United States to have dinner on each of the eight nights of Hanukkah at friends' homes, where they consume sfinji.
Latkes are on the menu for Hanukkah at the home of Randi Mozenter and her husband, Larry Friedman. Friedman, a lawyer,  favors Hanukkah-style formal attire.
"My husband has ugly Hanukkah ties," Mozenter said.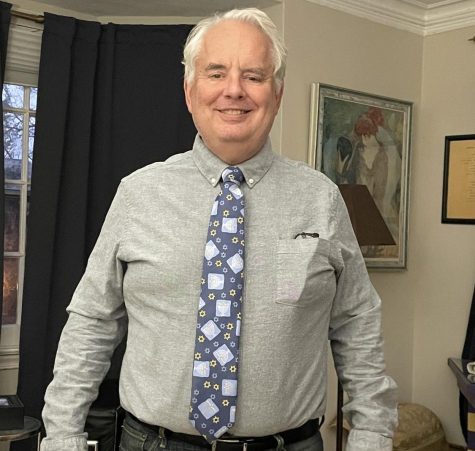 "Latkes are favorite foods. We have a tradition where the family goes to our sister-in-law's home and everyone lights their own menorah. Then we eat mass quantities of homemade latkes. It's big fun."
Mike and Alana Minoff and their kids have also lighted multiple menorahs for more than a decade. It's a great way to involve the entire family, but they now closely monitor the menorah lighting. 
One year, the Minoffs were in another room opening Hanukkah gifts when they smelled something burning. One of the candles had fallen, burning through the tablecloth. There was no significant damage, and now the family retells the candle incident story as an annual tradition.
Jessica Hentoff, artistic/executive director and founder of Circus Harmony, has a couple of special menorahs.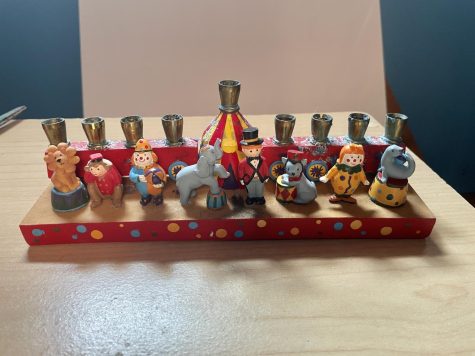 "I don't suppose you'd be surprised, but we have two circus- themed menorahs at our house," Hentoff said. "My favorite Hentoff Hanukkah tradition is that whoever is lighting the candles — and we take turns each night — says something they are thankful for as they light each candle."
Menorah lighting and latkes are also the order of the day at the Brodsky home. Dennis Brodsky said: 
"We meet at one of the three brother's houses, light the candles, and say the prayers. The kids, the youngest now being 24, open their gifts. There are hugs and kisses and talk in the family room. Then somebody yawns and everybody goes home. Happy Hanukkah!"