Postcards keeping memories of old German synagogues alive in new e-book
Jordan Palmer, Chief Digital Content Officer
Published June 19, 2023
More than a century before the first emails and texts were sent electronically, postcards were a very popular way of communicating. The first postcards became available with the advancement of photography, and the years between 1890 and 1915 are considered the postcard's "Golden Age."
Postcards were a quick way of staying connected, requiring the writer to use just a few words opposite a picture or drawing, which provided a visual impact for the receiver and a connection that was cherished. Now, more than a century later, those postcards offer unique glimpses at a world that in many cases no longer exists.
In 2021, "Jews in Old Postcards and Prints," a collection of vintage postcards and antique prints was released. The book shed a thoughtful light on the history of Jews in Europe and around the Mediterranean and invited readers to reflect on the ways in which both Jews and non-Jews used postcards and prints to portray Jews, their communities, culture and institutions.
The book was celebrated for showing the vibrancy and diversity of Jewish life and culture in Europe, a world largely extinguished by the Holocaust.
"Putting it togeth­er involved an end­less suc­ces­sion of painful choic­es. For every image used at least one oth­er image had to be exclud­ed. The com­pan­ion vol­umes we are planning will hopefully offer read­ers who want to know more about Jew­ish life in spe­cif­ic regions access to addi­tion­al material," said author Lars Fischer.
Now, the first of those companion volumes is ready.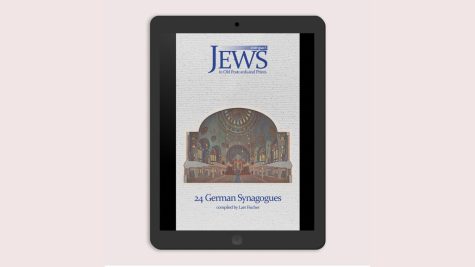 The first e-book in the new series "Jews in Old Postcards and Prints compact: 24 German Synagogues" is available now.
Along with the most important information about their history, this volume presents images of two dozen synagogues built mostly, but not exclusively, in major German cities before rise of Nazism and the Holocaust. The locations covered are: Bechhofen, Berlin, Bruchsal, Chemnitz, Dortmund, Dortmund-Hörde, Düsseldorf, Essen, Frankfurt/Main, Hamburg, Heidingsfeld, Heilbronn, Lübeck, Munich, Nuremberg, Pforzheim, Plauen, Stuttgart and Worms.
"This is obviously not the first book with pictures of German synagogues prior to the November Pogrom of 1938. Far from it," said Fisher.  Yet few, if any, offer a basic and accessible introduction to a small sample not just from one location or region but from across present-day Germany—from Hamburg to Munich and Bruchsal to Berlin—in quite the way this first volume in our new compact series does."
The e-books will be available worldwide through Amazon for $3.99 per copy.