From Berlin to St. Louis, the incredible story of the doll Eveline
Jordan Palmer, Chief Digital Content Officer
Published March 6, 2023
Artifacts are tangible pieces of history that can tell a unique, often personal, story.  Nearly all of the artifacts at the St. Louis Kaplan Feldman Holocaust Museum have been donated by survivors, their descendants, veterans and others since the museum opened in 1995, creating a rich repository of memories connected to the Holocaust and World War II years.
Some of these items are part of the museum's permanent exhibit while others have been the focus of temporary displays, as well as historical research and publications.
Each artifact in the collection has a story to tell.
Eveline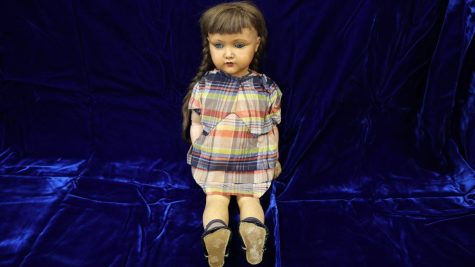 This doll, named Eveline, is part of the Museum's Silberstein-Heymann Collection. The family survived the Holocaust in Berlin, Germany and later moved to St. Louis in 1951.
While in Berlin, a little girl in the neighborhood gave the doll to one of the family members as she and her family were being deported. The family kept the doll for many years, treating her with love – the dress that she is wearing in the image is actually a modified dress from one of the family member's childhood.
Rita Heymann eventually inherited the doll and donated it to the St. Louis Holocaust Museum, where it stands as a memory of the little girl who gave her to the Silbestein family – a little girl named Eveline. 

| RELATED: The story behind this letter sent by Zygmunt Pociecha from Auschwitz to his mother