Webster student making sure Holocaust memories aren't lost in translation
Jordan Palmer, Chief Digital Content Officer
Published February 17, 2022
Lisa Johnson says her internship at The St. Louis Kaplan Feldman Holocaust Museum is nothing short of a labor of love.
"I'm learning through doing, and that doing is helping make history come alive in translation," said Johnson.
Johnson is an undergraduate student at Webster University majoring in German.  For the past two years, she's been interning at the Holocaust museum. There she contributes to English translations of documents in the museum collection written in German.  She works with interns as well as museum staff, including Diane Everman, an archivist who oversees the Jewish Community Archives.
"Lisa came to the museum as an intern a few years ago. She worked on the Berger Burns collection — we have that has a large amount of correspondence," said Everman.
The Berger Burns collection
The Berger Burns collection tells the story of Walter Berger. In January 1939, Berger was released from Buchenwald Concentration Camp where he had been held since July 15, 1938.
Like many others, Berger and his family then fled a few months later from Germany to Shanghai, one of the only ports that would receive Jewish refugees at that time.
Part of what Johnson did with the Berger Burns Collection was to piece together the lives of Walter and Else Berger through  their correspondence from earlier in the 20thcentury through the 1970s.
"Their daughter, Gittel, was just a little girl when the war ended and she came to the U.S. Else died in the U.S. bombing of Shanghai, and Walter died here in St. Louis in 1964," said Everman. "Thus, Gittel knows very little about her family's past. Lisa's work has helped fill in gaps for Gittel and her family. Lisa has helped the lives of Walter and Else come alive for Gittel and for the museum."
Said Johnson: "Working directly and deeply with the Berger Burns collection is the highlight of what studying German has been about for me in the first place. I think that my angle is that the ability to access Walter's world in his native language is what makes it come alive, that his story is lived out through his terms."
German as a second act
The world of the Holocaust was not an intimate connection for Johnson, who was raised Presbyterian. She started learning the German language late in life in order to understand the country of Germany better, after falling in love with German music.
"I started learning German at age 55. To think I am here now is something I never could have anticipated," said Johnson.  "Everything about it has cracked my world wide open."
When Johnson began this project, she thought it would be a simple matter of reading the letters and cards and typing them p in German and then translating them into English. She didn't have any idea of the scope of what she would actually be looking at or the challenges she would encounter along the way.
"For one thing I certainly never heard of Jews fleeing to Shanghai in the first place. I only knew boilerplate stuff about the Holocaust that we learned in high school," said Johnson.
The process
After examining a primary source document, Johnson consults alphabet charts for any unfamiliar characters that might occur in these hand-written documents.
"First, I look at the letters and try to make out each word, often sketching in the word above the script," said Johnson. "Then, I type out a modern German version.  Finally, I provide an English translation.
"Just like today with any handwritten notes we might see from family and friends, different authors of these communications had individual handwriting styles. And some people's handwriting is very hard to read. I can only imagine how much stress these authors were under and writing in a hurry."
For Everman, having someone with a thorough working knowledge of any language to look over things that others, including the staff, have translated, is immeasurable.
"And as you can imagine, we have a large number of non-English items in our collection—German as well as many others," said Everman.
Learning through Walter Berger
Thanks to Walter Berger's diligence and care, the museum has primary-source documents that tell the story of one man's life during this dreadful time. Berger saved all the letters and cards that came to him, as well as draft copies of his own letters back home.
"In 1938 Walter Berger was a merchant in the general store he owned with his brothers," said Johnson. "Shanghai, China, was one of the few remaining places in the world that Jews could go to, escaping life-threatening persecution. Other countries were increasingly closed to Jews, including Palestine, Europe, South America and the United States.  Only Shanghai was still open to them, and, as it was a worldwide city of trade, still had no visa requirement in 1938."
With no other choice but to flee, Berger, like so many others in his desperate situation, liquidated assets and bought ship passage to Shanghai. Once in China, Berger found shared housing in the crowded Jewish district and kept in touch as best as he could via correspondence back home. The hundred or so letters and cards he received during seven years of exile in Shanghai were carefully preserved by Berger in a single briefcase, which he kept for the rest of his life.
It was Johnson's task to translate these letters into English, and then to add them to the museum collection's database.  But she was also helping tell a story.
"These communications contained precious updates and information concerning folks back home as well as the changing situation in Germany," said Johnson.  "Walter learned of the fates of brothers, sisters, aunts and uncles. He also received answers to his questions such as requests for names of possible contacts in other countries, where he hoped he might go after the war was over, as he certainly hoped to not stay in Shanghai forever."
The work continues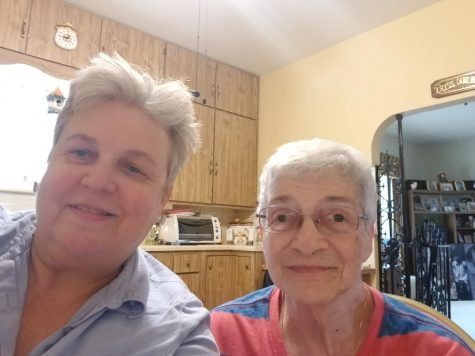 As the clock ticks towards the re-opening of  The St. Louis Kaplan Feldman Holocaust Museum later this year, Johnson continues her work confirming translations of items that will be part of the new museum collection.
Translations bring the story to life and along her journey of translation, Johnson has received more than she could ever have imagined.
"I feel a fortunate witness to history and doubly fortunate to know Walter's daughter, Gittel, and to call her my friend," said Johnson. "Working in this capacity is a life event for me. I have made new friends and come to a fresh appreciation of history coming alive."