Activist to Fugitive: The Story of Howard Mechanic, Part 1
Mikall Venso , Military & Firearms Curator
Published January 23, 2023
Howard Mechanic was a young, Jewish Washington University college student (1966-1970) from Cleveland, Ohio. The following is published in partnership with the Missouri Historical Society. 
Among the compelling experiences of the Vietnam War, few St. Louis stories can compare to the intriguing tale of Howard Mechanic and his journey from activist to fugitive and from prison to freedom. It began nearly 53 years ago, reached a pinnacle 22 years ago today, and has a legacy that continues to resonate.
An Ohio native and undergraduate at Washington University in St. Louis (WASHU) from 1966 to 1970, Howard Lawrence Mechanic was among hundreds of anti-war student activists on campuses across St. Louis. They expressed their concerns about the ongoing war in Southeast Asia through rallies, protests, marches, teach-ins, strikes, and blockages.
Once such incident was the burning of the WASHU's Army Reserve Officers' Training Corps (ROTC) building on February 23, 1970. Authorities categorized the fire as arson and believed it may have been set by activists opposed to the ROTC presence on campus, but no one was ever charged. Student activists stormed South Brookings Hall late one night the following month. They scattered files through halls and stairwells, leading to some arrests and a decreased tolerance from many on campus and in the community.
To combat the increase in destructive actions, university officials were successful in getting Circuit Court Judge George Schaaf to issue a restraining order on March 24, 1970. The order named seven defendants, including Mechanic, and broadly prohibited anyone from destructive actions on campus. About the same time, President Nixon, who had campaigned on ending the war in Vietnam, was drawing down ground troops while increasing the air war in Vietnam and expanding the conflict with operations in Cambodia. These actions triggered large-scale protests in St. Louis and on college campuses across the country.
On May 4, 1970, one such protest at Kent State University turned tragic when members of the Ohio National Guard opened fire on students, killing four and wounding nine others. As word of the shootings traveled across the nation, communities and campuses responded with sorrow, anger, and, in some cases, violence. That evening hundreds or possibly thousands of WASHU students gathered in the quad behind Brookings Hall. Many of them marched to the remaining Air Force ROTC building on the western edge of campus. Within a short time windows were knocked out, a door was forced open, and the building was set on fire.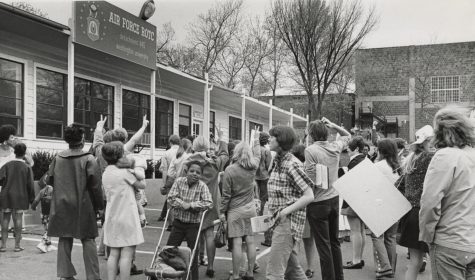 Firefighters from Clayton and University City responded and were initially turned away by rioting activists who threw rocks, bricks, and—according to some witnesses—fireworks. Eventually the fire crews, with the help of local police, were able to extinguish the blaze and quell the uprising. No one was seriously hurt, but the activists had crossed a line for many authorities.
Seven students, including Howard Mechanic, were arrested and charged with various crimes. Mechanic was charged with violation of the county-mandated restraining order and became the first person ever indicted for violating the 1968 Civil Obedience Act, a federal law passed to discourage and prevent public demonstrations that had the potential to escalate. Specifically, Mechanic and a fellow activist, Lawrence Kogan, were both named by a single witness for reportedly throwing cherry bombs during the fire department response.
The student protestors were convicted and received varied sentences. Mechanic served 4.5 months of a 6-month sentence for the restraining order violation at the St. Louis County Adult Correctional Institution. While still maintaining his innocence, he received a sentence of five years and a hefty fine on the federal charges. Mechanic appealed, but when those appeals were about to run out in early 1972, he fled out of fear of what could happen to him in a federal prison for several years.
For all but a small handful of people, the whereabouts and actions of Howard Mechanic were a mystery for the next 28 years. The US Marshals Service circulated wanted posters and made erroneous claims that Mechanic had "a record of arson" (he was never charged nor convicted in any arson case) and was "armed and dangerous." Howard maintained his innocence throughout his trial (and still does today). While he was charged with throwing a firecracker, witness claims that he used a slingshot or any other weapon were never proven.
What few knew is that Mechanic left his life and belongings behind in St. Louis and took on a new identity, as Gary Robert Tredway, in Arizona. As a federal fugitive, Tredway initially kept a low profile as he built his new life. Over nearly three decades, he started businesses, bought real estate, fell in love, married, became a father, divorced, fell in love again, and dabbled in political activism. He spoke out on environmental issues and against corporate tax breaks and worked on election reform. Fellow activists encouraged him to run for Scottsdale City Council in the fall of 2000. With a string of political victories in his quiver, he took the plunge that would unravel his story.
When a routine interview with a newspaper reporter for a candidate profile and a subsequent background check posed the possibility of revealing Treadway's true identity, he did what he had done only a few times before. He admitted his past to the reporter and hoped his secret would be kept. He also fabricated a story that he had been diagnosed with leukemia to explain his withdrawal from the political campaign. It all quickly fell apart when the newspaper published the story. He and his girlfriend, Janet, went into hiding for a few days while he sought legal counsel and got his business affairs in order as he prepared to surrender to federal authorities as Howard Mechanic, a fugitive hiding in plain sight for nearly three decades.
RELATED: The remarkable true Jewish history linking St. Louis and the hit podcast "My Fugitive"