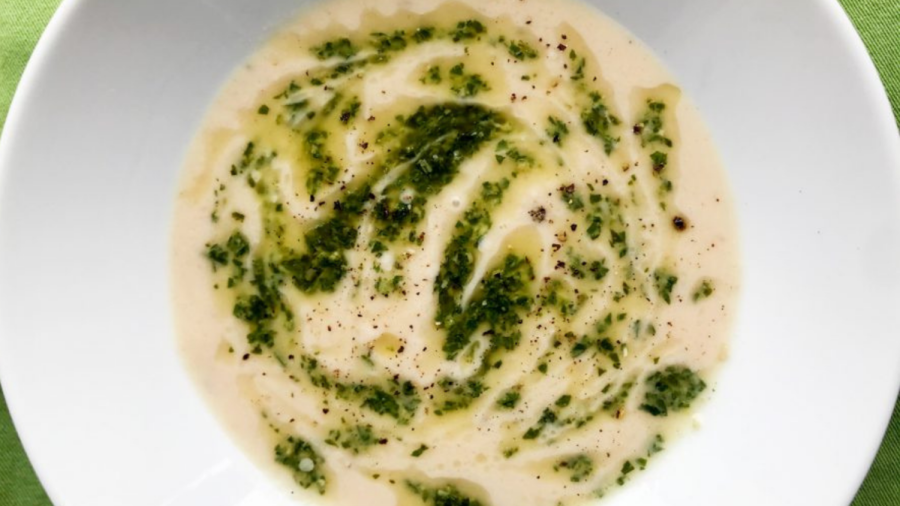 This Cold Potato Leek Soup (Vichyssoise) is lovely simply garnished with snipped chives. However, I made a delicious herb puree – parsley, chives, garlic and olive oil – in a blender to swirl through the soup just before serving.
Cold Potato Leek Soup (Vichyssoise)
INGREDIENTS
4 tbsp. (2 oz.) unsalted butter
3 large leeks, dark green portion and stem end discarded, remaining portion well rinsed, patted dry and thinly sliced
pinch of sugar
1 large yellow onion, peeled and thinly sliced
4 medium Yukon gold potatoes, peeled and thinly sliced
4 c. vegetable broth
2 tsp. coarse kosher salt (more to taste)
2 c. milk
1/3 c. heavy cream
Freshly ground black or white pepper, for  finishing
Chopped fresh chives, for garnishing
DIRECTIONS:
Melt butter in a large soup pot over medium-low heat. Add sliced leeks and onion; sauté 15 minutes. Sprinkle mixture with a pinch of sugar and continue sautéing until caramelized, 12-15 minutes more.
Add sliced potatoes, broth and salt. Raise heat to medium-high and cook on a low boil for 30 minutes or until potatoes are fork tender. Remove pot from heat and let mixture cool for 10 minutes. Puree soup in a blender or with a handheld immersion blender.
Place soup back into the pot, add milk and cream, stir and bring to a gentle boil. Remove from heat and taste, adding more salt as needed. Let soup cool to room temperature in the pot, then transfer to a lidded container and refrigerate until cold. Soup can be refrigerated for up to three days.
Taste soup again, adding salt as needed. To serve, ladle soup into small bowls, wine or champagne glasses. Sprinkle lightly with pepper and garnish with minced chives.
Makes 6-8 first course servings.