Murov-Snow Wedding
Published January 4, 2022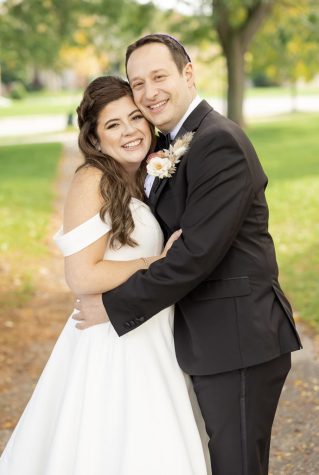 Jonah Samuel Murov and Amanda Brooke Snow were married Oct. 10, 2021 at Beth Emeth Bais Yehuda Synagogue in Toronto, where Rabbi Howard Morrison officiated.
Jonah is the son of Hedy Ehrlich and Barry Murov of Clayton. He is the grandson of the late Norman and the late Lillian Ehrlich of St. Louis; and the late Joseph and the late Vivian Murov of Shreveport, La.
Amanda is the daughter of Susan and Allan Snow of Toronto. She is the granddaughter of the late Mina and the late Majer Snow; and Lillian and the late Irving Barmack, all of Toronto.
Attendants were siblings and siblings-in-law of the bride and groom: Kevin Snow and Alexi Millman, Jason and Melissa Snow, Zack Snow, Ike Murov and Kristin Carey, and Nina Murov.
Ezri Snow, niece of the bride, served as flower girl. Riley Snow, nephew of the bride, served as ring bearer.
The couple met on JSwipe when they were both living and working in New York City. Jonah and Amanda now reside in Chicago.