Miller-Bertish Engagement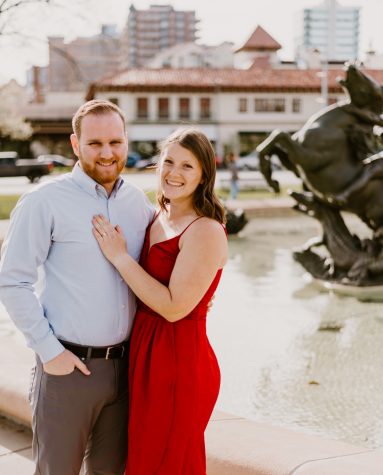 Chloe Elizabeth Miller, daughter of Todd and Lori Miller of Lee's Summit, Mo. and Jacob Daniel Bertish, son of Gerry and Jodie Bertish of St. Louis, have announced their engagement. 
Chloe is the granddaughter of Irving "Pudge" and Bonnie Miller of Algona, Iowa and Gordon and Judy Kane of Independence, Mo. 
Jacob is the grandson of the late Harley and Barbara Gordon of St. Louis and the late Irving and Mildred Bertish of St. Louis.  
Chloe is a speech language pathologist and Jacob is a software engineer. 
Chloe and Jacob met at Truman State University at a social event. They were engaged at the fountain on the Kansas City Plaza, where they had their first Kansas City date. Kaylee, Chloe's sister, was hiding behind a tree to capture the sweet moment. Chloe's mom, dad and sister came out from hiding behind trees to help celebrate the moment of their engagement. 
A May 2023 wedding is planned.