Lerman-Goodman Wedding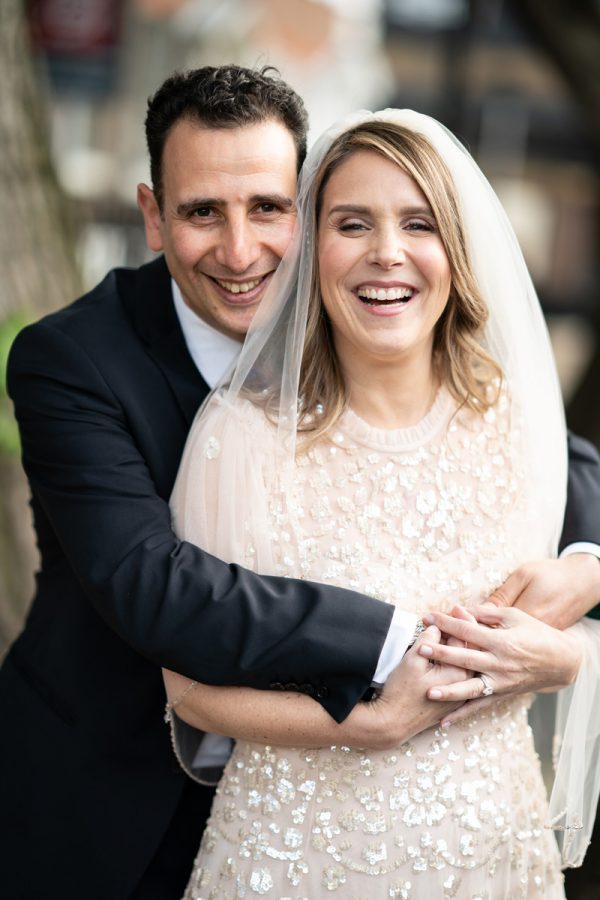 Jenifer Lerman and Matthew Goodman were married May 25, 2021 at Frederick's Restaurant in London, England. Rabbi Aaron Goldstein of The Ark Synagogue in Northwood, London officiated. 
Jenifer is the daughter of Paul "Buddy" and Diana Lerman of St. Louis. Matthew is the son of Paul and Jackie Goodman of Northwood, London, England. 
Simon Goodman served as Best Man. Melissa Lerman Klein served as Matron of Honor and Lily Klein was Maid of Honor. Isabella Goodman and Sophia Goodman, nieces of the groom, served as flower girls. 
As is the modern way, the couple first connected via a dating app, but given Jenifer lives in New York and Matthew in London, it was only after three months of video calls and WhatsApp messages that they met in person. That was just before Christmas 2018, when Matthew jetted to America. 
Their first date was a stroll around the Christmas tree at Rockefeller Plaza and dinner at a Chinese restaurant on the lower-east side. 
"We managed the long-distance thing well for the first 15 months or so, but it was tough sustaining the relationship once the pandemic hit, not least with British citizens banned from entering the U.S.," Jenifer said. "Still, you can do a lot of video calling when forced to stay at home." 
When they were finally reunited, with Jen flying to the UK seven months after their previous meeting, the couple decided enough with the back and forth — it was time to make things permanent. 
"Planning a wedding during lockdown, when we are in different countries and the restrictions keep changing, has been less than straight-forward but we think the pandemic will turn out to be a blip in what we hope will be many happy years together," Jenifer said. 
After marrying in London, the couple plans to reside in New York, N.Y.