Grosz-Groswald Wedding
Published August 12, 2022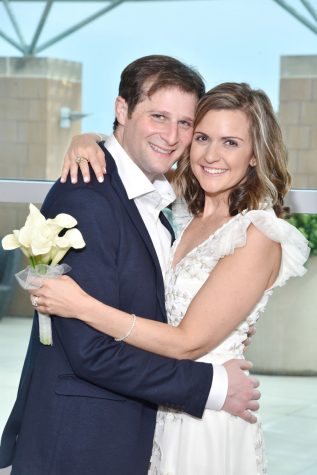 Heather Brooke Grosz and Maxwell Joseph Groswald were married April 15, 2022 in Clayton. Rabbi Howard Kaplansky of United Hebrew Congregation officiated.
Heather is the daughter of Judy and Keith Grosz of Chesterfield and the granddaughter of Shirlene and the late Irl Baris of St. Louis, and the late June and Leonard Grosz of Chesterfield.
Max is the son of Vicki Gelber of Clayton and Allan Groswald of St. Louis. He is the grandson of the late Marvin and Martha Gelber of St Louis and the late M. Bernard and Blanche Groswald of New York, N.Y.
Heather is a graduate of Parkway Central High School and University of Arizona, where she earned a bachelor's degree in marketing. She is a luxury travel agent with Two Nights In.
After graduating from Clayton High School, Max earned a bachelor's degree in finance from Ithaca College, followed by a Juris Doctor degree from St. Louis University Law School. He is a bankruptcy attorney at his firm, Groswald Law LLC.
Heather and Max met on the dating app Hinge. Their first date was a six-mile walk around Forest Park. They were engaged nine months later and married one week later so they could celebrate with all of their immediate family who were in town for Passover. A wedding celebration is planned for October 2022.