Goldberg — Rivkin-Haas Wedding
Published February 2, 2022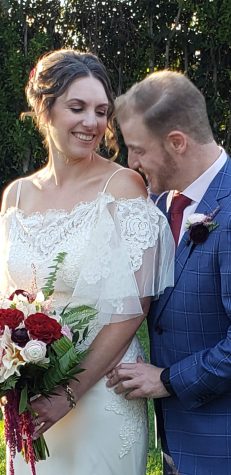 Benjamin S. Goldberg and Elana K. Rivkin-Haas were married Nov. 27, 2021, surrounded by family at the home of the bride's aunt and uncle, in Sherman Oaks, Calif. 
Ben is the son of Leslie Rickard of Olivette and Gary Goldberg of Los Angeles. He is the grandson of the late Eady and Joseph Rickard of Montclair, N.J., and the late Maxine and Herbert Goldberg of Hollywood, Fla. 
Elana is the daughter of Rosalyn Rivkin and Michael Haas of Berkeley, Calif. She is the granddaughter of the late Zelda and Ellis Rivkin of Cincinnati, and the late Emilie and Charles Haas of Los Angeles. 
Adam Goldberg, brother of the groom, officiated. Zoe Sarah, sister of the groom and Sofia Rivkin-Haas, sister of the bride, stood up for the couple, along with their dog, Dexter. 
Ben and Elana were able to celebrate their COVID delayed wedding with a trip to French Polynesia. The couple resides in Glendale, Calif.