Eisen-Kruvi Wedding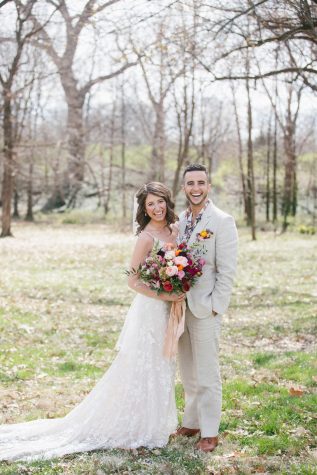 Abby Eisen and Roey Kruvi were married April 2, 2022 at The Majorette in St. Louis. Danny M. Cohen, associate professor at Northwestern University, officiated at the ceremony.
Abby is the daughter of Marci Mayer Eisen and Rick Eisen of St. Louis. Roey is the son of Sharon and Yossi Kruvi of San Diego, Calif.
The couple's love story started with an anonymous post-it note: "Would you go to the camp dance with me? Yes, No, Maybe." He paced by her room, nervously twirling the square neon paper in his hand. Sliding the note under her door, he ran down the hall to avoid being seen. The sticky note was anonymous. If it was meant to be, she would know who it was from. 
It was the first night of Camp Nai Nai Nai, a Jewish summer camp for adults. More than 125 "campers" in their 20s and 30s were asleep in their bunks ready for a weekend filled with joy and self-expression, and for Abby and Roey — an entirely unexpected love story.
Roey, the creative brain behind Camp Nai Nai Nai (an initiative of Moishe House), launched the program in 2017 outside of Washington, D.C. at Capital Camps. Abby, who was working at Sixth & I in D.C. went to camp as a counselor. Little did they know what the weekend would truly bring. Five years later, Camp Nai Nai Nai is still producing annual camps across the country. The couple is still involved, with Abby as the production designer.
Roey is an Israeli immigrant who moved to California with his family at the age of 10. Abby is a St. Louis native, proudly grew up at the J, Camp Sabra, and graduated from Parkway Central, Indiana University and later the Brown School at Washington University. Abby owns her own event planning business and planned their dream wedding. Roey graduated from University of California-Berkeley, spent 10 years working for Moishe House, a Jewish community building nonprofit, started his own nonprofit tech consulting business, and is now a senior program officer at Schusterman Family Philanthropies.
Together, Roey and Abby live in Dogtown where they started the LouPod, a two-person Moishe House. They host programs for their Jewish young adult community several times a month, including Shabbat dinners, holiday events and social gatherings. Follow them @loupod314 to join their next ShabbatLuck.