BRAFMAN-SHER WEDDING
Published September 13, 2019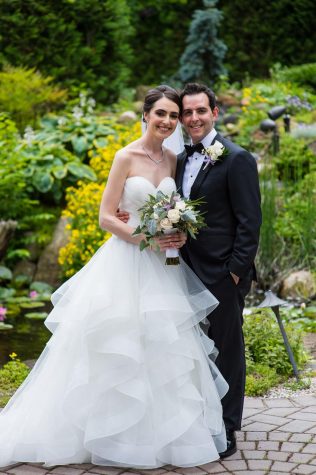 Lily Brafman and Andrew Sher were married June 16, 2019 in a beautiful setting at the Valley Regency in Clifton, N.J., where cousin Rabbi Saul Grife officiated.
Lily is the daughter of Mira and Eugene Brafman of Fair Lawn, N.J., and Andrew is the son of Debbie and Brian Sher of Chesterfield. Lily is the granddaughter of the late Zoya and Lev Breytman the late Luba and Arkady Brafman, all of Belarus. Andrew is the grandson of Sandra and the late Marvin Sher, and Rachael and the late Ted Pevnick, all of St. Louis.
Lily earned a Bachelor of Arts degree in psychology and her M.A. in Industrial/Organizational Psychology, both from New York University. She currently works in Talent Management at AllianceBernstein in New York City.
Andrew, a Parkway Central High School graduate, earned a Bachelor of Science degree in business administration from the University of Missouri – Columbia and his J.D. from the Benjamin N. Cardozo School of Law at Yeshiva University. He is currently an attorney at Entwistle & Cappucci, LLP in New York City.
The couple met in New York City in 2014 at The Globe, and Andrew surprised Lily and proposed at the same location last year.
Bridesmaids were Sally Meier, Nicole Saglamer, Gaby Mendieta, Michelle Bowers and Jessica Pearson, all friends of the bride. The groom's brother, Joel Sher, served as best man. The groomsmen were Xavier Heditsian, Andrew Esstman, Sherman Fabes and David Bensdorf, all friends of the groom.
The happy couple honeymooned in Italy.