Alban-Freedman Wedding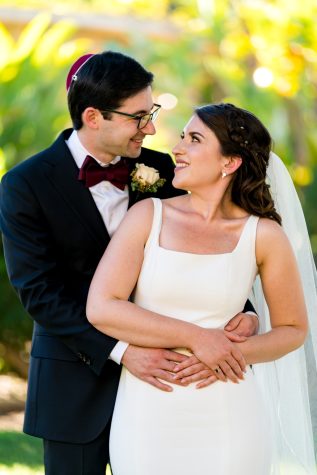 Liora Esther Alban and Daniel Moss Freedman were married November 14, 2021 at Spanish Hills Country Club in Camarillo, Calif., where Rabbi Stephen Einstein and Cantor Patti Linsky officiated.  
Liora Esther is the daughter of Judith and Arnold Alban of Los Angeles. She is the granddaughter of Laurie and the late Simon Alban and the late Ronna and Lewis Edgers all of Los Angeles.
Daniel is the son of Ronda Moss and Richard Freedman of St. Louis. He is the grandson of the late Henrietta and Rudolph Freedman and the late Morris and Sylvia Moss, all of St. Louis.
The bride's sister, Eliana Alban, served as Maid of honor and the groom's brother, Kevin Freedman, served as Best Man. Chuppah holders were Jessica Broutt and Virginia Dunlap, friends of the bride, and Miriam Giardina and Dexter Gregg, friends of the groom. Michael Morgenstern served as Usher.
The couple met in Israel, where they were both completing their first year of rabbinical school. Liora and Daniel now live in the San Francisco Bay Area where they serve as rabbis at Peninsula Temple Sholom and Temple Sinai, respectively.  
Liora and Daniel plan to take a COVID-delayed honeymoon this summer to Bali.