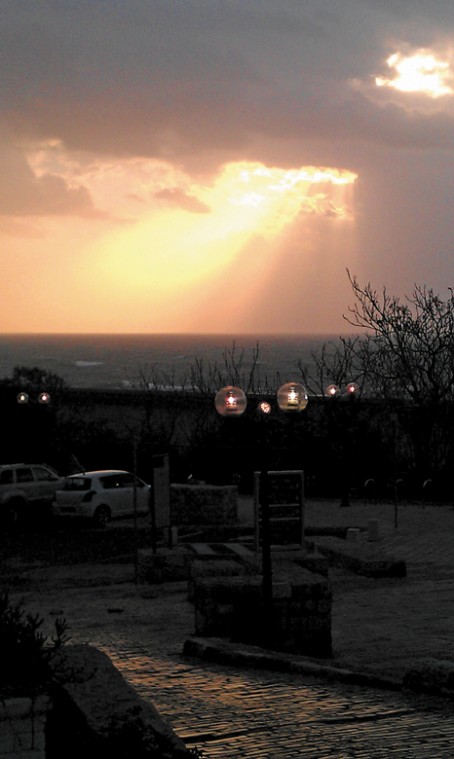 The photos are both simple and stark. 
There is a Klezmer duo in Buenos Aires, a circumcision in Uzbekistan, a musician at a New York soup kitchen. Set in crisp black-and-white, dozens of scenes captured by Israeli native Zion Ozeri reveal an evocative window on Jewish life.
Now, thanks to the Central Agency for Jewish Education, students at four area religious schools will get to immortalize their own interpretations of Judaism on film. "The Jewish Lens," a project based on the noted photographer's work and supported by a Covenant Foundation grant, is giving local middle and high schoolers the chance to learn about—and then take pictures of—Jewish life as they see it. A selection of the shots will go on display at the Jewish Community Center this summer in an exhibit entitled "My Jewish Lens."
St. Louis, along with Minneapolis-St. Paul, Chicago and Miami, is a part of the unique initiative which blends education on Jewish values with photography techniques to enhance a student's understanding of both their own perspective on Judaism as well as that of others.
"It has opened their eyes to realizing that we do see things through our own particular set of lenses and in the way that we've been brought up, our experiences give us those lenses," said Zeena Goldenberg, an educator with Congregation B'nai Amoona's religious school.
Goldenberg said that she's been impressed by how deeply her ninth graders have absorbed the material, which involves studying Ozeri's pictures and then discussing both the technical and Judaic qualities they embody before experimenting with the camera on one's own. 
One student even photographed herself wrapped in the Israeli flag to illustrate how Judaism enveloped her, Goldenberg said.
"It's been an eye-opening experience both for the students and for me," she said.
The program focuses on Jewish values but doesn't stop there. Exercises in the Jewish Lens curriculum use Ozeri's photos to teach visual literacy skills, the uses of photography and the concept of objective versus subjective photographic interpretations.
Debra Grund, an educator from United Hebrew Congregation said her students have really taken to the project.
"This is really asking something of them from a different perspective and they seem to be enjoying it," said Grund. "When you start getting feedback that's when you know that you are teaching something that's a good idea."
Grund has been working with sixth graders on the effort but also started a version with high schoolers, walking the synagogue to examine the objects and imagery the students find, including fairly familiar items.
"They started really noticing for the first time all the mezuzahs," she said. "They also noticed it was not a one-size-fits-all. The one in front of the rabbi's office is very different from the one that's in front of the business office. They had never really looked at them before."
At Congregation Shaare Emeth, educator Michelle Rosenberg said her sixth graders had responded well, and she will introduce the program to the fifth grade this week. Most took their photos in color but others did black-and-white. One even went with sepia tone.
"They'll look at a picture and instead of just saying, 'Oh yeah, that's great' or 'no I don't really like it' they'll actually look at it and determine what was objective and subjective about it and try to feel what that photographer was feeling," she said.
The upcoming exhibit will feature not just images but also text from Jewish sources captioning each photo.
"When I was reading some of them, I thought, 'Wow. They really understood what their Jewish lens was,'" said Rosenberg. "They understood the importance of adding a quote or Torah text to their picture and crafting the concept. That was really big for me to see them do that."
Daniel Iken, an educator at Shaare Shalom, the combined religious school of Brith Shalom Kneseth Israel and Shaare Zedek Synagogue, said his seventh and eighth graders seemed to get the point. He remembers a photo they took of the kindergarten class as being particularly moving.
"It spoke to me because it was talking about the idea of community education and how the idea of learning never stops and always continues," he said. "I found that picture very powerful."
Iken said he felt the Jewish Lens pro
gram represented an innovative form of learning.
"It's not traditional sitting in a class being lectured," he said. "It's being active and they are forced to do their own critical thinking and interpret their ideas rather than just being told what's right and wrong."
CAJE board members Gary Kodner and Stefanie Kirkland are among those helping to put together the exhibit itself, which will begin May 6 and run through Aug. 10. The display, hosted by the JCC, is free and open to the public.
"It's valuable because it's a new way and a more creative medium for young students to get in touch with their Jewish experience," said Kodner. "Sometimes older methods of learning don't engage students in the same way that an electronic visual medium does. This is something these kids are very attuned to and used to doing in their regular lives. It causes them to stop and think about their world and the images they choose to photograph and experience them through a Jewish lens."
Kirkland agrees.
"Any form of art to express who you are and that deals with your identity, especially as a teenager, is really important," she said.
At both UH and Shaare Shalom, the program is being further augmented by a joint effort with two schools in Israel's Yokneam-Megiddo. Through the support of the Federation's Partnership2Gether sister city initiative, the local institutions will connect with their Israeli counterparts the ORT and Daliyot schools, to exchange a number of photos for display.
Julia Wasserman, a tenth grader at UH, said she is has found the Jewish Lens curriculum very rewarding. She took a picture of her hands intertwined with her mother's that she hopes will be in the exhibit. The Parkway North sophomore noted that she's also learned a great deal from seeing the art of others.
"Family and community is a really big aspect of Judaism and as I look at the pictures I felt like my knowledge of my faith grew," she said.