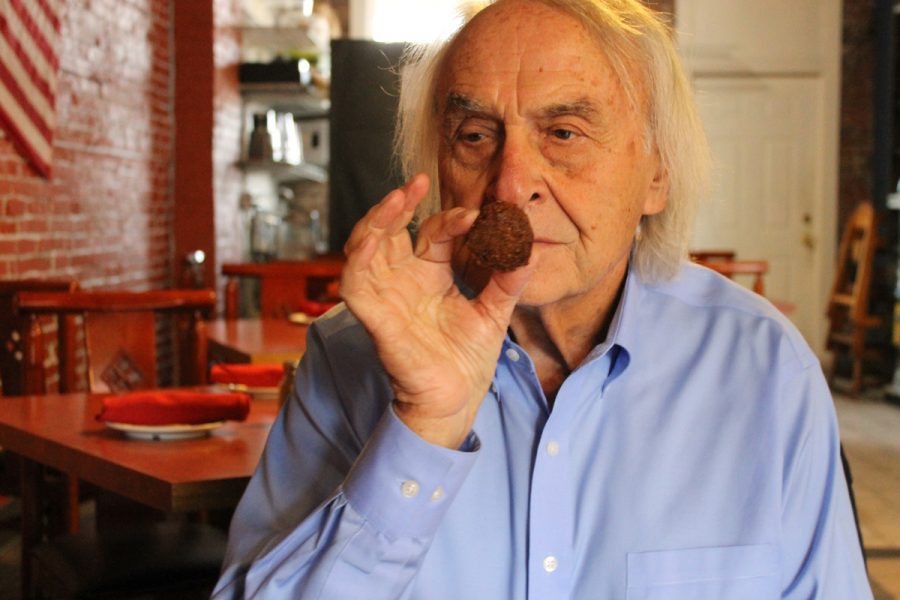 Tom Schmidt, owner of the barbeque restaurant Salt + Smoke, has been eating falafel at Al Tarboush Deli in University City since "before I could drive," he said.
"Their tahini spread is particularly herby and zippy, with a lot of fresh lemon juice, and then their falafel is crunchy and herby and delicious as well," said Schmidt.
Schmidt continues to frequent Al Tarboush because he loves the food. But when he first ate there, not many local restaurants offered falafel.
Today, these fried ground chickpeas balls are not only standard fare at Mediterranean and Middle Eastern restaurants around St. Louis, but they also have rolled onto menus at upscale eateries such as Midtown's Crafted. — alongside dishes such as seared ahi tuna and a "spud bouquet" — and at Salt + Smoke, in a slightly altered form. 
Falafel also is featured at a fast-casual restaurant chain called Garbanzo — another name for the chickpeas used in falafel.
And earlier this year, the Unicode Consortium, the group that selects new emoji icons, announced that the falafel ball would make its debut on smartphones. 
Schmidt thinks falafel has become popular because of the nutritional valueof chickpeas and because, when "you fry it, you get that crispy little edge to it and the texture as a result of that. Everything tastes better fried, that's just a fact of life."
While vegetarians and lovers of Israeli food surely welcome the influx of the crispy balls, the trend also could create a Netflix-like problem in which people are overwhelmed by the sheer number of options. 
To address the issue, the Jewish Light recruited a few local Israelis to order falafel at different restaurants and explain what they look for in the dish. 
Yellow or green?
Falafel is a relatively new arrival in the United States as a mainstream food.  Mamoun's, which opened in 1971, claims to be the first falafel restaurant in New York. 
Egyptians began eating it around 1882, according to Shaul Stampfer, a professor of Soviet and East European Jewry at Hebrew University of Jerusalem who wrote an essay titled "The Secret Lives of Bagels and Falafels."
Elie Harir, a local caterer who owned the now-closed Mediter-ranean Grill restaurant in Chesterfield, recalls eating it for the first time when he was 4 or  5 years old in Akko, a city on the coast in northwestern Israel. Harir is of Yemenite Jewish descent but lived in a neighborhood filled mostly with immigrants from Morocco and Romania. 
"After Passover was finished, we used to go to the Old City in Akko, and they would know that all the Jews hadn't eaten bread for a week. So the restaurants were packed with people coming into eat hummus and pita and falafel," said Harir, 53, who still owns a catering company called Mediterranean Grill. 
He and his wife, Galit Lev-Harir, came to St. Louis in 1999 because of her job with Amdocs, a company specializing in billing for telecommunication. 
About a decade later, he started researching different varieties of falafel to find the best combination as he prepared to open his restaurant. He groups falafel into two primary categories: yellow and green. If it's the former, that means it's mostly chickpeas, onions and spices. If the inside is green, that means the chef had added parsley and cilantro. The Egyptian falafel, known as ta'ameya, is made from dried fava beans rather than chickpeas.
Harir experimented with all three but decided to concentrate on the green variety. 
In response to customer requests, he also tried baking falafel, but the balls came out too dry. The standard method for Harir and others is deep frying. 
"When you get the falafel, it should be crispy on the outside and nice and soft on the inside," Harir said while sampling a spread of falafel, hummus, pita and foule (a fava bean dip) at Vine, a Lebanese restaurant on South Grand Boulevard. "Some people put a little bit of spice to it – cumin, cayenne – and baking powder, so the falafel can be a little more fluffy."
If he caters events with falafel, Harir brings the deep fryer with him. Otherwise, he doesn't sell them. 
"You have to eat it right away, on the spot," he said. "Otherwise,  the taste is not going to be the same." 
Falafel variations
There is debate about whether falafel is a Jewish or an Arab dish. But that dispute didn't enter a conversation among Yaffa and Yoram Hahn, who are Israeli, and Qayum Mohammad, who is from Afghanistan and is the co-owner of Sameem Afghan Restaurant in the Grove. They talked American politics.
Amid talk about the president, Yoram Hahn, an obstetrician-gynecologist, declared that Sameem's has "the best falafel in St. Louis."
Mohammad did not eat falafel in his home country, he said. When he came to the United States, he "didn't know how to peel an onion." Now he runs one of the most popular Middle Eastern restaurants in town.
He describes his falafel as "just a common recipe, it's got a little bit of coriander, a little cumin, some chopped parsley, obviously, and the chickpeas are soaked up overnight, salt, black pepper, a little bit of garlic."
Hahn said he first ate falafel about 70 years ago in Haifa. 
His ideal falafel sandwich, he said, is: "Small pita, you cut off the top of the pita, put cabbage inside, put falafel in, put tahini on top."
Others have taken the falafel concept in a different direction. 
At Salt + Smoke, Schmidt offers the falafel burger. 
"Barbecue is obviously our focus, but we wanted to make sure that a vegetarian item was on the menu, and it was very important to us that that option not just be some kind of throwaway nod or perfunctory glance at having something for vegetarians," he said. "There are vegetarians who tell me — and I see it on social media — that they eat at Salt + Smoke twice a week and haven't eaten meat in 20 years. They come by themselves because they crave the falafel."
Rather than use dried chickpeas, Schmidt uses cooked ones to create a creamier texture and then coats the patty in a chickpea flour and sautes it. It's served with flaxseed mayo, organic greens and pepper jelly.
After trying a bite of the Salt + Smoke falafel burger, Harir, of Mediterranean Grill, said, "It's interesting. If I am a vegan kind of person, I would like it. It gives me the taste of [falafel] but it's not it. And it's more healthy — I suppose  — because it's not deep fried."
Still, he said, "I wouldn't call it falafel. I would call it falafel-style."
Indeed, people are particular about their falafel. The Washington Post ran a story Feb. 7 under the headline, "Why does the new falafel emoji look like potatoes?"
As Yoram Hahn explained in how to discern good falafel, "You have to look at the shape of the falafel, it's got to be round, and then you smell it."
Yaffa Hahn added that in Israel, "You smell it in the street."
Perhaps some day in America, too.
As we noted, falafel has become ubiquitous in St. Louis. Here are 15 eateries that serve the crispy balls — or fried chickpea in one form or another:
1) The Vine Café, 3171 S. Grand Blvd.
2) Sameem Afghan Restaurant & Catering, 4341 Manchester Ave.
3) Kohn's Kosher Deli, 10405 Old Olive Street Road
4) Garbanzo, 8143 Maryland Ave.
5) Salt + Smoke, 6525 Delmar Blvd.
6) Al-Tarboush Deli, 602 Westgate Ave.
7) Café Natasha's, 3200 S. Grand Blvd.
8) Ranoush, 6501 Delmar Blvd.
9) Lulu's Local Eatery, 3201 S. Grand Ave.
10) Layla's , 4317 Manchester Road and 20 Allen Ave.
11) Small Batch, 3001 Locust Strreet
12) Medina Grill, 5 Maryland Plaza and 1327 Washington Ave.
13) Anthonino's Taverna, 2225 Macklind Ave.
14) Gyro Company, 7240 Gravois Ave.
15) Crafted., 3200 Shenandoah Ave.
Did we miss your favorite falafel spot in St. Louis? If so, please tell us. Also, send a photo of you enjoying a falafel wrap and the reason why you love that restaurant's falafel to [email protected] or send us a message on Facebook. We'll share your contribution in the paper and online.