Time is short to catch 2 Jewish stand-out films from Sundance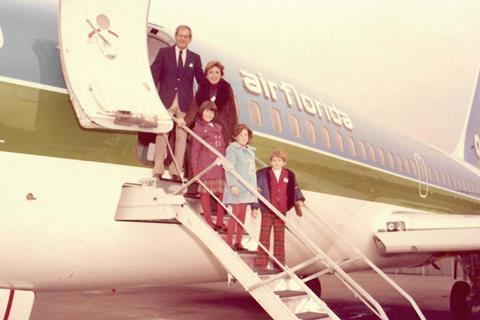 Dan Buffa, Special For The Jewish Light
Published January 26, 2022
If there's an official festival for the launch of the new year's film season, it's Sundance.
Popping its head out of the ground in January with the best and brightest films that most of the world will see at the end of the year, the Park City, Utah-located festival has now opened its doors (thankfully) to virtual viewing. From U.S.-only screenings to international ones, Sundance is stretching its reach for a second year in a row, following the pandemic's initial breakout.
This year's festival runs through Jan. 30th, with separate programs and features available in limited-time windows. I scanned the list and found three exciting new Jewish-themed Sundance darlings –one that still has a viewing window –that should get your attention. If you missed it, just know it will find distribution as the year unfolds.
"Last Flight Home"
Jewish filmmaker Ondi Timoner is known around the festival as a heavy-hitter, having won the Grand Jury Prize for two different films: "Dig!" and "We Live in Public." Variety called her latest film, "Last Flight Home," her most personal documentary yet. In diving into her family's tragic history, Timoner puts herself and her sister, Rabbi Rachel Timoner, truly center stage at the festival.
The film revolves around the final days of Ondi and Rachel's father, Eli, who made the choice to medically terminate his life. It's the events that follow his choice-the waiting period, the goodbyes, and the reckoning of that fateful decision-that shape the movie's hardest-hitting moments.
"I was literally just trying to bottle him up," Timoner said from Park City, Utah, during a presse event for "Last Flight Home."  "I wanted to hear his voice again and be able to see his face and I think it's the best use of my doc skills on a personal level ever," Timoner said. "The fact that I was able to just roll in there and do it in an unobtrusive way as much as possible and to be able to capture it all is like, 'Thank God I'm a doc filmmaker.'"
How do you say goodbye to someone, and find a way to do on their rigid terms? Eli, a dedicated father and husband who founded Air Florida in the 1970s, acts as therapist and ailing dad in his bedridden final days, easing his loved ones forward into a life without him. Timoner is a filmmaker who likes to wear all of her passion projects on her sleeve, but this latest doc is sure to make waves. Imagine finding the courage to embrace death, making it a joyous event instead of a classically morbid affair.
"Three Minutes – A Lengthening"
Brian Tallerico of RogerEbert.com wrote that "Three Minutes-A Lengthening," directed by Bianca Stigter, is one of the more "daring" films he watched this year. The plot hook is three minutes of footage of Jewish inhabitants of a small town in Poland before the Holocaust. More of a history dissection than a mere lesson, the filmmakers examine and attempt to stretch out, or lengthen, the footage found. It was found by Clark Kurtz in his parents' closet, turning out to be footage of his grandfather's vacation to Poland in 1939. The footage, which Tallerico wrote kicks off the documentary, shows people walking around a Jewish community before some event, with a few of the people looking at the camera and others not.
One of the fascinating elements is the mystery behind the footage. Outside of its physical presence and the events depicted in its 180 seconds, the filmmakers fill in the blanks and find out who these people were and what the community was. Nasielsk, Poland was the location, but Kurtz determines that most of the people in the footage died in the Holocaust–so it felt like you were watching ghosts whose only proof of existence could sit in this film.
The online screenings for both films launched Wednesday morning and will run through Thursday morning so if you need a hump day movie, this is your ticket. All you need to do sign in and register on Sundance's site to get your spot.