'Tehran' pumps up the adrenaline for a show worth watching
Loyalty, love, suspicion … summer reading has met its match.
Alan Zeitlin, JNS
Published June 6, 2022
(JNS) Being a Mossad operative in Iran isn't a job for the faint of heart. Viewers get a sense of such intensity watching "Tehran" on Apple TV+, a show that will keep them on the edge of their seats.
In Season 1, Israeli actress Niv Sultan proved as Tamar Rabinyan—a young Jewish woman born in Iran but raised in Israel—that she was able to hack almost any computer system, shoot anyone and happily risk her life for Israel.
In the first episode of Season 2, she has to save the life of an Israeli pilot, Barak, who is to be taken from Evin Prison in the Tehran neighborhood of the same name to a hospital where they can hopefully get him out of the country.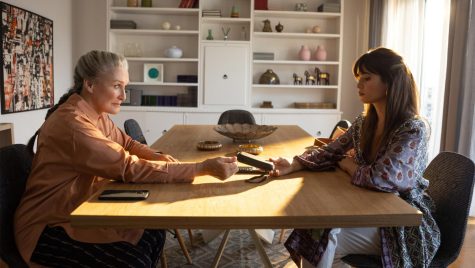 Tamara gets into hot water. She's hoping to go to Canada with Milad (Shervin Alanabi), a man she might actually care for. But there's work to be done. She has to make sure drug dealers don't get him in trouble; to do that, she uses her seductive charms to impress a man who can lead her to a general and powerful figure Israel wants to be assassinated. She is given a weapon to use that will be untraceable, but as usual, there are complications.
The New York Times correctly points out the show has elements of the Fox hit "24" with Sultan being like a female Israeli Jack Bauer and the FX spy show "The Americans," which features Russian spied posing as Americans.
Tamar sees people who helped her and who she cared about executed by hanging and knows if she takes one wrong step, she will share that fate.
Tamar's nemesis, Faraz Kamali (Shaun Toub), head of investigations of the Islamic Revolutionary Guard Corps, is out for revenge after she shot him last season when a double agent ruined Israel's plan to attack an Iranian nuclear reactor. The Israeli pilots were saved, even though the operation was a failure. Faraz has a wife who needs looking after, and though initially suspicious, he allows Marjan Montazeri—a top therapist, played surprisingly well by Glenn Close—to help his wife, Naahid. Since he isn't depicted as merely a cardboard villain, Toub can show texture, as well as difficulty juggling his ego and his loyalties.
Close's acting is fantastic, and her character knows how to put the screws on people with delightfully devilish threats. And so she can be forgiven for not being able to pronounce the Hebrew "Ch" sound as she refers to the pilot's last name as "Haim" instead of "Chaim." (The dialogue is in Hebrew, Persian and English.)
Sultan, once again is magnetic whenever on-screen—someone who has no problems dispensing of unsuspecting foes. Faraz has a protégé, Ali (played by the strong Arash Marandi), who proves to be extremely skilled. Faraz makes a stunning confession to Ali and a strange request. Sila Ommi is impressive as Naahid, a wife who understands that she's usually second fiddle to her husband's obligation to his work for the government, but she would still like to make some sweet music with him.
'One of best non-superhero female action characters'
The episodes are tension-filled and unpredictable though at times the audience will feel that Tamar (like Jack Bauer) is too arrogant and defies rules from superiors, seemingly getting out of any situation, no matter how precarious. Darius Homayoun in pitch-perfect as Peyman, the good-looking son of an important leader who plays tennis and thinks he may have met a woman who is worthy of dating him. There's a scary moment where it looks like Tamar has stolen his phone, and his charming smile of desire turns to a look of suspicion. Sia Alipour shows some fine acting chops as Vahid, a man who thinks his looks, fancy cars and an offer of a free gym membership should get him any woman. He has no qualms about planting drugs on an innocent person.
The sixth episode has an epic stare-down between Tamar and Faraz, when Faraz gets an offer he's not sure he can refuse.
Sultan's strength, Close's cunning and Toub's tenacity pump the show full of adrenaline and makes viewers question whether or not their own loyalty would rest with their lives, the lives of their family members or the protection of their country. One can't help but think of the real-life danger that exists for Israel in a region where so many actors want its demise—namely, Iran. Still, hope lies on the horizon for a more peaceful future.
At the International Emmy Awards ceremony in November, "Tehran" received Best Drama Series, becoming the first-ever Israeli show to win the award.
"Tehran" offers one of the best non-superhero female action leading characters in quite some time. The writing is rich, and if some moments are slightly reminiscent of "Fauda," that could be because head writer Moshe Zonder penned for that hit series as well. And since there are no real bullets here, "Tehran" is a terrific ride—one worthy of hopping on.
Season 3 has yet to be announced, so take the time this summer to binge and catch up.