Second generation comedian, 'Oxygen' star and the latest in TV, streaming
Nate Bloom, Special to the Jewish Light
Published May 18, 2021
"Hacks" is a 10-episode dramedy series that premiered on HBO on May 13 (two episodes on 13th; followed by 2 episodes each Thursday for four weeks). Jean Smart ("Designing Women") plays Deborah Vance, a legendary Las Vegas comedian whose career is tanking. Nobody is hiring her to do stand-up comedy anymore. To freshen-up her act, Vance hires Ava, a 25-year-old struggling comedy writer. Ava is in for "quite a ride" because Vance has an imperious personality and a fierce tongue.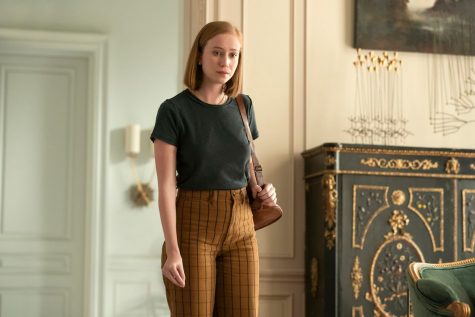 Newcomer HANNAH EINBINDER, 26, plays Ava. Her mother is original "SNL" cast member LARAINE NEWMAN, 69. Her father is CHAD EINBINDER, 57, a little-known actor. Hannah is a real-life stand-up comedian. In March 2020, she did a set on Stephen Colbert's show just before production was shut-down (view on YouTube). She has a unique, arty stand-up style that is funny, if not hilarious.
Hannah's sister, SPIKE EINBINDER, 30 (born Lena Einbinder), is a regular cast member (named "Water's Shadow") on the HBO comedy series "Los Espookys."
In a 2003 profile, Newman said she grew up in a secular household. But she embraced Judaism after enrolling Spike/Lena in a Los Angeles synagogue pre-school. She joined the synagogue, learned Hebrew and brought ritual home.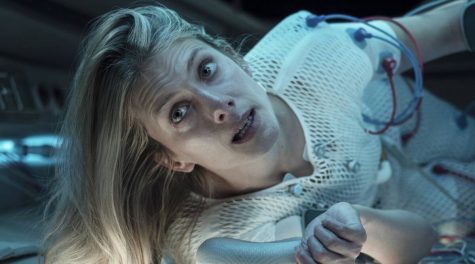 "Oxygen," an original Netflix film, began streaming on May 12. MÉLANIE LAURENT, an excellent French Jewish actress, stars as a woman suffering from severe memory loss as she wakes up inside of a cryogenic chamber. Trapped inside and rapidly losing oxygen, the key to her survival is remembering who she is. Laurent, 38, is best known for her co-starring role in "Inglorious Basterds" (2010). She played Shosanna Dreyfus, a Parisian Jew who seeks revenge on the Nazis.
"The Woman in the Window," a feature film, began streaming on Netflix on the 14th. Amy Adams stars as an agoraphobic psychologist who makes friends with a neighbor. Then her neighbor disappears, and she suspects foul play. The supporting cast includes JENNIFER JASON LEIGH, 58, WYATT RUSSELL, 34 (GOLDIE HAWN's son), and "hot newcomer" FRED HECHINGER, 20.
Hechinger, as I wrote before, had a biggish role in the 2020 Tom Hanks' Western "News of the World." He also can be seen as the "young version" of the "main evil white guy," Ridgeway, in the original Amazon series "The Underground Railway" (about slavery). It, too, began streaming on May 14th.
"Black Space," an eight-episode, made-in-Israel psychological-thriller, begins streaming on Netflix on May 27. It follows the police investigation into a massacre of four students at an Israeli high school carried out by anonymous, unicorn-masked figures. The cast and filmmaker are all Israeli. A second season has already been ordered.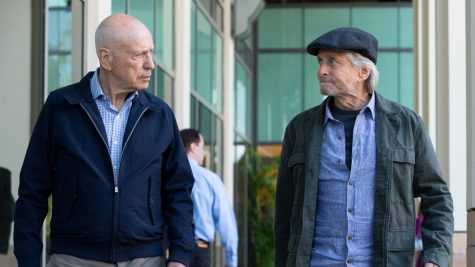 "The Kominsky Method," a hit Netflix series, streams its third and final season on May 28. It was long known that co-star ALAN ARKIN, 87, didn't want to do a third season. In the advance trailer, it is clear that Arkin's character, Norman, a (Jewish) talent agent, has died and his best friend, (Jewish) acting coach Sandy Kominsky (MICHAEL DOUGLAS, 76), has to find a way to function without his "wingman." Other trailer clips reveal: Kathleen Turner, who plays Sandy's ex-wife, returns to help with their daughter's wedding to a much-older man (PAUL REISER, 65); Norman's drug-addled daughter (LISA EDELSTEIN, 54) will inherit Norman's fortune if she follows certain conditions; and Sandy is offered a life-changing acting part by big-time director BARRY LEVINSON, 79 (playing himself).
The original HBO film "Oslo" premieres on May 29. It's based on the play "Oslo," which won the Tony for best drama in 2017. It depicts the back-story of the secret negotiations in Norway's capitol which led to the Oslo Peace (1993) accords. The play, by J.T. Rogers, was praised by Israelis and Palestinians, alike, for depicting them in realistic terms without taking sides (Rogers is a self-described "WASP from California"). The film has Israeli actors play Israelis and Arab actors play Arabs. By the way, there actually is some humor in the script.
"Housebroken" is animated series about a very varied group of neighborhood pets who meet to discuss their problems. LISA KUDROW, 57, voices Honey, a star character. Honey is a standard poodle who was forced into a "marriage," by humans, to Chief, a sloppy St. Bernard (voiced by NAT FAXON, 45. His mother is Jewish). Fun note: there's an animal character named Tchotchke. (Begins May 31 on Fox. New episodes Mondays at 8 p.m.).