Renowned Israeli sculptor Leon Bronstein debuts new show in Grand Center
By Bill Motchan , Special to the Jewish Light
Published October 7, 2022
Noted Israeli sculptor Leon Bronstein's work is now on display in St. Louis in the Grand Center arts district at the Caitlyn Gallery. The gallery is owned by Bronstein's longtime friend and supporter Rich Winters, who introduced the St. Louis art community to the sculptor in previous exhibits. Bronstein is now based in the Ein Hod artist's village.
Born in Moldova in the former Soviet Union, he was trained as an engineer and working as a watchmaker before forging a new creative path. While putting the finishing touches on the new exhibit, Bronstein, 72, discussed his work with the Jewish Light.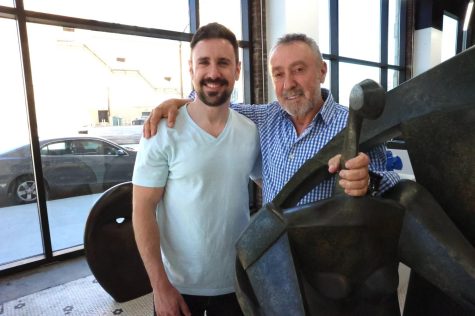 When did you get started in your career as a sculptor?
It was a big accident. We arrived in Israel in 1979 and I was looking for a job. I visited a plant that produced souvenirs for tourists. I asked for a job sweeping the floor or fixing machines. I told the factory owner I could make a sculpture. I went outside and found a big root of an olive tree and in three hours I made a super-realistic sculpture. The owner told me "Leon, you will work here as a sculptor." No more sweeping floors.
Did you have some experience creating objects from wood before that?
Yes, I was always able to work with knives and the roots of trees. I always created things as a hobby, but I never had a chance to show what I could do.
How have your tools progressed from a knife and tree root?
Now I use clay and metal molds, air tools and an argon welder.
What is your creative process like now when you begin a new sculpture?
I always begin with a pencil sketch [which are also on display at the St. Louis exhibition]. The sketches are very precise, very exact. Then I build the structure. That process is very creative. You never see the structure exactly like the drawing.
How would you describe the style of your work?
I've been working for 43 years in this field and I'm always changing my style. I'm looking for new forms and new possibilities to use this kind of material and to create something emotional. I have a story for everyone. Every sculpture I make has a kind of emotion present to me. And I am sure that people who will come to see it, they will have some kind of emotion.
Leon Bronstein's sculpture exhibit "The Time Is Now," is located at The Caitlyn Gallery on the first floor of the Angad Arts Hotel, 3550 Samuel Shepard Drive. The gallery is open from 10 a.m. to 5 p.m. 
Related: B'nai Amoona launches art gallery; new exhibit runs through December