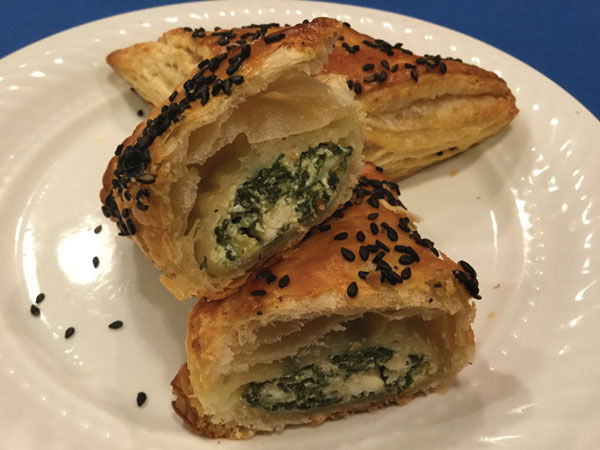 Shhh.
Can you keep a secret? 
That's just what Queen Esther did in 400 BCE in Shushan, the capitol of Persia. When King Ahasuerus picked her as his queen, Esther chose not to disclose that she was Jewish. But a subsequent event gave her the courage to not only disclose but proclaim her secret. When Esther's Uncle Mordecai refused to bow down to Haman, a powerful government official, the furious Haman urged the king to destroy the Jews. Haman's plot was foiled only after Esther revealed to the king that she was Jewish.
This Purim "secret" has inspired generations of Jews the world over to create a delicious variety of Purim foods that hide a secret. From sweet ma'amoul to kolooche to recette makroud to hamentaschen (albeit with its secret partially exposed) to savory kreplach to burekas, Jews celebrate this joyous holiday with those "secret" foods.
The Jews of the Middle East, Turkey and Greece make ma'amoul, a tradition and recipe I featured in my 2013 Purim column. Made from an orange flower water-flavored dough, these cookies are pressed into an intricately carved wooden mold called a tabi before being baked. Hidden inside each ma'amoul is a delectable paste of dates and walnuts
French Jews have a Purim cookie called recette makroud, a tender, buttery cookie that hides a sweet morsel of date paste inside. Jews of Persian ancestry make a smooth, round Purim cookie called kolooche, which hides a citrusy date and honey filling.
And then there are, of course, hamentaschen, that triangular cookie that Jews in America and in Israel fill with everything from the more traditional sweet poppy seed or prune pastes and fruit jams to new-fangled fillings such as peanut butter ganache and strawberry cheesecake.
When my 5-year-old grandson Oliver and I were discussing the story of Purim, he asked me why the Jewish people celebrate Purim with a cookie in the shape of Haman's hat. 
"Haman was a bad man," Oliver declared.
It was a good question, and one that I'd asked myself in the past. I shared with Oliver the answer I'd come up with, namely, that the filling in the center of that cookie is sweet, which is just how the story of Purim ends. 
On the savory side of Purim treats, many Jews make kreplach, triangular dumplings that are filled with seasoned meat or vegetables and served in chicken soup. (I included a recipe for kreplach in my February 2009 Purim column.)
And then we have burekas.
Tori Avey, a popular food blogger and executive producer of WonderFish Media, explains the origins of this Purim treat on her blog:
"Burekas originated in Asia as a deep-fried filled dumpling known as a burga. When the Turks of Central Asia moved to what is now the country of Turkey, they brought their stuffed burga dumplings with them. Over time, the dumpling evolved into a variety of stuffed, layered pastries known as börek. Sephardic Jews who settled in Turkey adopted the pastry, merging it with their version of the same dish (empanada) and adapting it to make it kosher. Börek + empanada = bureka. The bureka was born!"
Michael Solomonov, a native Israeli and author of "Zahav: A World of Israeli Cooking," learned to make boreka's (his spelling) from his Bulgarian grandmother. As he writes: 
"Borekas are everywhere in Israel, from coffee shops to gas stations, which is cool because they didn't even exist before the major Bulgarian immigration in the late 1940s."
Indeed, burekas in Israel have become so popular that the Chief Rabbinate's kashrut division has created laws to standardize their shapes. For example, burekas made with dairy must be triangular. Dairy-free burekas must be shaped into rectangles. Those filled with meat must be shaped into long rectangles. The laws were created so that observant Jews would not mistakenly eat a dairy bureka shortly after a meat meal.
I recently tasted my first bureka at Breads Bakery, an Israeli bakery in New York City at 18 East 16th St. Their burekas are heavenly, a crisp flaky dough wrapped around a delicious filling of spinach and feta cheese. If you plan to visit New York, put Breads Bakery on your must-do list and don't miss the burekas (or their chocolate babka). 
But I'm here in St. Louis and Purim is just around the corner, so I'll be making my own burekas. These Purim treats can be made from puff pastry dough, phyllo, short crust pastry or cream cheese dough. To duplicate Breads Bakery's version, only puff pastry will do.
While classic puff pastry can be challenging to make, the recipe below for modified puff pastry is easy to follow, doesn't take as long and just might be as good. And if you don't want to patchke with making dough from scratch, you can always substitute Pepperidge Farms Puff Pastry Sheets, which are kosher and pareve and available in the frozen food section of your supermarket. 
Chag Samaech!
Margi Lenga Kahn is the mother of five and grandmother of five. A cooking instructor at the Kitchen Conservatory, she is working on a project to preserve the stories and recipes of heritage cooks. She welcomes your comments and suggestions at [email protected]
Margi will be teaching a Knish class at the Kitchen Conservatory in Clayton on Thursday, April 7, from 6-9 p.m. For more information, contact Kitchen Conservatory at 314-862-2665.