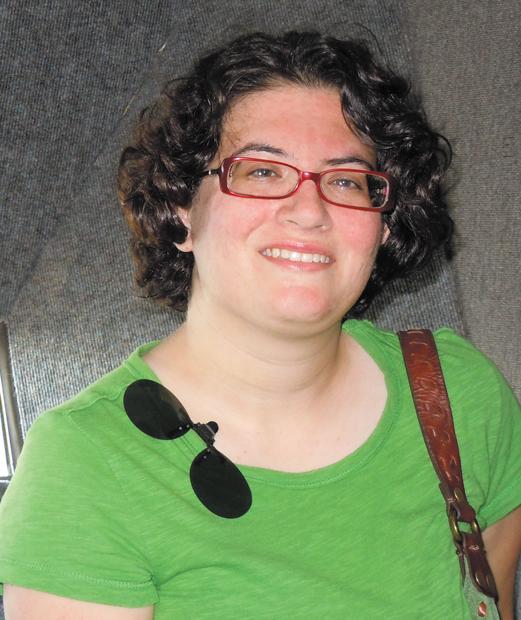 It's hard to pull off the right balance between whimsy and darkness, but artist Amy Bautz manages to do just that in the exhibition "Paintings by Amy Bautz and Reid Norris" at the St. Louis Artists' Guild.  The psychedelic colors in Bautz's art temper a dark strangeness.  The artist achieves other equilibriums as well, including naturalistic elements depicted alongside fantastic fauna.
The painting Bear Asleep or Dead shows a black bear spread-eagled on the ground behind a lone tree.  The sky is yellow, the grass made up of green, yellow, and white patches.  Odd bulbous protrusions, like alien plant life, sprout from the tree in blue, purple, and green-gray shoots.  From the bear's mouth something blue appears to spill and a blue bulbous plantlike stalk rises.  At first glance the image looks cute or humorous but the longer we examine it, the darker it grows.  The piece's title itself causes us to waver between tranquility and revulsion. 
Jade Plant employs the same balance as the above painting between naturalism and fantasy.  It captures the essence of jade plants' thick, wide leaves but abandons all other biological elements.  Bautz painted the leaves in black and white; some have small holes or circles at their tips.  Part of the artist's inspiration may have come from Joan Miró's paintings of the early to mid-20th century.
Reid Norris's abstract pieces play off of Bautz's in terms of color and composition.  His paintings are fascinating to explore because we can almost identify familiar items before they slip back into abstraction.  We can see the titular fishbowl in the work Mirrorfishbowl but not much else.  The greens, yellows, and whites merge and move in a choreographed two-dimensional dance.  We aren't sure where we are: in a kitchen or bathroom with a tiled floor, perhaps? 
The titles of most of Norris's pieces seem almost suggestive, causing us to "see" things in them that may not be present.  The painting Junk depicts maroon, green, and black objects which appear to be piled up.  Are they suitcases?  Or old furniture?  How much does the title influence what we see?
"Paintings by Amy Bautz and Reid Norris" is on view at the St. Louis Artists' Guild through March 17.  The Artists' Guild is located at 2 Oak Knoll Park at the corner of Big Bend and Clayton.  Gallery hours are Tuesday – Sunday, 12:00 – 4:00pm.  For more information, please call 314-727-6266 or visit www.stlouisartistsguild.org.