Mini-film fest to honor Gay Jewish Icon Harvey Milk this weekend in St. Louis
Opera Theater of St. Louis and the Webster University Film Series, along with Cinema St. Louis and the St. Louis LGBTQ Chamber of Commerce are partnering to bring St. Louisans a free, weekend-long event to honor the legacy of gay Jewish icon and San Francisco elected official Harvey Milk.
The event
Two Award-winning films will offer different perspectives of Milk's story, and a panel discussion will address how storytelling can help us honor history while shaping a new narrative.
All the events take place at the Winifred Moore Auditorium and are free, but advance registration is required.
April 22: Film screening of "The Times of Harvey Milk"
Showtime: 7:30 p.m.
Harvey Milk was an outspoken human rights activist and one of the first openly gay U.S. politicians elected to public office; even long after his assassination in 1978, he continues to inspire disenfranchised people around the world.
One of the first feature documentaries to address gay life in America, "The Times of Harvey Milk" is a work of advocacy itself, bringing Milk's message of hope and equality to a wider audience. This exhilarating trove of original documentary material and archival footage is as much a vivid portrait of a time and place (San Francisco's historic Castro District in the 1970s) as a testament to the legacy of a political visionary. The film won the Oscar for Best Documentary Feature in 1985. Register here.
April 23: Panel discussion & film screening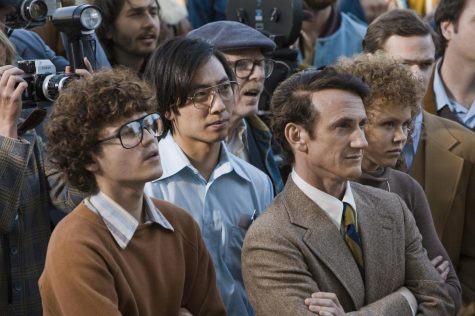 A 90-minute discussion will begin at 6 p.m. followed by a 7:30 showing of "Milk"
Milk's glorious and complicated life and political career were tragically cut short by a bullet in 1978. His story has been told many times over in books, film and television, and will soon be featured as an opera when OTSL stages its world premiere of "MILK," June 11-25.
Still, the question remains: Does storytelling about real-life people via different media – albeit taking some artistic license — accurately portray history?
A discussion about this and other issues related to Milk will be moderated by Joshua Ray, a QFest St. Louis co-programmer and contributor to Cinema St. Louis' film blog "The Lens." He will also introduce the film.
"Milk"
Using flashbacks from a statement recorded late in life and archival footage for atmosphere, this film traces Milk's career from his 40th birthday to his death.
He runs for office with lover Scott Smith as his campaign manager. Victory finally comes on the same day conservative Dan White wins a spot on the San Francisco Board of Supervisors.
The rest of the film sketches Milk's relationship with White and the 1978 fight against a statewide initiative to bar gays and their supporters from public school jobs. The film features a star-studded cast and won two Oscars – Best Actor Sean Penn as Harvey Milk and Best Original Screenplay by gay screenwriter Dustin Lance Black.  Register here.
The essential Jewishness of Harvey Milk
In an article for the Bay Area's Jewish newspaper J. in 2018, Rob Gloster (z"l)wrote that while Milk kept his homosexuality a secret from family members and employers for most of his life,  he never hid another fundamental aspect of his persona — his Jewishness.
Born a middle-class Jewish kid from New York, he hung his bar mitzvah picture on the wall at the Castro Camera shop that doubled as his campaign headquarters as he made history by being elected to San Francisco's Board of Supervisors in 1977.
Though not religious, Milk reveled in speaking Yiddish with friends and at one point considered opening a Jewish deli in San Francisco. He faithfully attended Passover seders and cooked matzah brei for his non-Jewish partners.
"It was so important to his identity. There were all sorts of sentimental ways that his Jewish identity was important," said Lillian Faderman, a scholar of LGBT history and literature who wrote a biography of Milk that details his cultural connection to Judaism. "I think he really believed in tikkun olam and he really tried to repair the world."
Though his Jewish identity remained essential throughout his life, Faderman told Gloster that did not include regular synagogue attendance.
"He hated organized religion and from the beginning, he did not trust it, and he felt that homosexuality and religion were incompatible," she said in the interview with Gloster.
In another interview, Gloster spoke to Walter Caplan, who hosted the seder that Milk attended every year.
"He didn't deny in any way his Judaism, and it was actually a cornerstone of who he was and everything that he did," Caplan said at the time.  "Harvey fought for the underdog, and he was a scrappy fighter and believed very much in social justice. Everywhere he saw something wrong, he wanted to fix it. I think he had the values that he got at Hebrew school and at the dinner table."
Milk and organized religion
When Milk recorded three audiotapes in 1977 that included a premonition of his assassination a year later, he lashed out at rabbis and priests because they refused to support gay rights. On those tapes, one of which he gave to Caplan, he reiterated his opposition to organized religion "because of what most churches are about, and not because of a disbelief in God."
In the last year of his life, Faderman writes, "Milk seemed to reconnect with religion while dealing with personal challenges and tragedy — including financial struggles and the suicide of a romantic partner."
Faderman says just weeks before his murder, Milk attended High Holy Day services "perhaps for the first time since his boyhood" at Sha'ar Zahav, which the year before had been established as San Francisco's first gay synagogue.
Sharyn Saslafsky, who met Milk through politics and then became a close friend, told Gloster she remembers sitting with Milk on an old maroon sofa in Castro Camera having conversations peppered with Yiddish while opera blared in the background. Like others, she recalls him as "very much a cultural Jew."
"I think Harvey was very proud of being both Jewish and gay. He loved what Judaism and tikkun olam was about," Saslafsky said at the time. "I think the basis of who Harvey was personally and politically was really very Jewish in the sense of being active and making a difference, taking responsibility, empowering people. I look at that as very Jewish-like."