Method acting, and stunt work injury, will always be a part of Lior Raz's world
DAN BUFFA , SPECIAL TO THE JEWISH LIGHT
Published August 8, 2021
Actors get to play make-believe for a living, essentially. Take Lior Raz for example. The 49-year-old Israeli movie star likes to do his own stunts in television series such Netflix's new one, "Hit and Run."
For Raz, who used to serve in the military, it's a cathartic opportunity to play the hero, taking the lumps and bruises along the way. According to an interview with Britain's Jewish News, he craves the ability to do things that wouldn't be legal or realistically possible in real life, even if the physical toll it takes is a sure thing.
"It's so much fun. You know you have a license as an actor to do crazy things that you cannot do in real life. I can't just go run and chase someone on a motorcycle," Raz told Jewish News. "I love to do my own stunts, I love to fight, I love to shoot, I love to drive. But it's not easy-physically."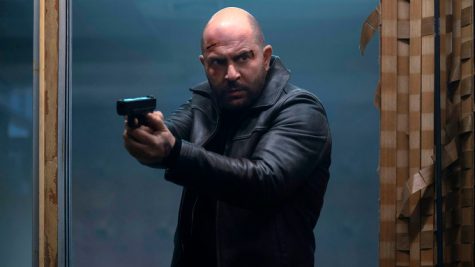 When I mention the military, I am not talking about a guy who stuffed bullets into guns and didn't see much action. Raz experienced the real deal as a commando for the Israeli Counter-Terrorism Unit. He uses that built-in heroism experience in roles such as the current Netflix hit, "Fauda." The streaming giant acquired the 2015 series that ran for three seasons–and it's turned into a real sustainable hit show. When you see Raz running and gunning in "Hit and Run," which just debuted as Israel's first Netflix Original series, the conviction won't go unnoticed by the viewer.
Stunt work, overall, is severely underappreciated by most casual filmgoers and awards committees. If the Oscars had any sense, they would invent a Best Stunts category. Without these selfless souls, action movies would be far less. You can't have John Wick with Jonathan Eusebio, the choreographer, training Keanu Reeves how to move. Tom Cruise does his own stunts, including hanging off an airplane and riding motorcycles at high speeds.
Like Cruise, who broke his leg doing a stunt for a "Mission Impossible" sequel, Raz knows that authenticity usually comes with a price — especially on film. I appreciate lead actors who do their own stunts, because it makes the rest of the film better and more cohesive. You don't have to convince yourself that it's only one person playing the role; with Raz, it usually is.
Just look at him. He has a stare that could make Clive Owen check underneath his bed. He brings some of his own scars with him to the set. A particular plot thread in "Hit and Run" pulls from Raz's real life. His real-life girlfriend, Iris Azulai, was stabbed to death by a Palestinian Arab terrorist in 1990. In the television show, his wife is murdered, which upends his entire retired-from-Special-Forces world.
Method acting, and stunt work injury, will always be a part of Lior Raz's world–and I am here for it. It's time for an Israeli revenge TV show binge. Are you in? Both "Fauda" and "Hit and Run" are available on Netflix right now.