Looking back at the Jewish Oscar sweep of 1986, and predicting Sunday's big winners
Dan Buffa, Special to the Jewish Light
Published April 23, 2021
The year 1986 was not only a very good year at the movies, it also was a very good year for Jewish talent in the movies. Both the Best Actor and Best Actress awards went to Jewish people on that fateful Oscar night.
Paul Newman took home the coveted golden trophy for his impeccable work as "Fast Eddie" Felson in Martin Scorsese's "The Color of Money." Marlee Matlin also took home the prize for her portrayal in "Children of a Lesser God." She is still the only deaf performer to win an Academy Award. The Morton Grove, Ill. native was only 21 years old when the film came out.
"Sorry to make you feel old" alert, but I was just about to turn 4 years old and probably had a spiritual desire for Gene Hackman's "Hoosiers" to come away with a prize, even if it wasn't nominated. There's a good chance the enthralling sounds of Tom Cruise being dangerous in the late Tony Scott's "Top Gun" was played in the house while I aimlessly stared at the television. There were classics of all kinds released that year, including Oliver Stone's "Platoon" and "Stand by Me."
The competition for Newman in the Best Actor race came from Dexter Gordon for "Round Midnight," Bob Hoskins in "Mona Lisa," James Woods in "Salvador" and William Hurt's work opposite Matlin in "Children of a Lesser God." Vying for the best actress that year, in addition to Matlin, were Jane Fonda in "The Morning After," Sissy Spacek in "Crimes of the Heart," Kathleen Turner in "Peggy Sue Got Married" and Sigourney Weaver in "Aliens."
Personally, I'd have given it to Weaver, who transcended the action hero genre for women and made that film something else entirely. But Matlin made history at a young age, so respect is given there. When it came to the male performers, it's just hard to get past Newman's work in what was technically a sequel to "The Hustler." After going head to head with Minnesota Fats in the original, Newman's billiards legend mentored the talented yet erratic Vincent (played by Cruise), finding a revived love for the game of pool, notably the nine-ball format. "I'm Back!" still sounds electric at the very end of the film, with Newman's smile sneaking out after the line. It's at that moment that the old lion winked at the young grasshopper next to him.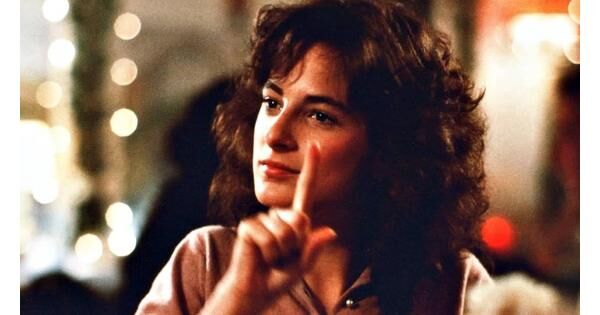 The intriguing, and later disturbing, thing about "Children of a Lesser God" is that Matlin and Hurt fell in love while making the movie. He played a teacher assigned to a school for the deaf, where he meets and falls quickly for the damaged yet intuitive Matlin, who allegedly suffered abuse later in her real life relationship with the actor. Proof that fairy tales only last sometimes when the camera is rolling.
What about this year? Here's what I think happens during Sunday's 7 p.m. Academy Awards broadcast on ABC (Channel 30). Since it's being directed by Steven Soderbergh, you could see George Clooney and Brad Pitt's thieves swoop in and rob the place, stealing all the Oscars. That would be a lot of good fun. But the reality is that Chloe Zhao can't be stopped. Her directorial efforts in "Nomadland," currently streaming on Hulu, should net her the award. The film will pick up Best Picture. The late Chadwick Boseman will become the first actor to win an Oscar posthumously since Heath Ledger at the show in 2009. Boseman was ferocious, heartbreaking, and all-round captivating as Levee Green, a self-tortured musician, in "Ma Rainey's Black Bottom."
While pundits have Frances McDormand winning for her subtle work in "Nomadland," I think Carey Mulligan could steal it for her show-stopping work in Emerald Fennell's "Promising Young Woman," which will also take the Best Original Screenplay award.  Writers Florian Zeller (who also directed) and Christopher Hampton should win for "The Father," which handled dementia in a very original way, pulling back the curtain on a terrible disease and giving Anthony Hopkins and Olivia Colman an actor's showcase.
It'll be a good night and a much-needed wrap of an extra-long movie year, one that dipped into the next year's films a touch. Still, 1986 remains the best year for Jewish actors, as well as directors. Oliver Stone, whose father was Jewish, won Best Director and his film, "Platoon," won Best Picture. We may never see that kind of Hebrew domination ever again.