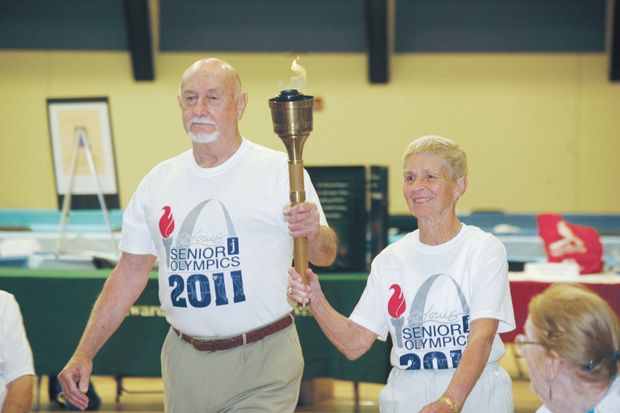 The Jewish Community Center is gearing up for week of competition and camaraderie as host of  the St. Louis Senior Olympics.
"It's a win-win for everyone," said Laurie Chod, chairwoman of the event for the second year in a row. "Everyone gets something out of it."
The 35th annual games will get underway Thursday afternoon with a tap dancing exhibition. Then it's four days of intensive competition in about 90 events, from weightlifting to bowling to darts to billiards, spread across 13 venues. The games end Tuesday with an 18-hole golf tournament in Forest Park.
Competitors must be at least age 50. Organizers said the oldest athlete this year is 94.
Phil Ruben, director of the games, said most of the events are the same as last year. However, this year's competitions will feature two notable new arrivals. One is pickleball, a badminton-inspired sport that includes elements of tennis and table tennis, which will earn coverage on KSDK-TV (Channel 5).
"We've added doubles and mixed doubles category events to our games," Ruben said. "Pickleball is becoming known as the fastest growing sport in America."
The other new addition is a roller hockey tournament, a sport that was suggested by a group of seniors who had formed squads on their own to make it happen.
"They were so passionate about the Senior Olympics and wanted to participate that they came up with a sport, got the people, came to us and said, 'We want to be a part of this,' "  Ruben said.
Last year's 9-mile cycling event has been dropped from the schedule.
"It was a sanctioned race through United States Cycling," Ruben said. "We opened it up to the community for non-50-year-olds, and it just didn't take off the way we wanted."
About 1,100 athletes are expected for the games, a small increase over last year, which also broke four figures. Registration is closed for the games, but volunteers and spectators are still welcome. Ruben said more than 300 people usually donate their time to the event. 
Between spectators, volunteers and other athletes, there is typically a strong turnout of folks   watching the action.
"People bring out family and friends," he said. "There's always a cheering section."
Of course, the competitors themselves are the center of attention. Ruben said they form a broad cross-section of hardened athletes who train year-round for the games and amateurs who just want to get some time in doing their favorite activity.
There is a social aspect to the event.
"These people see one another only once a year at the Senior Olympics," he said. "Friendships are formed, bonds are created. It is a competition, but it is friendly competition."
Some also use the Senior Olympics as a proving ground for the national version of the games. In fact, the badminton and table tennis competitions act as the Missouri state qualifiers in their respective sports.
Not that everyone is from Missouri. Ruben said competitors are expected from California to Georgia, a tribute to how well regarded the event is nationally.
"People call to model their games after us," he said.
Mary Pat Henehan, 71, is among those looking forward to the gathering. The Olivette resident has been competing in the games for about 18 years and will be in about 20 events this time, most of them related to swimming.
"For me, it is a way combating ageism in our society," said Henehan, who will also try her hand at pickleball and various track-and-field events. "People tend to think negatively about aging rather than seeing some of the positive aspects."
Henehan was a swimmer in high school and a runner in college. In those days, she said, athletics were often more limited for girls so she didn't always get the opportunity to do as much as her brothers. She's now been to six nationals for the senior games, which she believes is a good way to stay healthy.
"When people keep physically active, they are also often more mentally active," she said. "There are some strong connections there."
Scott Schwartz, 58,  of Chesterfield, admits that he's a little obsessed with the games. After first getting his feet wet with a few events two years ago, he's diving into more than a dozen competitions this time. He  keeps a folder to track his progress from past events.
"Last year, I got in the gym by September and really took it seriously," the Shaare Emeth congregant said. "I worked out, did 13 events and won 10 medals."
Schwartz will compete this week in football, soccer and softball distance and accuracy events as well as darts, golf, shuffleboard and horseshoes.
He said the games have provided a family connection with his son, who is also an athlete.
"All through the years with him growing up, I coached him," he chuckled. "Now, he's coaching me."
The games run through May 27 at a variety of locations around the St. Louis area. For a full schedule of events, visit stlouisseniorolympics.org. Email [email protected] for more information.