Kevin Spirtas opens up about his return to "Days Of Our Lives"
Dan Buffa, Special to the Jewish Light
Published February 9, 2022
"
You just keep doing it until you can't."
— Kevin Spirtas
The one thing that soap opera stars will always have on movie stars is that they can always drop back into their hit show and continue a character's story. Most popular television shows do eventually end, and most movie series also hit a brick wall at some point. But with a soap opera legend like "Days of Our Lives," recurring stars like Kevin Spirtas can return at just about any time — and make a splash immediately.
That's what the Jewish St. Louis native and 1980 Ladue High School graduate saw happen last month when his beloved Dr. Craig Wesley reentered the world of Salem and all its overly dramatic inhabitants. After appearing on the show on and off from 1997-2009, Spirtas' Dr. Wesley returned, and made a huge confession to his wife on the series, Nancy. After all their time together, which includes a daughter in Chloe, Craig Wesley told Nancy he was gay. Hardcore fans and even casual fans quickly took to social media to vent their frustration with the surprise plot thread.
Kevin Spirtas Coming Home To Salem
But for Spirtas, that was just what the script read. For him, the initial return was about seeing familiar faces for the first time in years.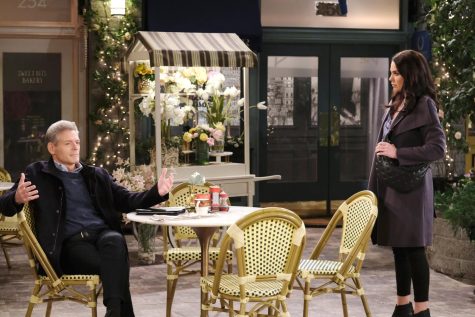 "Very excited to return to a show that I love and adore. I got to see all my friends, people I haven't seen in a long time, before COVID-19," Spirtas said in a phone interview this week. "I would see them at an awards show or gathering, and you say your hellos — but this was interesting."
But the return to the soap opera series carried a new look and schedule. Due to the ongoing pandemic, protocols and shooting schedules had things looking and feeling a little unorthodox.
"It was very different than the way I knew it to be — and not just the storyline, which had Craig coming out as a gay man," Spirtas said. "COVID-19 keeps you scheduled in a way that we aren't doing all the shows one day at a time. All my scenes from one show may be spread out over the week or two, because they are trying to make sure people are in town and the set is up and running."
When it came to the big plot reveal upon Dr. Wesley's return to Salem, that was simply the script that Spirtas received to play. Once the doting husband and pillar of the community, Dr. Wesley now has to see life in a different light. In finding new love, he had to reluctantly break another, more seasoned love. How does an actor respond to that kind of twist, especially following nearly 13 years away from the storyline and series narrative?
The actor elaborated on the interesting (his words) question about settling back into a character's shoes that he is familiar with, yet in no control of his future.
Bringing Dr. Wesley Back
"You go in to do something and you may want to play it one way, but it's not written that way. So, there's that element to it," Spirtas said. "In all honesty, even 20 years ago when I was on the show, I never felt like I was secure in my job. It wasn't because I didn't think I was good enough with the craft, but the storyline is always directed by the fans. They either have a liking towards something or if something is popular or not."
He's not wrong. Pop culture has become a constant powder keg of reactions and spirited debate about what we think screenwriters and showrunners should do, and it's no different for Spirtas. But for him, it was the guy on the supporting bench getting a taste of the bigger story threads on the show.
"I was never an A storyline. I was a B storyline. So, when you're in the B storyline, you don't want to get thrown away. You want to keep doing good work and showing up. Be a professional. But now, I may not be an A storyline, but it's bigger and it feels important."
Whatever you may think of the show's head writer Ron Carlivati and his choice to have Dr. Wesley reveal to his longtime wife that he is gay and shake up the show a little, it does give the show quite a few avenues to run down in its aftermath.
The role of social media
There's one easy change to note with Spirtas' career these days: social media. Before his return to "Days of Our Lives" a few weeks ago, he posted a tease on his Facebook page. Along with the new age manner of sharing and posting updates, to go with the fiery debate on Dr. Wesley's confession, Spirtas welcomes the opportunity to connect with fans. It doesn't take a long scroll through his page to see that he posts constantly about the show, his work and comments to readers as well. However, there is a limit to his status there.
"I do the amount of social media that I feel the need to be current and up to speed or to announce something that I am doing. It's the easiest, fastest and cleanest way to get it out there," Spirtas said about his interactions on social networking. "I'm speaking from an older generation. Young kids come out of the womb now, and they've got hashtags and emojis. I've tried to surrender to it and make it more fun. For me, it serves its purpose when it is applied."
One thing is for certain: Spirtas' return to Salem has sparked a fine debate, and he's stoking the fire on social media all in the name of keeping the flame strong on his own career.
Come back next week for a deeper discussion about the big project Spirtas is wrapping up, one with a huge personal connection. Also, find out what being "a standby for Hugh Jackman" on Broadway entails.