Jewish congressman's new memoir recalls chaos and confusion of Jan. 6 insurrection
Irene Katz Connelly, The Forward
Published January 5, 2022
"This story was originally published on Jan. 4 by the Forward. Sign up here to get the latest stories from the Forward delivered to you each morning."
---
Congressman Jamie Raskin, a Maryland Democrat, lost his son to suicide in the last days of 2020. Just a few days later, he lived through the Jan. 6 insurrection at the Capitol — and became a central figure in the Democratic Party's response.
As the lead House of Representatives impeachment manager charged with prosecuting President Trump for his role in the riots, Raskin battled private anguish to lead a high-profile public investigation.
In his new book, "Unthinkable: Trauma, Truth, and the Trials of American Democracy," Raskin tells two stories. One is the legacy of his son, a law student and budding progressive whose death devastated Raskin, his wife, Sarah, and his two adult daughters, Hannah and Tabitha. The other is his experience of the Jan. 6 riots and his tenure leading the second impeachment proceeding of Trump's tenure. For Raskin, these events are connected by more than their proximity in time.
"If a person can grow through unthinkable trauma and loss, perhaps a nation may, too," he writes.
Blending family history and philosophical argument, Raskin's is the rare politician's memoir that reads like a genuine exploration of self rather than a branding exercise. It's most fascinating for its minutely detailed account of the insurrection. That focus makes sense — an early advocate for investigation and impeachment, Raskin clearly understood the importance of establishing a clear and accurate public narrative of the events of Jan. 6. Ahead of the insurrection's first anniversary, here's what the memoir tells us about one representative's experience.
He brought his children to work that day
Jan. 6 was Raskin's first full day at work after Tommy's death, and his daughter Tabitha initially encouraged her father not to go in. But Raskin felt he had to — this was the day that a joint congressional session would count and certify the 2020 Electoral College votes. The process was supposed to be a formality, but with Republicans expected to object to the certification it was shaping up to be a real battle. Ultimately, Tabitha and Raskin's son-in-law, Hank, decided to accompany him.
Raskin spent his morning preparing the speeches he'd been asked to give in response to the probable objections. When he finished a draft, he handed it over to Tabitha, who immediately started crossing out some of his more fiery adjectives. "Dad, you've got to tone this down," she chided him.
After the joint congressional session began, several House Republicans posed the anticipated objections. Tabitha and Hank watched from the House visitor's galley as Raskin delivered his prepared remarks. When he greeted his colleagues and thanked them for the "love and tenderness" they'd shown in the wake of Tommy's death, he was given a bipartisan standing ovation.
The session continued as danger mounted outside
As arguments proceeded, Raskin got an anxious text from Alyssa Milano, an actress and political organizer who had become a family friend. She'd seen on the news that protestors had stormed the Capitol, and wanted to know if he was OK. Soon, as members received text alerts warning them to shelter in place, security teams whisked House Speaker Nancy Pelosi and other senior officials out of the room.
The remaining members tried to keep the session going, but things didn't exactly go according to plan — when Rep. Paul Gosar, an Arizona Republican known for spreading misinformation about election fraud, got up to speak, a Democratic member (Raskin declines to name names) shouted, "Call off your stormtroopers!" Other members shouted for colleagues to don gas masks and remove the congressional pins that would mark them as targets.
Amid the confusion, someone texted Raskin the now-infamous photo of a rioter carrying a Confederate flag through the Rotunda, which he showed to colleague Rep. Liz Cheney. "Looks like we're under new management," he said.
A chaotic evacuation…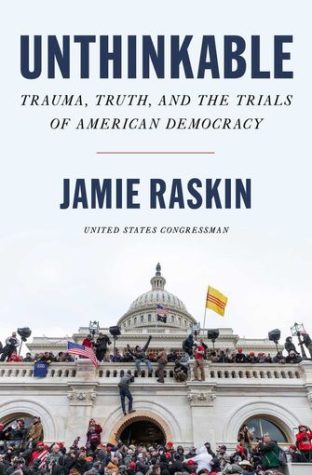 As rioters pounded like a "battering ram" on the chamber's door, police led members in an improvised evacuation through the building's basement. Periodically, Raskin writes, members glimpsed rioters who were likewise wandering through the halls. Every time this happened, the members "broke into a healthy trot pretty impressive for middle-aged politicians." One member who had trouble walking was pushed in a wheeled office chair.
As they fled, people made frantic calls to their families. Raskin was particularly worried about Tabitha and Hank, who had left the visitors' gallery and hunkered down in Rep. Steny Hoyer's office, along with his campaign manager, Julie Tagen. Tabitha texted that she was hiding under Hoyer's desk. Later, she'd tell her father that Tagen stood at the door with a poker she'd found in the office fireplace, quipping that she "definitely got her Philly on."
And then a long wait
Raskin's group made its way to a committee room in another House office building. Hundreds of people crowded into a room meant to accommodate a few dozen, with many Republican representatives eschewing masks. Raskin watched the news from a colleague's iPad and fielded requests for media appearances from his own staff, but put off speaking while he waited for police to escort Tabitha and Hank out of the office where they'd been hiding. Once they arrived safely, Raskin did an interview with CSPAN, emphasizing the unprecedented nature of the attack. "You have to go back to the War of 1812 to find something like this, and that was a foreign power that attacked us."
While they waited to leave the complex, several Domino's pizzas arrived, "to great bipartisan enthusiasm." While Tabitha and Hank went home, Raskin stayed until the wee hours of the morning to finish the certification.
Raskin was reluctant to be the face of impeachment — but relented after an appeal from Pelosi
When legislative sessions resumed the next week, Raskin was asked to present a resolution for Trump's impeachment. But his daughters called at the last minute and begged him not to; they worried that he would become "the face and voice of impeachment" at a moment when alt-right threats felt ever-present. Raskin agreed to hand off the job to a colleague — but just a few minutes later Pelosi called and asked him to serve as lead impeachment manager. More family calls ensued, and with the promise of extra security Raskin ended up taking the job, saying that his son would have wanted him to do it.
"I feel Tommy with me in every minute," Raskin recalled telling Pelosi. "He is in my heart, and he is in my chest."
"The Forward is an independent, nonprofit news organization dedicated to providing incisive coverage of the issues, ideas, and institutions that matter to American Jews."