St. Louisan Jessica Radloff pens "tell-all" book about "The Big Bang Theory" sitcom
Jordan Palmer, Chief Digital Content Officer
Published May 17, 2022
On May 1, 2019, Glamour magazine's West Coast Editor and St. Louis native Jessica Radloff posted this picture on Facebook, from the set of "The Big Bang Theory."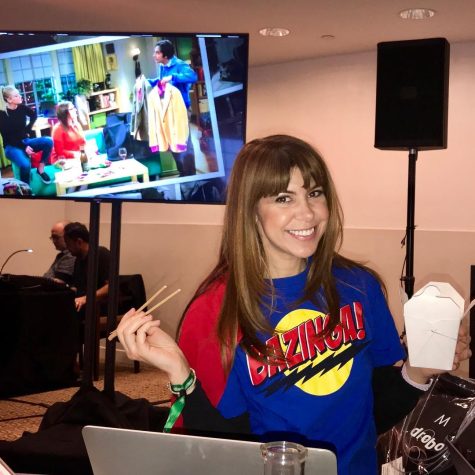 "This is all I'm allowed to show you from tonight's finale taping of The #BigBangTheory," wrote Radloff. "But trust that it's incredible (really, one of the best finales EVER and I don't say that lightly). Not to mention, the food was on point. To say that this show has had an impact on my life is an understatement."
Radloff was right. Back then she really did not understand the full impact that the show would have on her life.
Fast-forward exactly 3-years, and Radloff now knows.  On May 1, 2022, she wrote:
"Three years last night was the last tape night for The Big Bang Theory. In my post at the time, I wrote that "to say this show has had an impact on my life is an understatement" and then I thanked the producers said they were stuck with me forever. Boy, I downplayed that one

. I had no idea just how accurate I was.
The Big Bang Theory: The Definitive, Inside Story of the Epic Hit Series
Radloff, who graduated from Parkway Central High School in 1997 and whose family are still members of United Hebrew Congregation, is now an author.
"For the past many, many months, I have thought about this very moment. The moment when I could tell you all that the actors who made up one of the most talented ensembles ever to appear on our TV screens was reuniting for one purpose: my upcoming book," wrote Radloff in Glamour Magazine, back in March, describing how the book came to be reality.
Set to be released on Oct. 11, 2022, "The Big Bang Theory: The Definitive, Inside Story of the Epic Hit Series" is the first book to tell the story behind one of the most successful sitcoms in television history.  The book includes interviews with 40 people involved in the show's production including co-creators Chuck Lorre and Bill Prady, longtime showrunner Steve Molaro, and stars Johnny Galecki (Leonard), Jim Parsons (Sheldon), Kaley Cuoco (Penny), Simon Helberg (Howard), Kunal Nayyar (Raj), Melissa Rauch (Bernadette) and Mayim Bialik (Amy).
"When the project was first floated to me, I was intrigued by the idea but also terrified," said Radloff. "I am the most prepared person on the planet, so jumping into anything new requires a lot of thought, planning, and then more thought."One such thought was that she needed to have access to everyone involved, and they would have to want to have their story told.
'Having watched "Big Bang: when it first premiered in 2007 and having covered it for "Glamour" since 2011, I have come to know them all well and have immense respect for them. If they weren't interested in going down memory lane and talking about the difficult times as much as the wonderful times, then this wasn't going to work. If we were going to do this book, we had to do it right," said Radloff.
Jessica Radloff | Getting started
The start of Radloff's new project began, ironically on Rosh Hashanah, with a phone call with Molaro, one of the show's producers.
"I mention the holiday because it's the start of the Jewish New Year and a period of intense reflection," she said. "If this project was to go forward, I knew it would be the start of something new, and also one that required a lot of thought and contemplation. But I wasn't even two minutes into my 'inquiry' when he said, 'Yes!'"
Radloff was off and running. One by one, the cast and the producing and writing teams, all agreed to the project.
"Here's the thing about the cast of 'The Big Bang Theory' –they love and respect the show so much that not only did they all agree to participate, but they also gave me unlimited time and access. No question was off the table, no topic too difficult, no request went unanswered," said Radloff.
The Interviews
The process of writing the book included doing extensive interviews with the cast. From her descriptions of each interview, Radloff could probably write another book.  To prep for the cast interviews, Radloff filled up 200 pages of notes after rewatching all 280 episodes of the show. In total, she conducted more than 120 hours of interviews, with each one creating a new and lasting memory for the author.
In interviewing Parsons, who played "Sheldon," Radloff says she began panic just days before because she had filled up 12 notebook pages of questions, but only had 90 minutes for the interview. Best-laid plans always seem to work out, as Radloff's 90 minutes eventually grew to more than 20 hours with Parsons.
After her one-on-one interview with Galecki, Radloff's next interview was with Cuoco, who amazingly suggested that Galecki join them for a dual interview. Fans of the show know of the chemistry Galecki and Cuoco had on screen, as well as off.
"I've never laughed so hard in my life as the two of them opened up about their on-and-off-screen relationship. They are truly as close as they say they are and have each other's backs through thick and thin," remembered Radloff.
View this post on Instagram
The book is set to hit stores on October 11, but you can click here to preorder your own copy.