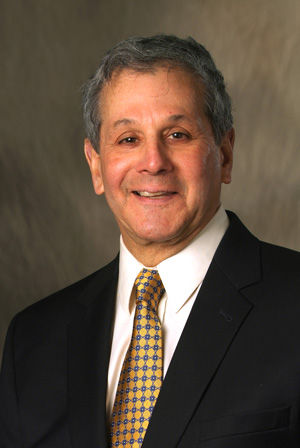 Dr. Myron Jacobs' father was a pulmonologist who served as president of the American Lung Association for a time, and Jacobs is a "lung doc," too. 
Jacobs received the 2014 Physician of the Year Award from the Christian Hospital Foundation at its Legacy Leaders Dinner in June. The award is given to a doctor "who has dedicated much of his career to serving the patients at Christian Hospital with compassion and expertise." 
In 1974, the hospital hired Jacobs as director of pulmonary medicine. The department started with four full-time employees, no diagnostic equipment, and no coverage on nights and weekends. 
Today, it is the oldest pulmonary rehabilitation program in metropolitan St. Louis and is believed to be the second-oldest in the country. Christian Hospital's pulmonary department, along with Pulmonary Consultants, employs more than 100 people, including nine pulmonologists, three nurse practitioners and a physician's assistant. 
Jacobs made time recently to talk about his career.
You were brought up in New Orleans. How did you end up in St. Louis?
After medical school and my internship in New Orleans, I was supposed to go to Vietnam, but too many doctors had already been called up. I wound up in the reserves and came to St. Louis to interview about a residency. 
What happened?
Paul Goldstein, my friend and then a medical student at Washington University, dropped me off in front of Jewish Hospital. I looked at the menorahs on each side of the front walkway and said, "Is this Washington University?" Paul said it was.  
Did you go in?
I did. I interviewed for a residency in internal medicine. Then I walked around, and I just loved the place. I got a call the next day from the head of the program at Barnes, who had heard I'd interviewed at Jewish. Barnes also offered me a position, but I turned it down. 
After two years of residency training in internal medicine, you spent a two-year fellowship in pulmonary medicine. Why the switch?
Pulmonary medicine attracts people with the temperament of a surgeon and the intellectual desires of an internist. We make instantaneous decisions — life and death decisions — in the intensive care unit. 
What was your next move?
I wanted to go to a hospital that did not have a sophisticated pulmonary department and help build it up. I went to what was then known as Christian Hospital Northwest, in Florissant. Today it is part of BJC. 
How many people are affected with pulmonary diseases?
One of about every eight people in this country, if you consider asthma, chronic obstructive pulmonary disease, emphysema, bronchitis, occupational lung disease, industrial lung disease, and infections such as pneumonia and tuberculosis. Then you have to add in lung cancer, inherited lung diseases and environmental lung diseases.
You were brought up Jewish and are a member at Kol Rinah. How have Jewish values influenced your life?
I have tried to live my life in a Jewish fashion. You know the story about the stool with three legs – Torah, charity and acts of loving kindness? I've dedicated my life to caring for other human beings. What could be more fulfilling than that? 
Talk a bit about your philanthropic activities.
I've been active with the Jewish Federation for four decades, including on the board. I was co-chair last year of the Federation's Mission to Cuba and, in March, I was part of the Federation's Mission to China. Also, I was president of the Central Agency for Jewish Education, and chairman of the Commission on Afternoon Hebrew School. Also, I serve on the medical advisory board of the St. Louis Men's Group Against Cancer. 
Any thoughts of retiring?
I don't see retirement in my future any time soon. Wrestling with the Angel of Death on a daily basis – and winning my fair share of the battles – has been unbelievable, and restoring somebody to the highest level of health possible is still very satisfying.