Here's what's playing at this year's St. Louis Jewish Film Festival
Jordan Palmer, Chief Digital Content Officer
Published February 2, 2023
The selections have been made, the films have been ordered and now it's time to watch them all. The 28th Annual St. Louis Jewish Film Festival is set to begin March 12 and run through March 16. This year, the festival will return in-person and will be held for the first time at the Marcus Des Peres Cinema.
"We are so thrilled that for the first time in the 28-year history of this festival Cinema St. Louis will be a co-sponsor. We look forward to partnering with them to reach a broader St. Louis audience by working together to promote the importance and power of film to enrich the lives of all members of the St. Louis region," said Rabbi Brad Horwitz, Chief Jewish Engagement Officer.
The festival presents a selection of documentary and feature films from around the world. While all films depict a piece of the Jewish experience, the themes are universal and are meant to appeal to all, regardless of faith.
"This is going to be a festival our past patrons won't want to miss and my hope is that they will invite extended family and friends to join them in the experience," said John Wilson, Director of Cultural Arts.
The festival will kick off on Sunday, March 12 with "Farewell Mr. Haffman" at 4pm. The festival continues through March 16 with 14 films, ranging from countries like Israel, South Africa, Russia, Portugal, Austria and more.
Tickets to individual films are $12 each, plus ticketing fees and you can save when you bundle 4 films for $40, plus ticketing fees.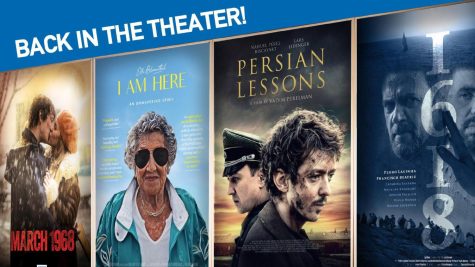 What's Playing
Farewell Mr. Haffman
March 12 at 4pm
Trailer: https://youtu.be/ynh8hXoLza8
France/Belgium | French with English subtitles
Director: Fred Cavayé
115 minutes
Paris 1942. François Mercier is an ordinary man who only aspires to start a family with the woman he loves, Blanche. He is also the employee of a talented jeweler, Mr. Haffmann. But faced with the German occupation, the two men will have no other choice but to conclude an agreement whose consequences, over the months, will upset the fate of our three characters.
---
Bernstein's Wall
March 12 at 7pm
Trailer: https://vimeo.com/722759370
United States of America | English
Director: Douglas Tirola
Documentary: 105 minutes
A complex look at one of the greatest figures in 20th century classical music, Leonard Bernstein, whose passion and creativity guided him well beyond the concert hall.
---
America

March 13 at 1pm
Trailer: https://youtu.be/XsfvVxI0aq8
Israel, Germany, Czech Republic | Hebrew with English subtitles
Director: Ofir Raul Grazier
127 minutes
An Israeli swimming tutor living in Chicago returns to Israel after 10 years of absence to bury his father. An encounter with a beloved childhood friend and his newly engaged girlfriend will set a series of events in motion that will affect everyone's lives. A story set between a flower shop and an ancient monastery, between a swimming pool in Chicago and the Mediterranean, between life and death – and somewhere in the middle.
---
The Levys of Monticello

March 13 at 4pm
Trailer: https://youtu.be/G0cC8U_ei1A
United States of America | English
Director: Steven Pressman
71 minutes
Thomas Jefferson was heavily in debt when he died on July 4, 1826. His beloved home, Monticello, was nearly in ruins when it was purchased a few years later by Uriah Phillips Levy, a Jewish officer in the United States Navy. Over the course of the next 90 years, the Levy family not only owned Monticello but saved it from ruin on two different occasions. Along the way, however, the family endured the brunt of antisemitism, while also being confronted by the stain of slavery that existed at Monticello before the Civil War.
---
Karaoke
March 13 at 7pm
Trailer: https://youtu.be/-BZfav1r16w
Israel | Hebrew with English subtitles
Director: Moshe Rosental
100 minutes
A bittersweet comedy about a middle-class suburban couple in their 60s who are drawn to their new neighbor, a charismatic bachelor who has karaoke evenings at his apartment.
---
I am Here
March 14 at 1pm
Trailer: https://youtu.be/nJffwoQ4y84
South Africa | English
Director: Jordy Sank
Documentary: 75 minutes
A life-affirming documentary that celebrates the remarkable life of Ella Blumenthal. At her 98th birthday celebrations she opens up to close friends and family about her story of survival during the Holocaust, in a way she has never done before. Her recollections, depicted through dynamic 2D animation, include tales of three concentration camps, and of narrowly escaping death in a gas chamber. Along with uplifting stories, like Ella dissuading her niece from ending her life. The animation is juxtaposed with present day footage of Ella performing her weekly spiritual rituals, being active in the swimming pool and walking on the promenade in Cape Town. She is not your average grandmother, her vivacious personality and her positive outlook on life is truly inspiring. A universal message of resilience – as Ella is the epitome of the will to survive. This film could not be more relevant in a world that still defines itself by what is other.
---
A Tree of Life
March 14 at 4pm
Trailer: https://youtu.be/D9lRNebyKe8
United States of America | English
Director: Trish Adlesic
Documentary: 80 minutes
On Saturday, October 27th, 2018, a white supremacist, further radicalized by the political climate at the time, walked into the Tree of Life Synagogue with four semi-automatic assault weapons, shouting "all Jews must die." He murdered eleven congregants, ranging in age from 54 to 97, as they prayed. A Tree of Life creates a deeply personal portrait of the survivors, victims, and the victims' family members of the Pittsburgh Synagogue attack, and brings into sharp focus the hate-based crisis that threatens our collective safety and democracy itself.
---
Persian Lessons
March 14 at 7pm
Trailer: https://youtu.be/5FdRKMQMj4o
Russia, Germany, Belarus | German, French, Italian, Persian with English subtitles
Director: Vadim Perelman
127 minutes
Gilles, a young Belgian man, is arrested by the SS alongside other Jews and sent to a concentration camp in Germany. He narrowly avoids execution by swearing to the guards that he is not Jewish, but Persian. This lie temporarily saves him, but then Gilles is assigned a seemingly untenable mission: to teach Persian to Koch, the officer in charge of the camp's kitchen, who dreams of opening a restaurant in Persia (Iran) once the war is over. Gilles finds himself having to invent a language he doesn't know, word by word. As the unusual relationship between the two men begins to incite jealousy and suspicion, Gilles becomes acutely aware that one false move could expose his swindle.
---
1618
March 15 at 1pm
Trailer: https://youtu.be/wvboCpiVQbA
Portugal | Portuguese/Hebrew with English subtitles
Director: Luis Ismael
90 minutes
The Inquisition continues the persecution of Portuguese Jews, sending Visitador Sebastião Noronha to the city of Oporto. With his family and community in danger, António Álvares, decides to outline an escape plan.
---
Hallelujah: : Leonard Cohen, a Journey, a Song
March 15 at 4pm
Trailer: https://youtu.be/11IPQYZMXjc
United States of America | English
Directors: Daniel Geller & Dayna Goldfine
Documentary: 120 minutes
Hallejuah: Leonard Cohen, A Journey, A Song is a definitive exploration of singer-songwriter Leonard Cohen as seen through the prism of his internationally renowned hymn, Hallelujah. This feature-length documentary weaves together three creative strands: The songwriter and his times. The song's dramatic journey from record label reject to chart-topping hit. And moving testimonies from major recording artists for whom Hallelujah has become a personal touchstone. Approved for production by Leonard Cohen just before his 80th birthday in 2015, the film accesses a wealth of never-before-seen archival materials from the Cohen Trust including Cohen's personal notebooks, journals and photographs, performance footage and extremely rare audio recordings and interviews.
---
Schächten
March 15 at 7pm
Trailer: https://youtu.be/NODfRaSV2wM
Austria | German with English subtitles
Director: Thomas Roth
Feature: 110 minutes
In the late 1960s, when the young Jewish businessman's son Victor Dessauer fails to secure just punishment for the Nazi concentration camp commandant who tortured his parents, he resolves to take the law into his own hands.
---
The Jews and The Blues
March 16 at 1pm
Trailer: https://youtu.be/npIvfrPe7qU
United States of America | English
Directors: Drew Stone & Evan B. Stone
Documentary: 67 minutes
The Jews and The Blues is a musical journey that along the way becomes something much more. My name is Drew Stone, I'm a documentary filmmaker, musician and talk show host. Join me as I follow my passion for music and adventure as I travel to Israel and discover how the blues ties into this incredible mix of cultures. Arab, Ethiopian, Moroccan, all Jewish, all Israeli, united through the universal tie that bids us together……Music.
---
March '68
March 16 at 4pm
Trailer: https://youtu.be/oSu_ZwxlJ8I
Poland | Polish with English subtitles
Director: Krzysztof Lang
Feature: 120 minutes
Warsaw, 1968. Students are protesting against the unlawful expulsion of their colleagues from the university and in defense of the "Dziady" (Forefathers' Day) poster, directed by Kazimierz Dejmek, and staged at the National Theater. Hania and Janek are also among the protesting youth. Their families are on both sides of the March barricade. Young and madly in love with each other, like in Shakespeare's drama Romeo and Juliet, in a country overwhelmed by rebellion, they fight for their affection. Will their love survive? Will they be able to overcome the adversities that fate presents them?
---
Fiddler's Journey to the Big Screen
March 16 at 7pm
Trailer: https://youtu.be/D19flnSG79Q
United States of America | English
Director: Daniel Raim
Documentary: 90 minutes
The fall of 2021 marked the 50th anniversary of Fiddler on the Roof, the film Pauline Kael of The New Yorker called "the most powerful movie musical ever made." Narrated by Jeff Goldblum, Fiddler's Journey to the Big Screen captures the humor and drama of director Norman Jewison's quest to recreate the lost world of Jewish life in Tsarist Russia and re-envision the beloved stage hit as a wide-screen epic. Oscar-nominated filmmaker Daniel Raim puts us in the director's chair and in Jewison's heart and mind, drawing on rare behind-the-scenes footage, original storyboards, and never-before-seen stills as well as original interviews with Norman Jewison, Topol (Tevye), composer John Williams, production designer Robert F. Boyle, film critic Kenneth Turan, lyricist Sheldon Harnick, and actresses Rosalind Harris, Michele Marsh, and Neva Small (Tevye's daughters). The film explores how the experience of making "Fiddler" deepens Jewison as an artist and revives his soul.