Haim for the Oscar? That, and what to watch this week in Jewish entertainment
Dan Buffa, Special For The Jewish Light
Published January 14, 2022
2022 presents a brand new world of entertainment, stretching outside the television set and local mall. These days, if you don't have a Tik Tok account, it feels like you're outside the party while everybody else is inside laughing.
Enter Miriam Anzovin, the unconventional Jewish TikTok teacher
The TikTok star uses the smartphone app like a tutorial for teaching the Talmud to newcomers. Calling it unconventional doesn't cover half of it, but it does follow the same cycle as Daf Yomi–meaning a page a day with over 10,000 participants getting involved. But instead of standard reading or studying, Anzovin gives off brash summaries of ancient myths, calling one Rabbi too "pitchy" in a discussion of two Rabbis arguing over the quality of one's voice.
One could call her new school, even if it involves calling one Jewish character in history "a Karen." All of the saucy teachings come between vicious hair flips, motor-mouth speaking, and other flashy styles Anzovin produces in her Talmud recaps. Again, we live in a brand world–where homeschooling takes places over virtual learning centers or TikTok professionals.
The Jewish actress developing a burning niche in Hollywood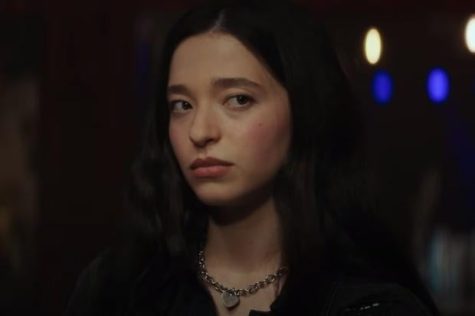 While the new "Scream" movie contains enough gory moments to make even the proudest mensch blush, it also co-stars young Mikey Madison. The Jewish actress isn't a known commodity in the land of make-believe just yet, but she sure is developing a calling card. Out of her short collection of acting roles, the 22-year-old has two notable roles: Quentin Tarantino's "Once Upon a Time in… Hollywood" and "Scream 5."
In the former, she plays a Charles Manson disciple who runs into the wrong stunt man (Brad Pitt) and washed-up TV actor (Leonardo DiCaprio) one fateful night. In the latter horror movie, she is Amber Freeman, best friend of a fellow teenager who barely escaped a murderer. In each film, Mikey gets roasted to a crisp. I'm not talking about a few burns on the leg and arm; more like a human marshmallow being burnt completely black. Yes, a young actress in a slasher picture didn't make… such a big surprise.
And don't sleep on the grim nature of Madison's demises. First off, they're fake. Secondly, a veteran stunt guy would applaud her efforts. Lastly, she's a very talented actress before she gets lit on fire. Keep an eye for her name and keep her away from lighter fluid. "Scream 5" is a good flick too.
Having chutzpah is a good thing, young Ray Donovan
It's interesting and a bit comforting and informative whenever a character uses Jewish slang in a story that's not overly Jewish. In the new "Ray Donovan" movie currently streaming on Showtime, a young Ray (Chris Gray) is told by a Jewish film producer named Ezra (Danny Deferrari) that he has chutzpah. After Ray gives him a steely look for the name calling, the older, wiser man informs him that it's a good thing to have this quality. Self-confidence and audacity are key tools in a young man's life, even one as embattled and tormented as Ray Donovan's. Ezra was played in the television series by Elliott Gould, a prominent Jewish actor who claims he has a very Jewish identity. It seems that runs through the characters he plays on shows as well.
Skip the "Ricardos" and watch this Aaron Sorkin original instead
While Sorkin's recent movie on the turbulent end of "I Love Lucy," it was more medium-heated quality from the acclaimed screenwriter. While I could you in the direction of "West Wing" or "Newsroom," each great and very well-written shows, all I'm asking is for a one year trip back in time.
"The Trial of the Chicago 7" is streaming on Netflix and rightfully gathered awards attention last year. A star-studded cast included the Oscar-nominated Sacha Baron Cohen as the Jewish activist, Abbie Hoffman. But it's the distorted and unkempt (in a good way) courtroom scenes between Mark Rylance's lawyer and Frank Langella's judge that makes the film sing. Playing Judge Julius Hoffman, a pivotal player in the trial due to its constant bickering between judge and lawyer, Langella stole every scene he was in. It's important, may have been passed over, and deserves a watch much more than Amazon's "Meet the Ricardos."
Haim for Best Actress?
Don't sleep on "Licorice Pizza," ladies and gentlemen. It's still expanding across the United States, playing in St. Louis theaters and making its way to on-demand in the next month. While it's one of Paul Thomas Anderson's most personal and enjoyable movies of his career, it features a headlining performance that is gathering serious Oscar attention. Alana Haim, Jewish musician-turned-actress, has already landed on many Best Actress lists and should find more soon. The tale of young love and friendship in the 1970's between a woman in her 20's and a boy-man in his teens made my Top Ten list and shouldn't be forgotten.
Let's put it this way. The more talk about Haim's performance, the better. Here's a small tease of a future story. Her Jewish family plays her family in the movie, with her stern dad stealing every scene he's in. "Licorice Pizza" is the best of both Jewish worlds: themed and linked in entertainment.
See you next week.