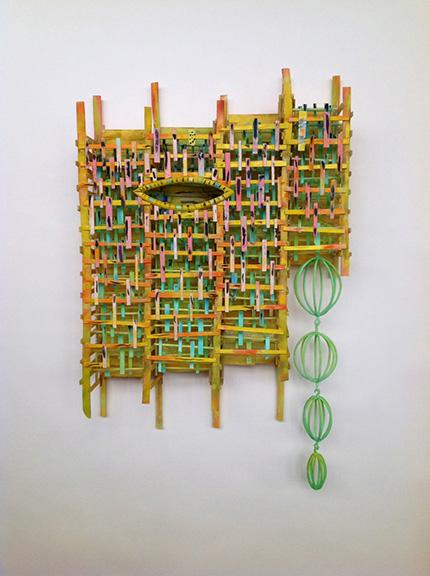 I went to Duane Reed Gallery to see the Jay Musler show, a series of small cut glass assemblages that look like the skeletons of buildings, but I spent as much time in the Gallery Selections room as I did to look at Musler's pieces.
The Jay Musler show has a tropical feel.  The artwork reminds me of Caribbean structures because of the pastel paint colors.  The piece Tangerine is painted yellow, tangerine, turquoise, and pink.  An "Egyptian eye"-shaped window in the piece allows viewers to see into it.  Layers of glass tempt viewers to look inside to see what might lie at the core.
Jay Musler is a visually pleasing show, and the array of art objects in the Gallery Selections room is just as pleasing.  Below are two of my favorites.
Untitled Head Mask by Jenny Pohlman and Sabrina Knowles is a blown and sculpted glass interpretation of a red African mask with tribal-inspired details.  The headdress is made up of twenty or so yellow and black cords springing up off the head, with a shiny black glass leaf attached to the end of each cord.  A twelve-inch-long abstracted bird in black matte glass serves as the mask's oversized earring.  Pohlman and Knowles have collaborated on art pieces since 1992 and have visited a number of countries in Africa between 1997 and 2002.  The art in those countries inspires the creation of their pieces. 
Margaret Keelan's Hopscotch looks like distressed wood but is in fact clay, and depicts a blond girl playing hopscotch.  She stands about two feet tall and wears a blue dress, white socks, and red Mary Janes.  The "paint" (actually glaze) appears to flake off, exposing the "wood" (actually clay) underneath.  The girl looks like a once-treasured doll left out in the elements for fifty years.  Five clay squares with words scratched into them serve as her entertainment.  She balances on one foot on the square that says TOYS.  Behind her, the first square in the game reads BIRTH.  In front of her, the most telling square declares WORK WORK ADULT HATE CHILDREN CAREER.  Next comes OLD AGE and finally DEATH WHERE.  The seemingly innocent game of hopscotch here spells out the girl's life and choices before her.  Though she has yet to move forward, she already appears old and neglected before her time.
Jay Musler and the artwork in the Gallery Selections are on view through April 20.  Duane Reed Gallery is located at 4729 McPherson Ave. in the Central West End.  Gallery hours are Tuesday – Saturday, 10:00am – 5:00pm and by appointment.  For more information, call 314-361-4100 or visit www.duanereedgallery.com.