'Gilmore Girls' fans in for treat with cast additions for 'The Marvelous Mrs. Maisel'
Before we get into exciting television show news for Amazon Prime subscribers, let me get a small confession out of the way first.
I have watched (and loved) every single episode of "Gilmore Girls." But I have not watched "Marvelous Ms. Maisel" just yet. While you send over the episodic television police force to my home, allow me to tell you that this macho-looking fella is a sucker for a well-written series about lady friends or the unbreakable (if slightly annoying) bond between a mother and daughter. I can thank Amy Sherman-Palladino for that. The creator of both critically-acclaimed audience favorites is syncing up the casts a bit this year.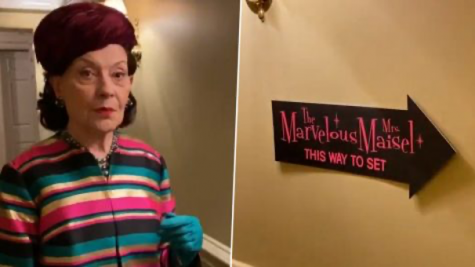 Recently, fans were ecstatic to find out that Milo Ventimiglia-who has been terrific on "This Is Us" these past few years-was joining the fourth season of "Maisel," but this week's cast addition should bring even more applause. Kelly Bishop, who stole so many scenes with the ease of a poker player, is now joining the final season of the Rachael Brosnahan dark comedy series, which has been a binge-worthy hit for Amazon. If AMC had "Mad Men," Amazon backed it up marvelously.
Bishop played Emily, the firm yet fair mother of Lauren Graham's Lorelai Gilmore; she has that sharp wit that only the strongest of screen mothers could have. Emily Gilmore would cut you down a size and empower you all in one speech, walking away with a knowing smile that the older generation still has some power. Her interactions with Graham and Alexis Bledel, who played Lorelai's daughter, always contained the sharpest of Sherman-Palladino's writing. It was as if the dialogue was only there just in case the chemistry between the three ladies lost some of its zip.
In the linked article above via Tvline, fans get their first look at Bishop in costume for the period piece, staring down the camera as only she could. It's almost as if Emily was transported back to the old days with her wit and vigor intact. Rumors on Ventimiglia's role are under wraps as well, but I am sure they will be meaningful. For Sherman-Palladino, it's like getting the band back together for a fresh course in great television. How good is Brosnahan's housewife-turned-comedian? My wife has already watched all three seasons, yet she can't wait to rewatch it with me. That's three seasons of additional time that my amazing wife is giving up.
Maybe Milo has something to do with it. After leaving "Gilmore Girls," he enjoyed a decent film career that included a part as Rocky Balboa's (Sylvester Stallone) son in the sixth entry of the Philadelphia underdog pugilist film series. The two actors, who both share the unfortunate incident of birth defects making their smiles and facial expressions very similar, later appeared in the NBC hit series.
Like Sly, Bishop and Ventimiglia know that when the person who got you into the game calls, you pick up the phone and come running. This fourth and final season of "The Marvelous Mrs. Maisel" is shaping up to be one grand sendoff. Now only if Sherman-Palladino can recruit her other leading lady, Graham, into the new fold. There's still time.
Time for this great cast to grow even bigger and for me to get to know Mrs. Maisel before the season premiere later this year.