Fresh updates for Thanksgiving sides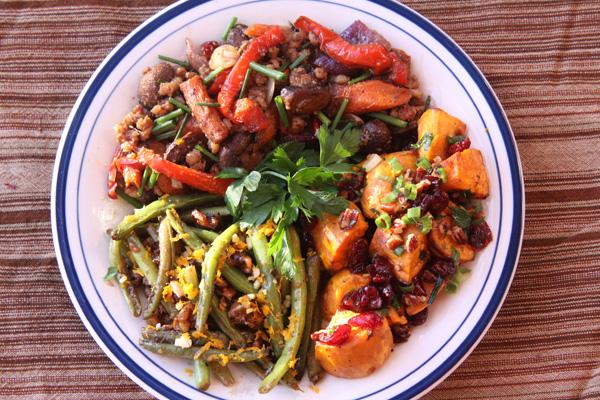 By Margi Lenga Kahn, Special to the Jewish Light
Published November 14, 2012
The facts are out and the rumor dispelled: tryptophan, the amino acid in turkey, does not cause drowsiness. Let's face it: we get drowsy on Thanksgiving because we eat too much, and much of that is too rich. Gobs of caramelized sweet potatoes baked with brown sugar and marshmallows, giant scoops of mashed potatoes laden with cream, baskets of fluffy white breads and flaky butter rolls, and decadent desserts crowned with heaps of whipped cream. Yawn. Ironically, the turkey is the healthiest part of the traditional feast.  
But if you love cooking and eating, nothing will convince you to abandon the annual foodie marathon that is Thanksgiving dinner. Nor should you. The joy of sharing your table with family and friends, grateful for one another's company, is what Thanksgiving is all about. Whether you prepare this special meal on your own, involve your family in the process, or ask guests to contribute a dish, that feeling of community is what makes Thanksgiving so special.
But maybe it's time to re-imagine some of the traditional side dishes—the ones that have been prepared and served in the same way for decades. Updating those dishes with contemporary ingredients and techniques will help prevent our Thanksgiving meal from becoming a coma-inducing gorge-fest. While the challenge to pace yourself will remain, it's possible to introduce some lighter incarnations to the traditional menu—dishes that boast great flavor and taste every bit as rich as those old standbys.
For example, what is a more iconic Thanksgiving side dish than Sweet Potatoes with Marshmallows, the recipe for which first appeared in the 1947 edition of "The Settlement Cookbook"? Back then, the lure of using canned sweet potatoes instead of fresh ones and topping the mashed concoction with a bag of marshmallows had cooks swooning. The recipe was an immediate hit and worked its way onto millions of Thanksgiving Day menus. But that was nearly 70 years ago, folks. Unlike our mothers and grandmothers, we now have easy access to a cornucopia of fresh vegetables, fruits, and herbs along with a variety of vinegars and oils, both plain and infused.  Add to that a plethora of spices and the possibilities are every bit as tempting as the novelty of opening a can of potatoes was back in the 1940s.
One variation on the traditional sweet potato dish is to drizzle balsamic syrup over fresh roasted sweet potatoes. The syrup adds special elements of both sweet and rich, and is far healthier than corn syrup or processed sugar. To make your own balsamic syrup, simply heat a cup of inexpensive balsamic vinegar in a pot over medium heat until it is reduced by half, and is thick and syrupy. Or for a slightly tart, sweet and rich approach, purchase an inexpensive bottle of pomegranate molasses and drizzle that over your sweet potatoes. Garnish either version with some sliced toasted pecans, fresh orange zest, and dried cranberries. The result will wow your guests. Save the marshmallows for a cookout next summer.
Another old school favorite is the Green Bean Casserole featuring canned cream of mushroom soup mixed into canned French green beans and topped with French's French fried onions. That was so the '60s. You updated those double knits and bell-bottoms, and it's time to do the same with those green beans. Why not roast or blanch fresh green beans, toss them with some citrusy zest, herby vinaigrette, and toasted pine nuts or walnuts?  I can guarantee those beans will zing with flavor.
So use your imagination. I've included recipes for some of my favorites below.  
May you enjoy the holiday and find much to be thankful for.
Margi Lenga Kahn is the mother of five and grandmother of four. A cooking instructor at the Kitchen Conservatory, she is currently working on a project to preserve the stories and recipes of heritage cooks. She welcomes your comments and suggestions at [email protected]