For this Jewish mermaid, life is a circus
A Jewish mermaid recently swam into town. Or rather, flew through the St. Louis air.
Morgaine Rosenthal is starring in the Cirque Italia Water Circus in a blue and white tent outside the Saint Louis Galleria.
The circus continues in town through Sunday, Aug. 22.
Rosenthal, who was raised in a traditional Jewish home in Atlanta, performs as a mermaid in the pirate-themed show, soaring through the air as water shoots upwards and cascades around her.
Before the shows in St. Louis, Rosenthal, 29, stayed on ground level for a few minutes to talk with the Jewish Light about her career and love of circus.
For tickets and more information on the local shows, visit https://silver.cirqueitalia.com/events/499_Water-Circus-I-Silver-Unit-St.-Louis-MO
(Her responses have been edited for clarity and space.)
Can you tell me a bit about your Jewish background?
I was brought up traditional home in Atlanta and my father was the president of our synagogue. And we had a kosher household; I attended services every Saturday, did Sunday school. I was bat mitzvahed.
How about your circus background?
I went to school for this. Most of the performers are actually generation circus performers, so they learned it from their father, who learned it from their father, but I went to circus school in California.
What was it that sparked your interest in going to circus school?
I was always very athletic as a child, and I started out doing circus just recreationally. One day I would go to soccer practice, and another day, I would go to circus class, and I stuck with it and decided I wanted to make a career of it.
I went to Florida State University for a year, and a coach there told me about a circus school, and so I dropped out of college and went to circus school. (Rosenthal laughed.)
What was people's reaction when you told them you were dropping out to go to circus school?
My parents were always very supportive. I always knew that I wanted to be a circus performer — I just didn't know exactly how to go about it. So it was great. I went to California to school for two years and then started performing professionally.
What is your specialty as a circus performer?
I am an aerialist, and I actually am doing a duo-aerial strap act with my boyfriend. An aerial strap is largely a strength-based act very similar to men's gymnastics rings, but it also incorporates a lot of the flying elements and grace, so it's like an aerial dance.
And in this show, we are doing a pirate adventure show, and our act is a mermaid-pirate love story.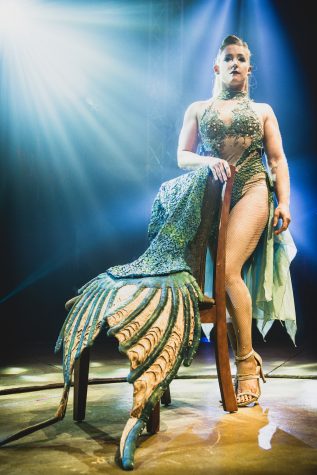 To backtrack a step, what did you like about circus before you became a performer?
The thing that I love most about my job and the circus is the combination of athleticism and artistry and self-expression, so I was a very athletic child, but also finding this outlet to be able to express myself in a physical way, it was just really unique. It wasn't just the athleticism or just artistic. It was an interesting and unique combination of the two.
What has the pandemic been like for you and others in your circus company?
The pandemic has been challenging. It has definitely been a very interesting year for everybody. We took 100 days off and then we came back, and I think like the whole world, we are figuring out new ways to operate, making sure that we keep in mind public safety while also being able to share what it is that we love with local communities.
And I work very closely with the individual health departments, figuring out what our policies should be. We have ushers that sanitize all the surfaces in the tent every 10 to 15 minutes. My staff is still wearing masks and gloves, and every time a performer is going to be within 12 feet of the audience, they put on a mask.
And in terms of our mask requirements inside of the tent, it's just dependent on the local community's mandates. We are following the local city and county ordinances.
Anything in particular that you are excited about with the St. Louis shows?
We are very excited to be back. This is our third year coming to St. Louis, and we are excited to share a brand-new show. It's been such a challenging year for everybody, and we are excited to give the community something fun for the whole family to go to, to get out of the house and have some fun again.